Cameroon Anglophone crisis: Buea wakeup with shooting, also discover die-body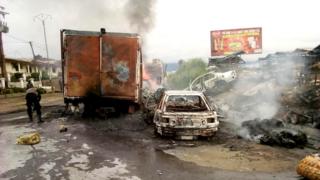 Place di quiet and all man di run from Mile 16 Buea and Muea for Southwest Cameroon dis Tuesday afta shooting, and burning for morning. Deh also dsacover die-body for goment force just some days afta deh 'bloody Tuesday' for Northwest region.
Na sound for gun, tob tob tob, bin wake de pipo dem for Mile 16 as some pipo weh carry gun, weh deh suspect say na Ambazonia forces attack de area, for sharp-sharp morning, burn motor dem.
Tori pesin weh e go Mile 16, say pipo don run from dis area, deh burn five motor and one truck around de market but e no get de clear idea for weti happen.
Shooting bi dey for dis area as gunmen put up dia show for laik one hour before army kam. E nova bi clear de number of pipo weh die.
For Muea road deh discover die body and resident say all man don vanish as deh di fear say army go fit kam back for revenge.
E no bi clear who kill goment force as deh just see de die body, and deh know know if deh kill dem man for de place or just dump de body.
BBC News Pidgin call for tok Mayor for Buea, Patrick Ekema de phone ring-ring but no answer and goment nova make official statement about de shooting.
Anglophone crisis weh start for 2016 with lawyers and teachers strike don reach level weh day no di pass without shooting for de two regions.
Activist don promise say school and election no go bi for Anglophone zone even Territorial Administration Minister Paul Atanga Nji say deh go increase security for de area.