Anglophone Crisis: All man di run from Buea and Bamenda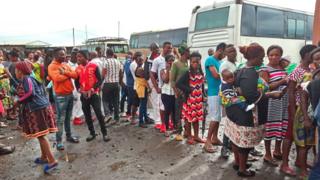 As deh fighting di so-so go before for Anglophone regions dem, and fear say de situation go fit pass march from Sunday.
Tori be say kontri pipo di run from towns and villages for Northwest and Southwest Cameroon laik 'honey bees'.
Motor parks dem for Buea and Bamenda flop as pipo di run for dia lives.
Na for seka gun shots and fighting, and just now na big crowd laik honey bees dey for parks di stand for line for buy ticket for komot for de two regions.
Ah di pass so na for motor park for Moghamo for Bamenda, na so pipo dem flop for travel go Douala and Yaoundé. All man di run, but ah no know wusai ah go run go, one resident for Bamenda, Atuh Nadine tell BBC News Pidgin on Thursday.
Dis kana tin weh plenti pipo di run for de same taim laik honey bees so di happen afta 'Bloody Tuesday' for Bamenda and also shooting for Mile 16 Buea, Muea and oda parts dem.
Also fear dey for de two regions as activist say from number 16 day for dis moon no motor go enta or komot for Anglophone regions.
Since weh de crisis for Anglophone regions start for 2016 weh lawyers and teachers protest, population di live inside fear.
Wan resident for Buea weh e di run say de tin do pass dem, deh no sure for dia life for dis area again.
"Ah di leave Buea becos gun shot don too much for Muea, deh di over torment pipo dem and na so pipo deh di run.
Police pipo and special unit force, Rapid Intervention Battalion, BIR also dey and wen separatist forces pass for de area, BIR too go kam and pipo go start run.
"You di shiddon even for your house some man di open your door blind with gun. We no di feel fain, dat area bi too dangerous for us so we just wan leave", Joseph tok.
Joseph don send e pikin dem for Yaoundé and now so e di fain motor for komot Buea join dem for place weh security dey.
16 civil administrators also run
No bi only de population de run from Northwest and Southwest regions, even local authority don pum as de crisis don pass dem, according
Deh even kill Divisional officer for Batibo for Northwest regions.
16 civil administrators run from Northwest and Southwest regions but Secretary General for presidency komot release say make deh go areas go back and make deh install dem.
Even some parliamentarians, senators, mayors and oda big pipo for de two regions no fit step foot for dia area again.