"Why I no dey chop Suya, roasted fish, Nkwobi and oda meat"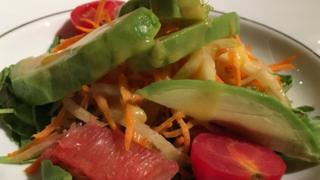 E dey always shock pipo wen dem meet Nigerian wey no dey chop meat. Pipo dey look dem like say dem fall from sky even if di reason why dem no dey chop meat na because of health or religious reason.
Protein full Nigerian food; and na from meat e dey come from. Na different animals Nigerians dey use prepare local food and dem dey even add meat or fish on top evri food.
Vegetarian diet mean say pesin no go chop meat and seafood. Some vegetarians dey eat egg and milk product sha.
I decide say I go do vegetarian diet for 30 days to prove say e dey possible for pesin to enta dis kain lifestyle for Lagos.
Di problems wey I face
To arrange food for house no hard because na to just comot any animal wey dey inside di food.
"If you dey like make your food get plenti colour inside, try make you enjoy am, get colourful vegetables, you like to fry am, if you like to boil am, you fit do anytin you want."
Na Ese Ejoor, food nutritionist wey I follow yan, sama me dis suggestion.
"You even fit use vegetable do stew, come garnish am wit correct carbohydrates - e dey easy, di ingredients wey you go use no go plenti and evritin dey natural and di ingredients wey you go use no cost."
But, to maintain dis vegetarian diet wey I don swear on top no easy wen I dey go out dey socialise wit my friends. I struggle wen dem bring small chops, make I no touch di chicken, gizzard or shrimps.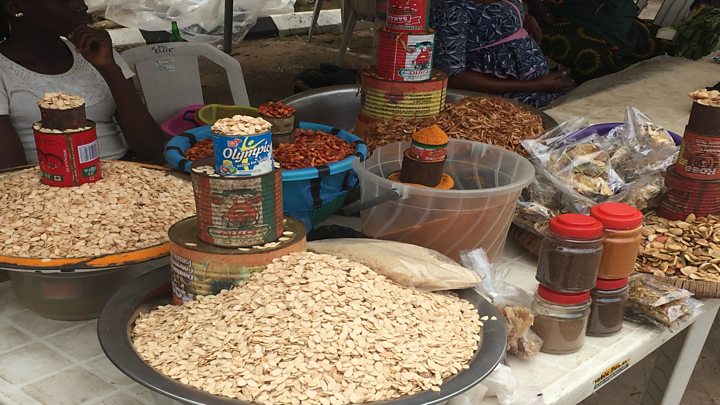 Restaurants no get options for pipo wey be vegetarians. I come reason say dis kain tin sef good for my bank account because I kukuma reduce how I dey chop outside.
I come see say e dey vex some strangers say I no dey eat meat at all-at all.
Waiter: Madame, wetin you wan chop?
Me: Rice and salad.
Waiter: Chicken, fish or meat?
Me: Notin.
Minutes later, na so dis waiter come back wit di event planner wey come ask me weda I dey fight wit di pipo wey dey do wedding wey I dey attend. Afta I explain mysef, dem bless me wit one bowl of puff-puff.
I come reason say e beta make I dey always chop for house before I comot.
Di plant diet
As I waka dis my waka dey go, e get friends and family members wey go roll dia eyes anytime I decide to sama my rice and efo riro wit no meat. Later I come see say na so dem go dey torchlight any food we dey eat if we go out.
"Dis one get meat?"
Di tori say meat na di only way wey pesin fit get protein come disappear because protein full inside vegetables.
Vegan communities dey ground
Nigerians wey want beta health lifestyles do dey grow, especially for fitfam pipo - more and more pipo don dey do vegetarianism and veganism.
I start to dey find groups of pipo wey be vegetarian.
Vegan in Nigerian wey Bolanile Olatunji na one of di groups wey dey Lagos.
"I wan educate pipo and create support system for dem." Na so Olatunji take explain di reason why she start di community.
"I don be vegan for only three years and wen I change, e take five months. Many tins wey epp me na say pipo dey wey dey support, to get wia pesin fit go to find food sharp-sharp."
I attend one of di meetings wey dem do come see say na vegans, vegetarians and oda pipo wey wan sabi dis whole vegan tin na dem full di group.
For di meeting, I learn say I no suppose rush enta like dat, dey dream say I dey eat meat, wetin I suppose do na to enta small-small and find oda tins wey be like meat food wey I like.
To dey plan wetin I wan chop in advance epp me to make sure say meat no dey enta my eye and e dey make sure say I dey eat wetin I suppose eat - wetin dem dey call balance diet.
Di benefit
Afta two weeks, I notice say my energy level increase, my skin dey shine, my hair and nail dey grow faster dan normal - my bodi dey chop di right nutrients.
For kontri wey meat food and meat inside food dey popular, to be vegetarian no hard like dat. No just rush enta, take am slow-slow and if you want, find nutritionist.
Na Princess Abumere of BBC Africa for Lagos, share her experience for dis tori.