Cameroon Presidential Election: Candidates file petition to cancel Sunday vote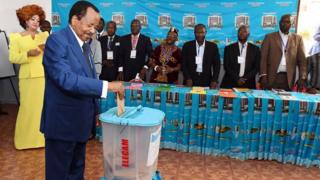 Cameroon constitutional council, de organ weh e di check election complaints on Friday receive about 18 file with three presidential candidates weh deh file say make deh cancel October 7 presidential elections.
Di three presidential candidates wey petition make constitutional council cancel elections include Maurice Kamto for CRM, Joshua Osih for SDF and Cabral Libii for Univere.
Kamto for CRM weh e say e bi get mission for score penalty and e score de penalty, file case say make constitutional council cancel election for Northwest and Southwest as pipo no komot vote.
Na only yesterday weh life start back normally for Northwest and Southwest since before October 1 weh goment stop pipo for waka from one village go anoda, plus secessionist weh dah say election no fit take place for dia regions.
For Joshua Osih, file say make de cancel elections for de whole kontri and e also say e no be bi possible for vote for anglophone regions and even goment no bi fit guarantee security.
International Crisis Group be say participation level for election for de two regions na about 5 percent.
Cabral Libi say e consult with e Univere party, and deh check say e, wen deh compare de results weh dia representatives dem collect afta de count votes with de wan weh deh send for vote counting commission na two different tins.
With de fraud, Cabral say make de cancel de elections weh deh no bi free, transparent and credible. For e, de reason na for prevent fraud weh e di take ruling party for pawa.
For dis election no observer put leg for Anglophone regions, African Union no go there and Civil Society Observers from African kontries no also go there.
De constitutional council go set days for hear de case dem weh de file and afta dat deh go give results for elections.
Even though all man di go on with dia business as if nothing happen, fear say crisis fit start afta de announce result di hang for air.