Smoking, diabetes dey increase risk of heart attack for women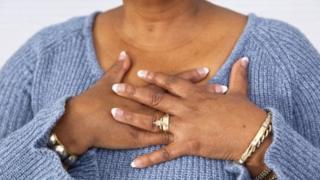 Women wey dey smoke, get diabetes or high blood get more risk to get heart attack pass men wey dey do di same tins.
Na true say men get more risk to get heart attack pass women, but study wey Oxford University researchers do show say dis factors dey increase di risk for women pass men.
Di research show say plenti women no too sabi say dem get heart disease.
Dr Elizabeth Millet wey be lead study author and epidemiologist for George Institute for Global Health, University of Oxford say " Heart disease dey affect women. Women need to know say dem dey at risk, but ontop plenti campaign about am, plenti women no still know".
Women wey dey smoke get get three times risk to get heart attack dan women wey no dey smoke, but for men na only two times risk e dey give dem.
High blood pressure dey increase women risk to get heart attack by 83% and dat one pass di risk for men.
Di study also show say type 1 and type 2 diabetes dey increase heart attack risk for women dan men.
But how dis one take concern Nigerian women?
Professor Francis Duru wey be lecturer for College of Medicine, University of Lagos south west Nigeria say "di mata concern our pipo, our pipo dey diabetic, dem dey hypertensive, dat one na enough risk to get heart attack".
"Even if you no dey smoke and you get diabetes and hypertension you go fit still get heart attack, people suppose shine dia eyes ontop smoking mata".
Heart attack symptoms
Chest pain - Wen pesin dey get pressure, tightness or squeezing for centre of im chest.
Pain for other parts of di bodi - e dey like di pain dey waka from pesin chest waka dey go im hand side. (usually e dey affect di left hand, but e fit affect di two hands atimes), jaw, neck, back and abdomen
Wen pesin dey feel lightheaded or dizzy - Wen e dey do pesin like say im too tire and wan fall down.
Sweating - wen pesin too dey sweat even wen di place cold.
Overwhelming sense of anxiety (e dey like wen pesin dey get panic attack).
True true say di chest pain fit dey severe, but for some pipo na small pain wey resemble wen pesin food no gree digest. For some cases, di pesin no get any chest pain at all, especially women, elderly pipo and pipo wey get diabetes.
World Health Organisation WHO say heart and blood disease dey kill 17.9 million pipo evri year and dat one na 31% of total death all ova di world.