SNJC di mobilise for accompany Mimi Mefo for military court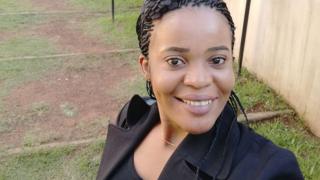 Cameroon Journalists National Syndicate, SNJC di glad say deh free Mimi Mefo, and deh say deh di mobilise again for bi with yi for court for Monday, November 12.
Na dis afternoon deh call Mimi Mefo say make e park e cargo dem go back for house afta state prosecutor sign paper weh e di give e freedom for komot New Bell prison.
SNJC weh deh bin mobilise journalist for Douala for go with Mini Mefo wen deh kweshion e for gendarmerie thank prison authorities for de beta treatment weh deh give dia colleague.
But Colonel Didier Badjeck, army tok-tok pesin for e Facebook, don put warning.
"Ah go laik for tell you say de state no bow, but na for make peace, so e bi useless for boast say na for seka mobilisation weh e no bi fit change any tin for cold hand for law", Badjeck write.
E say goment for e position for bi firm and flexible di make all man for be conscious say e fit answer before de law.
Say make Mimi Mefo no make authorities regret dia decision.
Na so Journalist without Border, Committee for protect Journalists and oda groups join Cameroon journalists for push say make goment free Mimi Mefo.