BBC 100 women 2018: Di Nigerians, Ghanaian and Cameroonian women wey make di list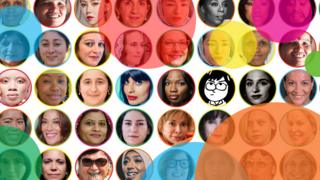 BBC 100 women announce dia 2018 list of 100 women wey get influence and dey inspire pipo around di world.
Di women wey come from more dan 60 kontris na between di age of 15 to 94 years and for di first time, women from Belize, Cuba, Czech Republic, El Salvador, Laos and Namibia make di list.
Every year, BBC 100 women dey celebrate ogbonge women wey be leaders, heroes and women wey don change dia world.
Di women wey make di 2018 list include pipo wey dey at di top of dia career plus di ones wey just be activists, campaign pipo and women wey just use dia life experience to change dia world.
Aside from di recognition as 100 women, di idea na for di ogbonge women dem to share dia tori to inspire pipo.
Di Nigerians, Ghanaian and Cameroonian wey dey di list
Amina Mohammed
One of di names wey you fit quick recognise ontop di list na Nigerian Amina J Mohammed, 57, wey be di deputy secretary general of di United Nations.
Amina na also di former minister of environment for Nigeria and before her appointment as UN deputy secretary, she bin don work as special adviser to former UN Secretary General Ban Ki Moon.
Abisoye Ajayi-Akinfolarin
33-years-old Abisoye Ajayi-Akinfolarin na cocial impact entrepreneur for Nigeria.
Many pipo sabi her because of her work as di founder of GirlsCoding, one NGO wey dey teach girls how to code, design and build websites to epp solve problems for dia communities.
Bola Tinubu
Bola Tinubu na di third Nigerian wey make di list.
Di 51 years old na corporate lawyer for Nigeria wey set up di first helpline for children inside di kontri.
Ruth Medufia
Ruth na 27 years old female welder from Ghana wey wan be role model for young women inside di construction company.
Olivette Otele
Di 48 years old na Professor of History for Bath Spa University,
Otele wey come from Cameroon na historian and memory scholar wey dey do work ontop European colonial history and wetin happun afta colonial period.