Bamenda food market: Craiy die as fire burn around 200 stores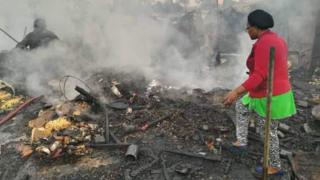 Na craiy die dey for Bamenda food market as fire don burn around 200 stores early on Thursday morning around 2:00am.
Fire fighters for market tell BBC say wen deh reach, night watch man tell dem say de fire start na for one store. But just now deh di still investigate weti cause de fire, authorities too di check de amount for damage.
Some market woman dem weh deh di sell for Food Market don loss plenti moni, part weh na borrow deh borrow.
"Which kana temptation dis ohhh, which kana kontri dis papa God", wan mama di craiy.
"Na ma life don finish so, wusai ah wan start, na about 7 million, part weh na credit weh ah buy tins dem weh deh burn for store; fish, rice, flower.
Dis fire just add de suffer weh woman dem for Bamenda food market di go through as de crisis di so go before for Anglophone regions.
Business no di wake laik before, with too many shooting and some taim e di hard pipo for go market, for buy and sell, deh woman dem tok.
Apart for fire for Bamenda food market, as separatist forces di fight with goment forces deh burn market for Mbve for jumbo, But division.
For Ndop Matilda Wiyfengla tell BBC News pidgin say some taim army di enta market for fain separatist forces and some taim de fighters di tell pipo for komot market so pipo di fear set for go market.