Nigeria 2019 Elections: Atiku, Buhari, Durotoye, Moghalu, Sowere campaign promise wey concern health
Dis na part two of di BBC series wey dem dey do to hold presidential candidate make dem tok true
Voters for Nigeria presidential election for Febuary 16 to choose dia presido, part of di reaon go e wetin dem hear
Dis tok true project dey come so di mata wey pipo go dey tok no go be about party politics but wetin dem get for di Nigerian pipo as per policies.
But how pesin go take sabi weda wetin politicians dey tok na true?
Make we check am.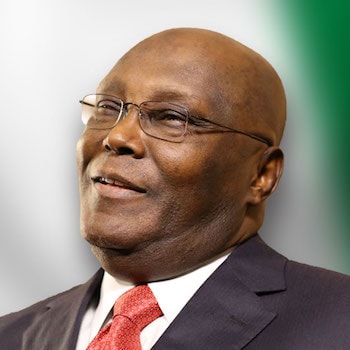 Atiku Abubakar
E reach 57 million Nigerians wey no dey see clean water drink, and more than 130 million Nigerians dey stay for doti wey no get facility to clean dem
... (PDP Presidential Campaign-promise)
Check say e correct
Atiku dey right. For 2015, World Health Organization tok say 57 million Nigerians no get clean wata and 130 million Nigerians dey live for doti wey place ey to clean am.
E mean say three in four Nigerians no get toilet, while one out of three of di remaing no get beta toilet.
Diarrhoeal disease wey no suppose dey if pesin dey drink clean water, dey use clean toilet don turn one of di tins wey dey kil pikin pass for Nigeria.
For 2017, WHO tok say e pass 74 pikin dem wey neva reach 5 years wey don die on top diarrhoel diseases.
For 2018, di Federal Ministry of Health do survey of households dem to sabi dia health waka.
Dem find say half of di cases of diarrhoea for pikin dem wey neva reach 5 years dey for di North-West region, especialy for Sokoto and Kebbi states.
Pipo too plenti for township wey dey make 1 out of 3 Nigerians to dey share toilet and increase chance of contamination.
But na villages dem bad pass. Wen Nigeria start to dey do PEWASH for 2016, wia to see beta water drink bin dey at 57% fpr villages and sanitation dey at 27% wey still low pass di national average from di year before.
For November 2018, Presido Muhammadu Buhari call state of emergency for di WASH sectir come launch di National Action Plan for di Revitalisation of Water Supply, Sanitation and Hygiene (WASH) Sector fir State House Conference Centre.
One of di Sustainable Development Goals wey United Nations cari come na to make sure say evri pesin go fit get cleam eater and clean toilet by 2030 so dat all dis yamayama diseases go stop.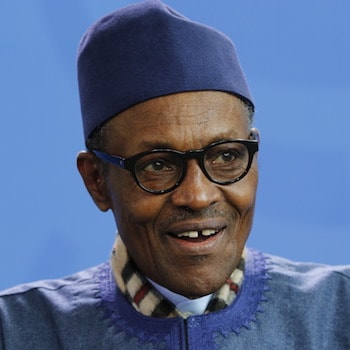 Muhammadu Buhari
Road to see piped water services wey bin dey at 32% for 1990 don drop to 7% for 2015; beta toilet don follow drop from 38% for 1990 to 29% for 2015. Our kontri dey number 2 for world on top Open Defecation as about quater of Nigerians dey do dia business for public.
Check say e correct
Half of wetin e tok na true. Buhari dey correct say Nigeria get di world second position on top of di number of pipo wey no dey usee toilet. Na India be number one.
Ova 46 million Nigerians no dey use toilet, na wetin dey World Bank World Development Indicator database. Dis na almost one quarter of di kontri.
But for region dem, di numbers dey different . D three states wey get di highest rate for open defecation na Kogi, Plateau and Benue, wia e pass half of dem wey no dey use toilet, based on wetin WHO/UNICEF survey for 2016-2017 tok.
But for places like Borno, Zamfara, Kano, Abia and Lagos states, di mata be like night and day as na only fivepercent of people dey fo open defacation.
Today, open defecation for villages pass times two that pipo for township but di impact of pipo wey no dey use toilet na pipo fir for township go feel am pass, wey dey worry places like Lagos wey pipo full like sand.
Several kind yama-yama diseases like diarrhoea fit happun and spread for food wey don spoil or doti water for doti places dem, wey pipo no dey troway doti well, no dey take care of dem health, like dem no dey wash dia hands.
Buhari notice say Nigerians no dey fit find beta toilet like before and safe water for drinking and cooking.
Wetin di 2015 Joint Monitoring Programme of WHO/UNICEF (JMP) tok for dia study confirm am but di numbers dey different from wetin Buhari tok.
In 1990, WHO tok say around 38% of pipo get beta toilet, but only 25% get for 2015.
Yes of fight-fight don scata di infrastructure wey dey allow clean water and toilets especially for North-East areas.
Today, Nigerians for most of di states fit see clean water but no be piped water wey dey enta house direct wey be di highest level of service.
For di whole of Nigera, na only for Abuja wey more than 1 in 10 pipo dey see clean piped water wey dey enta dia house direct.
Oda Nigerians, wey be 1 in 3 dey get drinking water from tubewells and boreholes wey be aoda beta source of clean water.
For di north, 2 for evri 5 homes still dey find am hard to get clean water.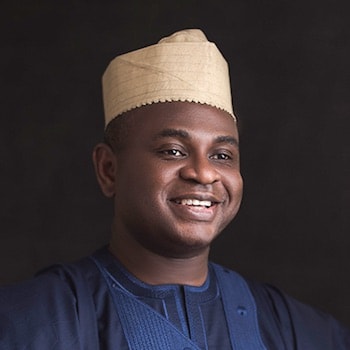 Kingsley Moghalu
Federal goment no dey give di health system for Nigeria beta money at all, ova di last ten years, na less than 5% of di national budget dey enta for health. Na so Nigeria don dey fail for dia promise for di 2001 Abuja Declaration wey she tok say she go follow oda African kontris dey drop at least 15% of dem annual budget for health.
... (YPP Presidential Campaign-promise)
Check say e correct
Dis na true. For di past ten years, di average investment for health by federal goment don dey at 4.8% of di total annual budget.
Di highest amount wey Nigeria don put for health na only 6% for di 2012 federal budget but for di 2019 and 2019 budget, di money don do moonwalk back to 4%.
E mean say na 1,900 naira goment dey spend per Nigerian for dia health.
Nigeria na one of di 52 kontris wey bin promise for 2001 say dem go increase di portion of dia budgets to 15%. Na only Tanzania don keep dia promise so far.
For Nigeria to fit reach dis target, dem go need to times three dia health allocation to 1.3 trillion naira for 2019.
Dat go increase do health spendig for evri citizen for Nigeria to 7,000 naira.
For reality, dat kain budget increase go allow goment fit improve some parts of healthcare wey dey easy to adress and fit create big impact.
For example, e no dey reach half of di pikin Nigeria don colect vaccination for common diseases wey fit affect dem for life.
Goment task team for 2016 calculate say to give one pikin all di vaccines wey di pikin need go cost just 13,000 naira.
E go cost 90 billion naira for vaccines for all di newborn pikin for Nigeria, and we neva even add money wey dem go pay healthcare providers wey go give di medicine or even how dem go transport am to di health centers and so on.
Helep moni for melecine most times na organizations dey donate am.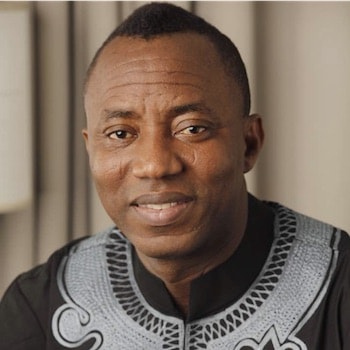 Omoyele Sowore
Moni weey pipo dey spend from dia pocket reach 74% of di moni wey Nigeria dey spend for bodi mata, sometimes e dey make family pipo poor
... (AAC Presidential Campaign-promise)
Check say e correct
Dis one correct wella. Most Nigerians dey spend moni wey boku as cost for bodi treatment mata for clinic or hospital. For evri dollar wey dem spend ontop bodi mata, 72 cents di come from di pockets of di patients demsefs wit about 17 cents wey di goment dey contribute.
Nigeria rank as number two inside Africa for di percent of cost of bodi treatment wey citizens dey pay for, dey for Comoros for back. E dey number eight position for kontris inside di world.
Di National Health Insurance Scheme (NHIS), wey ordinarily dey cover most of di cost of bodi treatment for Nigerians, get small number of pipo wey don register, although di exact informate dey difficult to find.
Di Acting Executive Secretary of di NHIS don suggest say pipo wey don register all over di kontri to enta di scheme dey less than 5%.
According to di most recent informate wey World Bank collect from 2009, 3.7% of Nigerians bey-force enta below poverty line becos of expensive cost of bodi treatment
Since di highest burden of health care treatment fall ontop di pipo wey dey find treatment, some families wey dey earn around $1.90 per day no dey fit pay for di cost.
Unfortunately, no exact informate dey wey Nigeria don arrange ontop dis mata since 2009.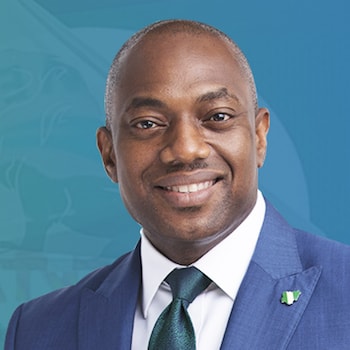 Fela Durotoye
Evri-one above di age of 60 go get free heal thcare. And evr-one wey dey below di age of 5 go get free bodi treatment. Pregnant women also follow for dis category.
Check say e correct
E go cost di goment between $8,815,338,100.00 and $26,446,014,300.00 a year to provide free healthcare for pipo wey don pass 60, pikins wey neva reach 5 and pregnant women.
Inside 2015 di UN bin predict say e reach 8,108,000 Nigerians wey don pass di age of 60.
Di cost to spend evri year to take care of pesin wey don pass 60 years na about $2,852, according to Organisation for Economic Co-operation and Development (OECD).
To provide free healthcare for all of Nigerian pipo wey don pass 60 years go cost di Nigerian goment $1,759,436,000.00 a year.
For di kontri pipo wey neva reach 5 years, wey UN predict for 2015 say dem reach 31,109,000, e go cost di goment 6,750,653,000.00 a year, and for di 7,445,100 pregnant women, e go cost $305,249,100.00 ,
Now, di total moni wey goment dey spend ontop free healthcare na $81, 640,000,00, dat na less than 5% of di kontri pipo na im free healthcare dey reach.
TALK MAKE WE ANSA
Press am make we yarn
We wan make sure say we dey give una balanced analysis on wetin politicians dem tok wit di informate wey dey ground.
We go chook eye for mata wey dey important for local community dem and wey main political parties dey tok.
#BBCNigeria2019