Chantal Biya: Why Cameroonians di compare dia first lady wit Madame Mugabe?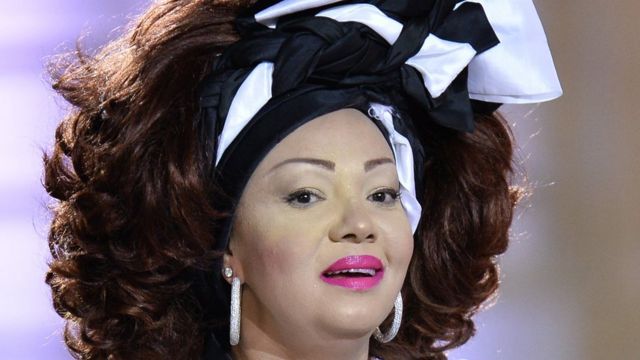 One magazine tori about Cameroon first lady Chantal Biya dey make plenti of her kontri pipo to tink weda she get any tin in common wit former Zimbabwe First Lady, Grace Mugabe.
Na afta 'Jeune Afrique' magazine dig inside de corridor for Etoudi palace write one tori say madame Biya di operate for background weh kontri pipo start compare Chantal Biya wit former Zimbabwe first lady.
Cameroon first lady na woman for 86 year president Biya and former Zimbabwe first lady bin bi na woman for 94 years Robert Mugabe.
De tori call Chantal Biya 'Madame President', explain say for background, e di develop network wit style for influence appointments, disgrace, sack and promotion.
Example for de tori na officials weh deh make CAF take away host rights from Cameroon and Chantal Biya no gree make deh punish dem, according to Jeune Afrique.
Also de tori say Cameroon dey na under Madame President e control and say afta long taim, deh bin di under estimate e.
How Cameroonians react:
Some Cameroonians use dis tori to compare Madame Biya wit Grace Mugabe, weh e marry 94 year old man and bin control de kontri wen e massa bin bi for pawa.
Odas condemn di tori like political analyst Mathias Owona for TV programme say na way for make population rise wit anger. also say de tori na for undermine Paul and e pawa.
National bilingual newspaper too even make editorial say de tori just wan show say president Biya no-longer bi capable and na de woman di take ova.
President Biya don bi 86 years 36 for pawa and Chantal Biya na de second woman afta de first bin die.