Lagos okada ban: See di places wia 'Okada, tricycles no go pass for Lagos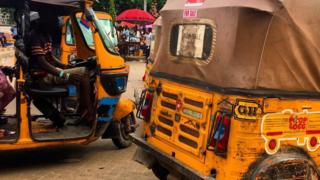 Lagos State goment don ban okada and tricycles aka 'keke Marwa' to operate for various local goment areas for di South West Nigeria state till further notice.
Dis move go restrict di movement of 'Okada,' 'Keke' inside Nigeria commercial centre.
Many pipo wey dey live for Lagos - wey be di commercial capital of Nigeria - dey use motorcycle and tricycle daily to go about dia daily lives.
Na ova 21 million pipo dey live for Lagos, according to National Population Commission of Nigeria.
Di worry of many commuters for di city na say goment no provide alternatives before dem announce di ban on Monday January 20, 2020.
Tori be say dis move go affect plenty pipo.
See di places wia 'Okada,' 'Keke marwa' no go pass
Major express roads dem
Lagos Ibadan Expressway
Apapa Oshodi Expressway
Oworoshoki Oshodi Expressway
Lagos Ikorodu Expressway
Lagos Abeokuta Expressway
Babangida Bouleverde
Eti-Osa Lekki Epe Expressway
Lagos Badagry Express
Funsho Williams Avenue
Agege motor Road
Eti-Osa Lekki Coastal Road
Bridge dem
Iyana-Ipaja Bridge, Agege/Alimosho Local Government
Dopemu Bridge, Agege/Alimosho Local Government
Airport/Ikeja Bridge, Ikeja Local Government
Agege Motor Road/Oshodi Loop, Oshodi, Ikeja/Mushin Local Government
Mushin/Isolo Link Bridge, Mushin Oshodi Local Government
Dorman Long Bridge Surulere/Lagos Mainland Local Government
Ojuelegba Bridge, Surulere/Lagos Mainland Local Government
National Stadium Flyover, Surulere Local Government
Iganmu/Funsho Williams Bridge Surulere Local Government
Apapa - Iganmu Bridge Surulere local goment
Apapa - Ijora Link Bridge, Apapa/Lagos Mainland local goment
Liverpool Bridge, Apapa, Apapa local goment
Mile 2 Bridge Loop, Amuwo-Odofin, Amuwo-Odofin local goment
Okota (Cele)/Ijesha Link Bridge Mushin/Oshodi-Isolo local goment
Apakun/Apapa-Oshodi Bridge Network, Mushin/Oshodi/Isolo local goment
Ikorodu Road/Anthony Cloverleaf Bridge Somolu/Ikeja Local goment
Trade Fair Flyover Bridge, Ojo local goment
Festac/Amuwo-Odofin Link Bridge Amuwo Odofin local goment
2 Flyover bridges along Alhaji Masha Rd, Surulere local goment
Ojota Clover Leaf Bridge, Kosofe/Ikeja local goment
Ogudu Bridge Kosofe local goment
3rd Mainland Bridge Lagos Island/Mainland/Somolu local goment
Maryland flyover Ikeja/Somolu local goment
Ikeja/General Hospital flyover Bridge Ikeja local goment
Kodesho Bridge, Oba Akran, Ikeja, Ikeja local goment
Opebi Link Bridge, Ikeja local goment
Sheraton-Opebi Bridge, Ikeja local goment
Jibowu/Yaba flyover Bridge, Lagos Mainland local goment
Carter Bridge Lagos, Lagos Mainland local goment
Bariga-Ifako Bridge Somolu/Kosofe local goment
Apapa - OShodi Expressway/Alapere Bridge Somolu/Kosofe local goment
Bariga/Oworonshoki Bridge Somolu/Kosofe local goment
Apapa - Oshodi Expressway/3rd Mainland Bridge Somolu/Kosofe local goment
Apapa - Oshodi Expressway/3rd mainland Bridge Somolu/Kosofe local goment
3rd mainland/Oworonshoki Bridge Kosofe local goment
Eko Bridge Lagos Island/Lagos Mainland local goment
Apongbon flyover, Bridge Lagos Island local goment
Cowry Bridge (Officers Mess) Lagos Island/Eti-Osa local goment
McWen Bridge (Bonny camp) Eti-Osa local goment
Marina/Ikoyi Bridge Lagos Island/Eti-Osa local goment
Ikoyi/Obalende Bridge Eti-Osa local goment
Oda Roads
| | |
| --- | --- |
| Agege local goment area | Oba Ogunji RoadOld Abeokuta RoadCapital RoadAlfa Nla RoadOko-Oba RoadAkilo StreetAgunbiade RoadOgba RoadIpaja RoadMaricas RoadOyewole RoadArigbanla StreetDopemu RoadOke-koto RoadOniwaya RoadAdebisi Awosoga StreetOld Ota RoadIjaiye RoadAkin Doherty RoadAmoo StreetPen Cinema Round AboutSurulere StreetAgbedeji StreetAyige StreetSule StreetAshipa StreetSalawu Street |
| Ajeromi-Ifelodun local goment area | Baale Adeyemo StreetMba/Cardoso Street up to Ota WharfMobile Road Up To Boundary RoadBoundary Road - Aiyeke Bridge - Tolu Bus/StopWilmer CrescentIndustry RoadAchapo Road/New RoadIdewu StreetBaale Adeyemo RoadMalu/Mobile RoadOjo RoadCemetery/Mosafejo/Alaba RoadBakare/faro road |
| Apapa local goment areea | Creek RoadWharf RoadBurma RoadRandle RoadMarine RoadKofo Abayomi RoadLiverpool RoadPoint RoadPark laneItapeju AvenueEntire Network of Road in Apapa GRADock Yard RoadOduduwa RoadLadipo Oluwole RoadBonny RoadCommercial RoadMalu/Mobile RoadWarehouse RoadOrile - Igamu Road |
| Alimisho local goment area | Ipaja - Ayobo RoadOkoro RoadEgbeda - Idimu RoadEgbeda - Akowonjo RoadIyana - Ipaja - Idimu RoadIdimu - Ipaja - Idimu RoadLASU - Iba RoadIkotun - Egbe RoadIpaja RoadIgando RoadEgbe - Idimu RoadOld Ota RoadMeiran RoadAyobo RoadAjasa/command RoadBaruwa RoadLiasu RoadGovernor's RoadAbaranje RoadIjegun RoadShasha RoadBaruwa/Aina Obembe RoadAdefemi Road, IpajaGo ye Road |
| Amuwo-Odofin local goment area | Oshodi - Apapa ExpresswayDurbar Road/Asiwaju Bola Tinubu RoadThe Entire Network of Roads in Festac TownCircular RoadThe entire Network of Road in Zones A, B, C & D of Amuwo Odofin Low Cost Housing EstateOld Ojo RoadMumuni Adio Bodmus wayLagos Badagry Expressway |
| Badagry local goment area | Lagos Badagry Expressway from Eric Moore to Seme RoadBadagry Roundabout to Top RoadJoseph Dosu Road |
| Central Business District (CBD) roads | Inner MarinaBroad StreetNnamdi Azikwe StreetKing George V RoadIdumagbo AvenueOuter MarinaAdeniji Adele StreetMartins StreetBalogun StreetOdunlami StreetEreko RoadNew Balogun StreetCampbell StreetBreadfruit StreetAbibu Oki StreetDavies StreetKakawa StreetForce RoadOloto/Fasbery Road |
| Epe local goment area | Femi AgbalajobiAyetoro RoadHospital RoadMarina RoadCentral Mosque RoadKasali Oluwa StreetEkundayo StreetLagos RoadIjebu to Itoikin Road from Agbowa to ItoikinOmu-Ijebu to Ketu RoundaboutKetu Roundabout to Ejinrin TownOta RoadOlofin RoadOrungbo - Ido RoadAgbowa - Ikosi RoadKetu Roundabout to EpeKetu Roundabout Itoikin |
| Eti-Osa local goment area | The entire Network of Roads and bridges in Ikoyi Obalende and Victoria Island Local Council Development AreasEti-Osa - Lekki - Epe Expressway |
| Ifako-Ijaye local goment area/Ojodu/Ojokoro local council development area | Ogunnusi RoadLateef Jakande RoadCollege RoadJonathan Coker StreetIju RoadWEMPCO RoadACME RoadNew Oko-Oba RoadLagos Abeokuta ExpresswayAgbado RoadBaale Animashaun RoadYaya Abatan Road |
| Ikeja local goment area | Lagos Ibadan Expressway (from Lagos Boundary to Lagos and Toll Gate)Sheraton Link BridgeOba Akran AvenueObafemi Awolowo WayKudirat Abiola RoadMoboloaji Bank-Anthony RoadLateef Jakande RoadNurudeen Olowopopo DriveOtunba Jobi Fele WayAllen AvenueOpebi RoadSecretariat RoadMobolaji Johnson RoadOsho StreetHakeem Balogun RoadIPM WayAshabi Cole StreetToyin StreetEntire Ikeja GRA Road NetworkACME RoadWEMPCO RoadOduduwa RoadIsaac John StreetAlausa Secretariat Perimeter Road NetworkSimbiat Abiola RoadKaffi StreetOpebi Link BridgeIkosi RoadAdeniyi Jones AvenueEntire Alausa CBOLadipo Oluwole AvenueASBFI RoadOlowu StreetOla Ayindan StreetUnity RoadArmoire AvenueIjaola StreetIyaoloye CrescentOlu Akerele StreetEmmanuel StreetOdo-Iyalaro UnderbridgeOlotunbosun Street |
| Ikorodu local goment area | Ikorodu Road (from Mile12 to Ikorodu Benson Roundabout)Ipakodo - Ibesha RoadLagos - Ikorodu Express RoadT.O.S Benson RoadOba Sekumade RoadLagos - Shagamu RoadObafemi Awolowo RoadIkorodu - Itoikin RoadIgbogbo RoadAyangburen RoadAlhaji Street |
| Ikoyi/Obalende local goment area | Alfred Rewane RoadGlover RoadAlexander RoadAwolowo RoadBourdillon RoadGerald RoadOsborne Road Estate 1 & 2Lugard AvenueOlu Holloway RoadBayo Kuku StreetOba Adeyinka Oyekan AvenueMobolaji Johnson RoadClub RoadFederal Secretariat RoadThomson AvenueLateef Jakande AvenueMoore RoadOyinkan Abayomi RoadMaroko CloseAdeyemi Lawson StreetFemi Okunnu RoadJabita CloseOnikoyi/Turnbull RoadIru CloseAjayi Bembe StreetEntire Park view Estate RoadAwori RoadHFP WayHEP RoadLawrence RoadReeve RoadSt. Gregory StreetRibadu RoadRaymond Njoku StreetOkotie Eboh StreetKeffi StreetNorman Williams StreetIlabere AvenueOloto RoadOjora RoadMcPherson AvenueOlanijonyin AvenueOwena StreetAgodogba RoadMoboloaji Johnson RoadBedwell RoadMurtala Muhammed RoaObalende RoadToyan StreetOdo StreetAwolowo RoadBankole Oki RoadAdemola StreetTurnbull RoadCameroon RoadYemi CardosoBanana EstateDolphin DuplexDolphin High RiseAlhaji Kannike StreetIgbo StreetMoshalashi StreetEleshin RoadAjeniya StreetDr Bode Olajumoke StreetAlhaji Bashorun CloseAlhaji Alade Odenewu StreetAromire CloseBarrow AvenueOlofin StreetLalupon Street |
| Kosofe local goment area | Ogudu Alapere Expressway (from Toll Gate to 3rd Mainland Bridge)Ogudu RoadDemurin StreetAlapere RoadCMD RoadDoyin Omololu StreetDavies Street50 Metres from Ikorodu Road on Ikosi RoadOmololu StreetDiya StreetWilliams Street |
| Lagos Island area | The entire network of roads and bridges in Lagos Island East and Lagos Island West Local Government |
| Lagos Mainland local goment | Herbert Macaulay WayBarikisu Iyede StreetMurtala Muhammed wayThird Mainland BridgeIjora CausewayCommercial AvenueOld Yaba RoadSabo Round AboutUniversity RoadAbule - Ijesha RoadHarvey RoadMontgomery RoadOnike Iwaya RoadMorocco RoadAje StreetMusiliu Smith RoadHughes AvenueBirrel AvenueHussey RoadOweh StreetAggrey RoadBorno WayApapa RoadJibowu StreetIwaya RoadOkobaba StreetCemetery StreetFreeman Street |
| Mushin/Odi-Olowo area | Agege Motor Road (From Mangoro to Moshalasi Junction) BothFatai Atere Way(Okada Only)Idi-Araba StreetIlupeju Bypass(Both)Itire Road(Okada Only)Palm Avenue(Okada)Ladipo Street(Okada Only)Layi Oyekanmi Street(Okada Only)Olateju Street(Okada Only)Isolo RoadOjekunle RoadIlasamanja Road(Okada Only)Ogunmokun Street(Okada Only)Association Avenue(Both)Kayode Street(Okada Only)Town Planning Way(Both)Coker Road(Both)Post Office Road(Okada Only)Mushin Road |
| Ojo local goment area | Igbo Elerin RoadLagos - Badagry ExpresswayIyana School Bus Stop at Ishasi RoadOba Ayoka to Iba New SiteAlaba Int'l Market RaodOlojo DriveOjo Igbede RoadNepa RoadIshasi RoadAbule Aka Road to Ajangbadi RoadAkoberu/Sabo RoadItire - Ilogbo RoadIyana Era - Ilogbo RoadAjangbadi - Shibiri RoadKemberi/Aka Road |
| Oshodi/Isolo local goment area | Okota RoadNNPC roadOshodi - Apapa expresswayAirport RoadEgbe RoadAgo-Palace WayIsolo RoadOsolo WayAbimbola StreetEjigbo - Ajao Estate Link RoadEstate - Isheri-Oshun RoadPost Office RoadOyetayo StreetOshodi RoadChurch StreetAfariogun StreetSehinde Callisto StreetMafoluku RoadAdeyemi StreetAjibulu StreetNew Airport Road |
| Somolu local goment area | IKORODU EXPRESSWAY (From Mile 12 to Yaba Terminus)George StreetMorocco RoadMarket StreetBajulaiye RoadFola Agoro StreetApata StreetOguntolu StreetPedro RoadIgi Olugbin StreetAshagbon StreetGbagada RoadSt. Finbarr's RoadJibowu StreetOweh StreetIssac John StreetWatchtower AvenueShylon StreetShipeolu Street |
| Surelere local goment area | Funsho Williams AveAdeniran Ogunsanya StreetOgunlana DriveBode Thomas StreetAkerele RoadItire - Ojuelegba RoadTejuosho StreetAlhaji Masha RoadItire - Ijesha RoadIshaga RoadEric Moore RoadRandle AvenueAgbebi StreetBabs Animashaun RoadIjesha RoadEnitan StreetAdeshina StreetAdelabu SteetAdetola StreetNuru Oniwo StreetAdekunle Kuye StreetShaki CrescentOshogbo StreetTokoso StreetOkotoa Link BridgeOpere StreetOdichie StreetOlatunde Onimole StreetBrown StreetAgboyin StreetAgboyin AvenuewNnobi StreetSanya StreetOpeloyeru StreetKilo StreetAdetioye StreetFasoro StreetOladimeji StreetOjuolape StreetSolabomi StreetOgungbesan Street |
| Iru /Victoria Island Local goment area | Ahmadu Bello WayAdeola Odeku StreetKofo Abayomi StreetOzumba Mbadiwe AvenueAjose Adeogun RoadIdowu Taylor StreetIdowu Martins StreetAdeleke Adedoyin StreetElsie Femi Pearse StreetMusa Yar'Adua StreetWalter Carrington CrescentBishop Oluwole StreetSamuel Manuwa StreetAkin Olugbade StreetMolade Okoya Thomas StreetSinari Daranijo StreetBishop Aboyade Cole StreetLigali Ayorinde AvenueSaka Tinubu StreetKarimu Kotun StreetMuri Okunola StreetEtim Inyang CrescentAdetokunbo Ademola StreetAdeola Hopewell StreetAhmed Onibudo RoadEngineering CloseSanusi Fafunwa StreetTiamiyu Savage StreetOlosa StreetOyin Jolayemi StreetMarinho DriveMoshood OlugbaniFatai Durosinmi StreetAdeyemo Alakija StreetOko Agwo CloseAfribank Street. |