Ghana voter registration mop up exercise make bloody as violent clash between NPP, NDC kill one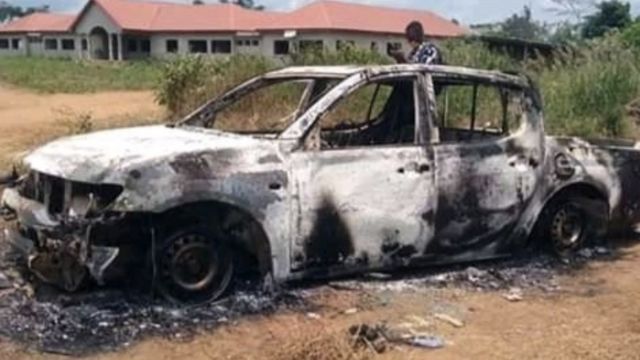 Violent clashes between political party supporters for Ghana result in de death of one person, while two others dey inside critical condition during voter registration mop up exercise.
De deceased die after gunshot hit during de disturbances wey hit de area over registration issues.
Gunshot from security personnel wey want disperse de violent clashes kill one.
Ghana Police arrest three people over de clashes wey disrupt voter registration mop up exercise for Dormaa West constituency.
How violent clashes happen
Electoral Commission set aside Saturday and Sunday for mop-up exercise for de voter registration exercise across de country.
During dis two-day period, political parties go fit challenge people wey dem feel no be qualified to be on de register den tins.
But NPP and NDC supporters start dey accuse each other.
Member of Parliament for Dormaa West constituency, Ali Maiga Halidu accuse de NDC buss thugs from to de region to intimidate NPP members.
According to him, NDC supporters start dey burn pick up car, motorcycles wey dem vandalize one some buildings.
But NDC officials for de area also accuse de NPP say dem block dem from participating in de mop up exercise where dem go fit challenge de names of some people wey no dey qualify to be on de register.
In de midst of dis back and forth wey fight broke.
For video wey dey circulate inside, dem set fire on one pick-up truck den motorbike during de clashes.
In an attempt to stop de violent clashes wey dey happen, Police den Military personnel respond try control de situation plus warning shots.
E be during dis time wey gunshot unfortunately kill Kofi Labat, while two people one from both NDC den NPP also secure serious gunshot wounds.
Tension full Ghana voter exercise
Tension full ground during de voter registration exercise for Ghana, from allegations say some people be Togolese, accusations say military dey intimidate registrants for certain regions to warning shots by some lawmakers.
De political landscape for Ghana dey look tensed after de country record violent clashes and death in some cases during dis exercise.
Ghana dey go to de polls on December 7, 2020 wey security analysts dey call on political parties say dem for shun de use of violence so say dis no go cause problems during de General Elections.