Muyuka killing: "De way deh kill wa sista na laik animal, na yi di increase wa pain" - Afiri Comfort family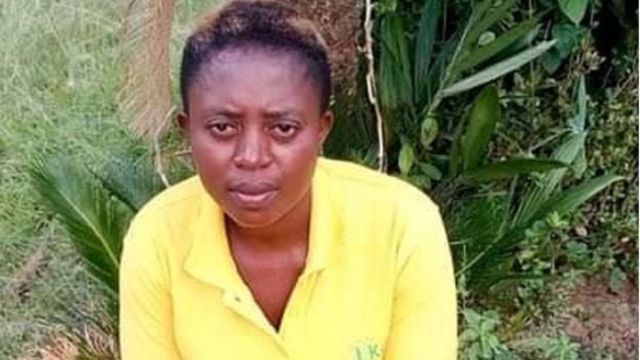 Family for 35year-old Afiri Comfort weh 'separatist fighters' kill for Muyuka, Southwest Cameroon for inside dia pain, di beg make goment train pikin dem for school.
For August 11, suspected separatist fighters kill Afiri Comfort Tumasang, mami for two pikin dem, boy pikin about 15 for secondary school, sista 10 oda for primary school.
Family bury Afiri for Saturday inside fear as separatists warn say deh go deal wit any man weh e dig de grave.
"De way deh kill wa sista na laik animal, na yi di increase wa pain. De pikin dem de just be sad", Ngum Madeleine big sista for Afiri Comfort tell BBC Pidgin.
Even as family di thank God for everytin, deh di beg say make goment helep train de two pikin dem for school.
How Afiri Comfort die
Afiri Comfort bin bi na businesswoman weh e di buy oil go sell for Douala and den buy plums kam sell for Muyuka.
So dat day, deh 'boys' kam drag e from e house opposite e mami e own house for Makanga junction for Muyuka.
De take e go anoda quarter go kill'am. De 'boys' first make video and for inside Afiri tok how e bi go see army man weh e ask e for friendship, 'njomba'.
De killers say e bi black-leg, goment spy since e di go see military man.
Afta deh tie e hands for back drag e legs den cut de neck wit cutlass, drag e body cross road for video weh e go viral for social media.
Deh call mami for farm and de family take de die bodi go keep for mortuary before bury for Saturday, August 15.
Mayor for Myuka, Lazare Langinou tell BBC Pidgin say deh di still wait make authorities increase security for Muyuka.
Afiri Comfort die one-week afta suspected separatists kill Treasure Keno Mbah for Bamenda for de same reason, 'black leg' and three oda pipo for Northwest region.
Army arrest plenti pipo as resident tok, but release some as tori di waka say deh arrest three suspects.
No bi only separatists di kill, viral video komot weh army kill drag one young man for Piyin for Northwest region just afta de woman weh de kill for Muyuka.
Governors for Northwest and Southwest regions don promise for deal wit de separatist fighter weh deh di hambock population plenti.
International and local rights groups, UN don condemn de killings, but kontri pipo di wanda wen international community to act for stop de killings for Anglophone region.
De crisis for Anglophone regions di enta number foru year and more dan 3000 pipo don die, about 600,000 run go oda areas for kontri, 60,000 for Nigeria, about 600,000 pikin dem drop from school.