Yemen: Suffer-suffer too much for children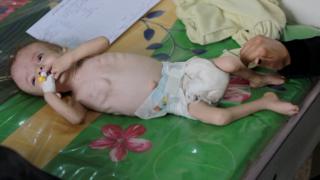 Two years of war don mean say food and medicine nor dey for many people for Yemen. Dis one dey affect how di people dey live their life. BBC tori person wey be, Nawal al-Maghafi, don waka all over di country, to take her eye see how the matter don bad reach.
Samira run enter di school- wey don become temporary hospital for cholera treatment- like Mama wey know say must act fast to save her pickin.
For her to reach here, she trek come from far place because she no get money for transport.
I look am as she run go one of the treatment tables, small small, she lay her 18-month old baby Orjowan on top as she dey beg the doctors to help her safe am.
Her eyes dey show say she don lose hope and she tire well-well.
For Samira, the last two years no easy as she dey struggle to survive. Orjowan don lose weight and she no get strength, you fit count her ribs and she small pass her age.
For dem to come this far, Samira and her family get to endure, survive the three biggest palaver of war: famine, cholera, and dem lose their house; no where to stay.
Like almost three million other people from Yemen, Samira and her family be internally displaced people, wey dem dey call IDPs.
Bomb hit their house for air strike wey Saudi-led multinational coalition wey dey support government for the war with the Houthi rebels, carry out.
Samira children dem with nearly half a million other people wey dey under five dey suffer from severe acute malnutrition, wey be say no food to chop. Samira join dis number; because of dis she no fit breastfeed Orjowan.
Instead, the only thing she fit give her pickin na small-small powder milk wey she mix with dirty water wey full with germs - dis one fit dey cause cholera.
As she dey dey look her pikin, Samira begin dey cry.
''If anything dey wey I fit still do for am , I go do am. Even if na to beg my brother, but im too no fit help because im too dey desperate.''
As she dey talk, Orjowan dey ontop table, she dey too lean sotay she no even fit cry. Samira just dey look her pickin helplessly and her body as she weak for there.
Bad as e be, Samira case no be the only one - infact na the first of many wey I jam for my journey for Yemen.
Everywhere I go, I see many more people wey dey suffer from desperation, grief and dem no fit defend demself.
For the north of the country wey be rebel-controlled area, we visit several clinics wey full with cholera patients. For one place, I meet one family of 18; all of dem dey suffer from the disease.
E fit no make sense but these people dey somehow lucky; na dem fit do the long journey, then pay for treatment.
More than 2,000 people don die already because of dis cholera outbreak - wey be the biggest for the world - and 540,000 others don dey affected.
More than half of all the hospitals don close because of the war or dem no dey operate fully.
Dis one mean say 15 million people no get chance to use hospital.
As we waka deep-deep inside the country, we reach one village wey far from the closest hospital with one and a half hour.
Here we see people for their house, or for area, on top ground or for beds; all of dem wan dey sick with cholera.
I follow Abdullah and im sister, Hind, ask dem why dem no go hospital. Im no even get energy to answer me.
''We no get money for transport; dis war don take everything from us,'' e tell me, straight.
Things dey tough
While Yemen bin poor before the war, things never bad like dis for im people.
Two-and-a-half years of war don cause wetin the UN don talk say na the "largest humanitarian crisis" for the world.
Seven million people from Yemen na im dem consider as say food no dey sure for.
Three-quarters of the 27 million people wey dey Yemen, dey depend on humanitarian assistance; although you no need statistics to tell you dis one. Everywhere I go, beggars full street, and I never see dis kind number for the country before.
While we dey drive for Hudaydah I dey surprised to see many beggars come my window when I stop for junction.
One of dem na one old woman, she look me straight for my eyes through the glass.
As I lower my car window, she tell me : ''See how dem don make us desperate! My sons no get salaries. Now I dey spend my last days for this world, dey beg to feed dem.''
As dem never pay public servants for more than one year now, her story na like millions of other Yemen people - from traffic wardens to teachers - dem dey beg to feed themselves and their children.
Deadly blockade
One blockade wey Saudi-led coalition don reduce the amount of food, aid and fuel wey dey enter the country to only small.
The small things wey dey manage enter from sea dey spend many weeks, before dem dey offload dem because dem don bomb the cranes wey dey Hudaydah - wey be the busiest port for Yemen before-before.
When US government donate new cranes give UN World Food programme (WFP) last December, the coalition stop dem by the sea; dem no allow dem enter.
When I dey Hudaydah, I meet David Beasley, wey be di WFP Executive Director; im come do inspection visit.
''Food and aid no suppose be weapon of war but of peace. If these cranes no enter, hundreds of thousands of Yemeni children go die," na wetin Mr Beasley talk.
Apart from say e reduce imports, the blockade don make cost of distribution high well-well for Yemen so that the small food wey make am into the shelves too dey expensive for the people.
Even aid agencies too dey struggle to pay for deliveries, because transportation cost dey high pass the food sef.
I no know wetin happen to Samira and Orjowan; even Abdullah and Hind plus the rest of the people for the village.
The tragedy of the cholera be say e dey easy to treat, but e dey kill if person no treat am fast.
Wetin dey more painful about the Yemen humanitarian catastrophe be say e no necessary and na man cause am.
All the suffer-suffer wey we see dey avoidable and dem fit stop am in days if dem get political will - if everybodi wey dey fight for Yemen want make all dis palava stop.
But before dis one happen, as international diplomacy no work for Yemen, people life for there go just dey worse dey go.