5 things you suppose know about Mexico earthquake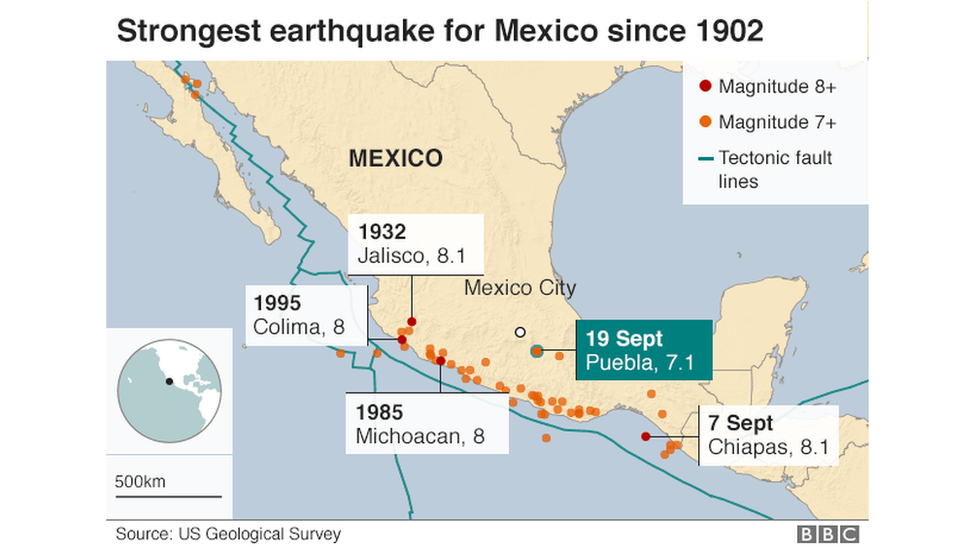 Earthquake don happen for Mexico again. Already tori dey show say e don pass 200 people wey don die, including 20 children.
Mexico na country for Latin America and Mexico City na one of di most populated cities for di world with up to 20 million people.
Emergency agencies dey ground and dem still dey find people wey survive am but dey trap under buildings wey don collapse.
Di country dey used to dis as no be di first, second or third time wey earthquake don shake di country be this. E never reach two weeks sef wey one happen.
For September 7, US Geological Survey measure 8.1 magnitude earthquake wey shake ground for Mexico coast, come kill 90 people.
Up to one million earthquake dey happen every year but for Mexico, na serious matter.
Dis na di 5 things wey you suppose know about Mexico and earthquake.
How many times e don happen?
For di last 100 years Mexico don experience plenty earthquakes but na five don strong pass all di others. Two don happen for dis year.
Di years wen dem don happen dey below:
1932 - 8.1 magnitude
1985 - 8.1 magnitude
1995 - 8.0 magnitude
2017 - 8.1 magnitude
2017 - 7.1 magnitude
2. Why e dey happen plenty times for di country?
Mexico dey for one area wey dey experience di most seismic activity for di world - di country dey sit on top three of di Earth biggest tectonic plates.
Seismic activity be say di ground wey dey under dey move a lot.
US Geological Survey talk say e pass 19 earthquakes wey do like 6.5 magnitude near di area wey di latest one don happen in like 100 years.
3. Worst Earthquake for Mexico: 1985
For September 19, 1985, Mexico see di earthquake wey almost finish di country. Di 8.1 magnitude quake kill pass 10,000 people and e pass 30,000 wey injure. As e be so, di latest earthquake happen for di anniversary of di one wey happen for 1985-na 32 years don pass between di two of dem.
4. Political matter
After earthquake wey happen for 1985, plenty political change start dey happen for di country. Many people vex say government no do well to respond to di disaster as e affect people. Na so strong political opposition form to challenge di Institutional Revolutionary Party (PRI) wey don dey in power since.
5. Building Law
Earthquake wey happen for 1985 break pass 3,000 building for Mexico City as e happen e still add to di vex wey people vex say government no do quick-quick to respond.
As dat one happen, dem con change law wey dem dey use to build house for di country. Dem con say make people dey reduce wetin dem dey call "soft-story buildings."
Dis one na building wey no get better wall and column inside to support dem.