Hurricane Season: Wetin you suppose know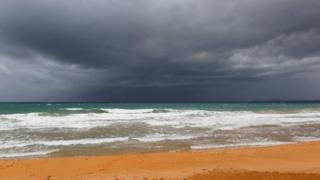 From Hurricane Harvey to Irma and now na Maria, na so tropical storms dem just dey follow demself for back, one by one.
Tori be say even Hurricane Jose sef dey road, dey come.
All dis storms dey always carry waka inside di month of August and September, and dis period na wetin sabi people dey call Hurricane Season.
Dis year alone na seven different Hurricanes don happen already and di way still far, as di Hurricane season still remain two months to go.
Last time wey Hurricane gather bodi, cause palava like dis na for 2005, wey be di year of Hurricane Katrina and na nine storms happen for world.
Wetin you suppose know
Whether na Hurricane, Cyclone or Typhoon, all of dem na di same weather disaster, but dem dey call dem different name, depending on which area e happen.
If na for Atlantic ocean or North East Pacific ocean e happen, then dat na Hurricane. When e happen for South Pacific and Indian ocean, dat one na Cyclone.
But when na for Northwest Pacific di storm dey disturb, then dat na Typhoon.
Hurricane na very strong storm wey dey carry heavy wind, heavy rain flood and mudslide follow bodi.
Usually, storm season dey start for April, then e go end for December.