Helen Zille: Why dis politician dey bathe only once every three days?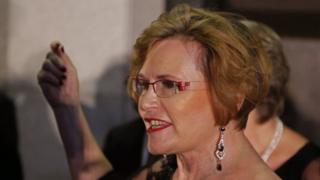 How far you fit go to save water?
BBC tori person, Pumza Fihlani, say for di head of one province for South Africa, e be like say no sacrifice too big.
Western Cape Premier, Helen Zille, don open mouth talk say she dey baff only once every three days.
Dis one mean say if she baff for Monday, she fit no enter shower until like Thursday.
But e be like say dis thing wey dey shock some people, get noble reason, wey still make sense to some other people.
So wetin be Ms Zille reason? She say di Western Cape - wey popular for their winelands, mountains and beaches - nor dey get water, sotay di thing don worse since last year, because rain no dey fall as before, and drought don dey di region.
"I dey enter shower quick-quick' once every three days' and for the rest (of di week) I dey wash inside hand basin. I bin dey wash my hair every day' but now na only when I dey shower' and dis one no dey too good," na wetin Ms Zille write inside column.
Even as she explain, Ms Zille, wey be di founder of South Africa opposition Democratic Alliance (DA) party, don shock many people with wetin she open mouth talk about how many times she dey bathe.
Dis no be di first time wey Ms Zille go surprise people. E never tay wey she still cause palava after she posting tweet wey be say peopel feel say she suggest say some good things still happen during colonial times, when white people dey suffer black people because of their skin colour.
For some South Africans, dem feel say those wey get shower, and get choice to sacrificing their shower time na problem wey only middle-class, rich people fit get.
Dis na because many of those wey dey live for Cape Town informal settlements no get shower; dem only get community tap for water, and dem dey use basin bathe, while others dey usually get running water for house, and bath too.
This latest word from Ms Zille, still get some people wey feel say di way she dey try save water na good thing.
So how we come know about di habits of one of South Africa popular politicians?
Well, Ms Zille bin dey reply to local media wey dey raise question about how her Provincial department dey use money put water purification system for her official house for Cape Town.
To show say she sef dey serious about di water matter, she say she and her husband dey try to use little water' sotay sometimes she dey worry about wetin fit happen to their health.
Dis tori fit don make some people laugh for social media, but for those wey dey live for bi province, no bi laughing matter.
The average water level for dams across di Western Cape na 35%; dis na big drop from di 61% at the same time last year, according to di province own water affairs department.
Because of all dis one, wetin dem dey call "level five restrictions" on top how people dey use water don dey ground - now, each of Cape Town six million residents no fit use more than 87 litres of water a day.
Scientists report say di average eight-minute shower dey use 62 litres; dis one na already - 70% of each person daily allowance for Cape Town.
Anybodi wey use pass di allowed amount of water fit get fine, and more palava fit dey for businesses wey no follow di law.
But to dey put eye for how people dey difficult, so authorities dey beg area people to do "self-police," begin monitor demself.
E be like say all dis one no dey work.
Authorities say area people and businesses dem just no dey do enough things to obey di new rules.
Di don dey look how dem go fit get water through other ways, including recycling of water and to dey collect water from deep inside ground.