100 Women: Meet Susi Pudjiastuti, di Indonesian minister wey dey bomb boats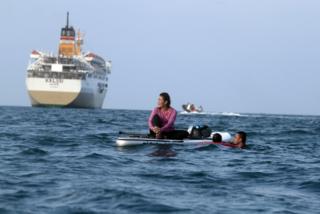 Indonesia never take eye see politician like Susi Pudjiastuti.
Di minister of maritime affairs carry tattoo for bodi, and she take leg waka out of education matter since high school. She leave book, turn herself to businesswoman.
But now, Pudjiastuti dey lead tough operation wey dey fight illegal and unsustainable fishing. Hundreds of boats na im dem don blow scatter, and na she give all di order.
When dem ask President Joko Widodo why e put her for office for 2014, im say e need "crazy person" to get results.
Her bold way don turn her into pop culture icon for di country.
BBC Indonesia editor Rebecca Henschke say na all dis one land Ms Pudjiastuti for dis year BBC 100 Women list.
And all dis one dey happen for country wey get di world largest Muslim population and place where dem no dey think of their politicians for good way.
Ms Pudjiastuti don popular sotay dem paint her as Superwoman for wall for public, dem don use her as half mermaid-half warrior and even as manga cartoon action figure.
Her social media image, don dey change things for Indonesia conservative political style wey no dey so loud.
"I no dey try adjust myself to di usual political way of doing things, I for no dey successful if I try to be another person," na wetin she talk, with laugh join am.
"E no dey easy but now I see am as advantage. I don decide since say I must dey open, open, open.
"I no change myself because I think things for too strong against me..."
Videos dey wey show her dey dance to UK music group the Beatles after she don inspect one navy vessel, or even as she dey drink coffee for middle of sea. As di videos dem dey go viral, polls dey show say people like her well-well.
But every time dem wan change di government people, na so rumours go come say President Jokowi dey under pressure to remove her from office. Those wey no like her say di way she dey run her ministry no be like say she think of her polcies well.
When di BBC call say dem wan interview her, she say she just come back in from sea, and she come late for di interview.
"Sorry, sleep carry me go from di ocean. I bin dey for sea, dey swimming dey paddle dey go. I must dey steal one day to run away from everything. Di ocean na di best place for dat," na wetin she talk.
Wetin be 100 Women?
BBC 100 Women dey name 100 powerful women around di word wey dey also inspire people every year. For 2017, we dey challenge dem to put eye for four of di biggest problems wey dey face women today - di glass ceiling, female illiteracy, harassment in public spaces and sexism in sport.
With una help, dem go dey come up with real-life solutions and we want you to put mouth too with your ideas. Find us for Facebook, Instagram and Twitter, make you use #100Women
Now, Ms Pudjiastuti dey live her life with everybodi eye on top her; attention never dey like dis before, especially for maritime affairs minister wey dey usually be low-key position.
But social media dey fit turn to ugly place for women politicians.
"When one picture go viral of me as I dey smoke just after dem give me post, I read all di thousands of bad-bad comments wey peopel write," Ms Pudjiastuti talk.
"People say, 'you be Mama, you popular, my daughter like you well-well, and now I dey fear say she go smoke like you!'"
"I come feel bad, I promise say I go stop, well I no dey smoke again for outside anymore," she laugh.
Di Deputy Speaker of di House, Farid Hamzah, put picture for Twitter wey show her leg tattoos, come say Pudjiastuti na common street thug.
"People dey really look women wey get tattoos for Indonesia with one kain eye. But I get dem [di tattoos] more than 30 years ago, because my friends get dem and dem be good people," she explain.
"Before, I bin try to wear clothes wey no go show my tattoos, long skirts and long trousers, but I just wan begin dey crase."
"For di last two years I dom add weight, almost 9kg, so I dem dey judge me for dat too. But you just get to stop to dey think about am."
Blowing up boats
Instead of to dey talk about her life, she want make people dey put eye for di work she dey do to stop illegal fishing.
Na she bring idea to start to blow bomb wey dem find dey do illegal fishing inside Indonesia waters dem.
"We bin need something wey go stop people; we get large area sotay e go dey impossible to really monitor am," she add put.
So she decide to start to dey bomb any boat wey dem get in front of camera and tori people de,.
"I no think say anybodi go dey happy to see their boat dey scatter."
Under her office, Indonesia don destroy hundreds of boats, including some from China, wey dey claim say water wey surround Indonesia Natuna Islands na traditional Chinese fishing grounds.
Dis one don lead to small bad-belle between di two countries and some people inside Indonesia parliament don say her style dey too harsh.
Ms Pudjiastuti confess say she bin no really know wetin she dey waka enter.
"I bin no know how big dis tin be, who di people be. I no really think about am."
She say all di numbers show say her strategy dey pay off and fish don dey begin plenty for water.
Di things wey she dey do don make environmentalist and Hollywood actor Leonardo DiCaprio dey hail her, but some people say her laws don make local fishermen to suffer.
Pudjiastuti say glass ceiling dey Indonesia when fit dey stop women from leadership jobs dem, but dem raise her from small pickin to think say she dey equal to men.
Her Mama run from house when she be 12 years, to avoid by force marriage wey dem arrange for her to older man.
"Na during di 1930s, na im dat kain thing happen."
She say her Mama live with nuns for some year, and she marry late: "she bi 32 years old when she born me."
She grow for di south coast of West Java, and her parents dey strict; dem no treat her different from her brothers.
"Dme no dey ever say dis na man thing, dis na woman thing, dem treat us as equals. Dat one help me well-well," she say.
"Dat na wetin I dey tell di women organisations dem now; if you still dey talk about how we different we no go move forward; stop di barrier for your own mind first. Less think-think na wetin bey best pass."
"Life don let me do things di way I want to dey do things."