US: Court don stop President Trump latest travel ban order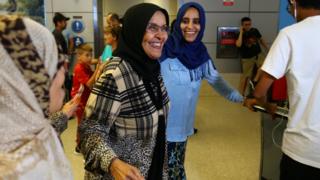 US President Donald Trump latest order to stop citizens from eight countries to dey enter US don jam wall for court.
Na one federal judge Derrick Watson na im nack di thing temporary restraining order before dem fit start to put di ban for ground from next week.
Dis one mean say US no go fit use di ban stop anybodi from travel, for now.
Di policy bin target Iran, Libya, Syria, Yemen, Somalia, Chad and North Korea; dem still add some Venezuelan officials inside di ban.
Judge Watson decision na to stop di ban for all di countries, except North Korea and Venezuela.
Im say di new ban no fit show say more than 150 million nationals from di six countries go bring bad thing to anything wey concern US.
Na different versions of dis same type of ban don come since Mr Trump enter office; dem target six countries wey Muslims full pass - but di Supreme Court stop all di ban.
US travel ban go include N Korea
Dis latest one na di third travel ban, and na di state of Hawaii drag Mr Trump - dem say di president no get di power to dey try force all dis kain ban.
President Trump travel bans dem don cause plenty-plenty palava, and many people dey call am "Muslim ban" - something wey don bring many court case and protests for streets join.
Hawaii argue for court say even though Trump bin add North Korea and Veneuzela, dis new ban dey follow wetin Trump talk for campaign say im go stop all Muslims from entering US.
Dis same ban dey also face case from Maryland, Washington state, Massachusetts, California, Oregon, and New York.
White House don respond
White House Press Secretary Sarah Huckabee Sanders stalk for statement say di court order get dangerous mistake, and e dey spoil di government effort to keep America people dem safe.
"Dis ban dem dey important to make sure say foreign countries obey all security standard wey we need to protect our immigration system and di security of our Nation," na wetin she write.