Earthquake: Iran don declare day of mourning for di world deadliest earthquake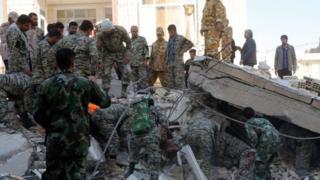 Na tears still full Iran eyes, and di country don say today go be day of mourning, after earthquake kill at least 450 people, wound 7,000 others join.
State television say Iran don stop dia search and rescue operation, as dem dey try recover from wetin be deadliest earthquake for world so far dis year.
Teams bin dey look for survivors wey dey trapped for buildings dem wey collapse, and around Iran mountain border where di quake happen.
Tori be say President Hassan Rouhani suppose visit di region.
Another thing wey dey happen now na say thousands of Iranians don spend dia second night outside for very cold weather, as dem another place to go.
Most people wey die na for western Iran - for Sarpol-e- Zahab, one town wey dey 15km (10 miles) from di border, and for other parts for Kermanshah province.
For September, 226 people die for earthquake wey happen for Mexico.
Plenty buildings na im destroy when di 7.1 magnitude quake shake ground, including for one school where many children die.
Di earthquake damage di town main hospital, now dem dey struggle to treat plenty people wey wound, na wetin TV dey report.
Dem pull one woman and im baby comot from di building for di town, na wetin Iran media talk.
No water or light dey for some city dem after building collapse force people to dey outside for park or street for cold weather.
Many houses for Kurdish mountain area na mud bricks dem use build am wey Sunday quake fit affect.