WHO: 'Cancer dey kill people pass for world'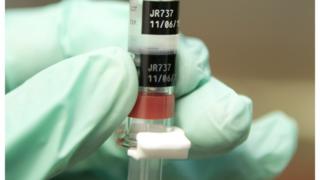 Di World Health Organization WHO say cancer na di leading cause of death worldwide, as e don kill 8.8 million people alone for 2015 and di number of new cases fit increase by about 70% in di next 20 years.
Dis one comot as everybodi dey mark di 2018 World Cancer Day. For 2016-2018, di theme na: "We can, I can."
With dis theme, dem expect people to make effort to reduce di impact and harmful effects of di condition globally.
Di International Agency for Research on Cancer (IARC) and di World Health Organization (WHO) come say no be only people health cancer dey affect, as e also get serious economic impact sake of say e dey cost almost $1.16 trillion dollars (wey be about N417.6tn) to treat cancer palava every year.
For di new study wey dem just publish for journal, wey be Cancer Epidemiology, dem say for di first time, di cost of productivity wey dey loss on top early death through cancer deaths for some emerging economies dey very big, up to $46.3bn (dat na N16.6tn) for Brazil, di Russian Federation, India, China, and South Africa; dem call these countries di BRICS countries.
Meanwhile, di cost of cancer treatment for world don high well-well, from $75bn in 2009 to $100bn for 2014; dis na 25% increase in five years.
For dis matter, dem say e dey cheaper to prevent cancer than to cure am. So for di prevention aspect, some behaviour and risk factor wey dey encourage cancer na tobacco and alcohol use, unhealthy diet and people wey no dey too do exercise or physical activity.
Dem also identify some infection wey fit expose person to cancer, like Hepatitis B and C virus wey dey cause liver cancer and di Human Papillomavirus HPV wey dey cause cervical cancer for women. Dis na because for almost 15% of cancer wey dem diagnose for 2012, na dis infections dem cause am.
Since these cancer dem dey preventable, sabi people dey take strong mouth advise say make people take di vaccines wey go help dem avoid am. Vaccination against HPV and Hepatitis B virus fit prevent one million cancer cases each year.
Another strategy for di prevention side na regular screening and early diagnosis. Dis na because e fit reduce death by cancer if dem detect and treat di cases early, as di patient fit respond well to di treatment, e dey less expensive and e fit survive am.
For di treatment side, correct diagnosis dey very important because every cancer go need specific treatment wey go include one or more of surgery, radiotherapy and chemotherapy. Dem go also need to know whether dem go give palliative care and psychological support and dis go depend on di stage wey di cancer don reach.
For Nigeria, di average cancer patient fit spend between N5million to N20million or more every year, depending on di type of cancer, di treatment and where di treatment dey.
WHO say di common causes of cancer death na cancers of di lung (1.69 million deaths); liver (78,000 deaths); colon (77,000 deaths); stomach (75,000 deaths) and breast (57,000 deaths).