Beta ways to take wake your pikin up from sleep for morning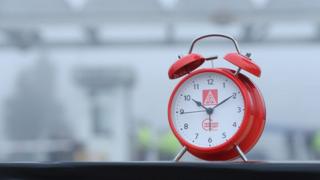 Parents of pikin between di age of 3 - 10 go tell you one time or di oda, dem don struggle to make dia pikin wake up on time for school.
Wetin some pipo remember as how dia parents take wake dem up na to chop slap for back or leg, or make dem shake dem like say dem be tree wey get ripe mango fruit on top am.
Many parents need to know say oda ways dey wey to wake dia pikin up wey no go give dem headache or make dem cry.
Use Music
If e get song wey your pikin like to dey dance or listen to, e go ginger am to wake up if you play am. Sabi pipo say e better make you use fast song wey get strong beat to wake pikin but slow music fit make dem wan sleep more.
Use alarm clock
Di older di beta. Dat old alarm clock wey dey sound like bell dey work wonder; di type wey you need to nack for head before e 'shut up'.
Set di alarm to di time you wan your pikin to wake up, come put am ontop table wey far small from where im dey sleep.
Di sound go do am wan kain so tey im go need to wake up, waka go di table before im go fit stop am.
Use Light
Sabi pipo say light dey ginger brain and make our body to dey sharp. 15 mins before di time you want make your pikin wake up, you fit draw curtain so that natural light go nack am for bodi.
If na very early morning and sun never come out, you fit on di light wey dey very bright for di room.
Use Water
For some pikin if water touch dem, dia bodi go dey on attention sharp-sharp. Parents fit carry small water for hand take spray di pikin.
---
Di most important things to make sure say e no difficult for pikin to wake up for morning na:
Make you pikin chop beta food. Di kain food wey pikin chop for night dey important. Di ones wey get sugar inside like puff-puff, cake and ice-cream no good for night because e fit over-ginger di pikin and e no go fit quick sleep.
Make your pikin sleep early. Sabi pipo say na at least 10 hours pikin suppose sleep for. For instance, if you want make di pikin wake up by 6am, im suppose don sleep by 8pm.
Make you pikin hear good word from you. Every pikin like to hear beta word from dia parent. Word like "I love you", "You be star", fit make your pikin like to wakeup. When e wakeup, give am hug before you order am say make e go brush im teeth.