This is America: Di video of rapper Childish Gambino wey dey make pipo talk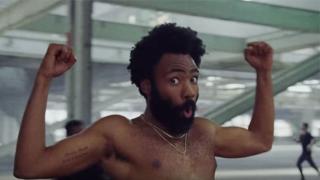 Two rappers don dey pipo mouth well-well for United States recently, but na for different reasons.
Last week Kanye West chop yabis afta im say 400 years of slavery "dey like say na option".
Now di pesin wey dey pipo face na Childish Gambino, one artist wey release new song: This is America on Saturday.
Di video of di song don bring up two strong talk for United States recently: racism and di control of guns.
For five days, di video go from 50 million views on YouTube and also enta number one for iTunes list.
Unlike wetin Kanye West do, di video message of Gambino dey focus on di defense of black pipo and against di gun policy wey President Donald Trump dey promote, wey Kanye imself say im like wella.
Make we see why di video fit be one of di best of 2018 for hip hop
Di video begin wit jolli and sound of guitar, while Gambino dey dance one kain wey fit dey funny.
Di first shock happen wen Gambino take gun shoot di man wey dey play di guitar for head.
Di way wey Gambino use shoot am dey like dat of Jim Crow, one character wey represent di laws wey dem dey use do black pipo one kain for United States for di mid-nineteenth century.
For dis picture, di way Gambino take care carri di gun give di pikin and di way dem take drag di man wey dey ground na opposite.
Pipo dey interpret dis one as di way wey United States dey take give more importance to guns dan pipo wey e kill.
From den on, Gambino begin make all kind of movement, and some small pikin dem come follow am dey dance.
But as dem dey do dat one, for dia back tins don scatter. Pipo dey fight, dey tiff, dey burn fire and commit suicide.
Pipo don see di dance of Gambino and di boys say e dey criticise di way society dey prefer to dey distracted from important tins.
Dat is, we just see as dem use kill pesin and only seconds later we don already dey jolli wit yeye dance by Gambino, wey no wan see wetin dey happen for im back.
Di next big hit of di video na di Gospel choir part wey dem just dey sing wit sweet voice. Gambino enta wit dance, carri AK-47 kill all of dem.
Dis part, pipo don compare am to wetin happen for Charleston, South Carolina, for 2015, wia white supremacist kill nine pipo for church wey dey represent di struggle for civil rights for United States.
Di use of mobile phones for di video also attract attention, since pikin dem dey look dia phones. Pipo don interpret dat one say na distraction wey dey keep dem far from reality.
Anoda interpretation of dis part come from one of di verses wia Gambino sing " Dis na celly / Dis tool " ("This is a cell phone / This is a tool"), e fit also be anoda way to show di power of di mobiles so anybodi fit record and report bad tins wey police do.
Many pipo no go notice am di first time dem see di video, but as all di dance dey happen, one pesin wey waer black ride white horse pass.
Dis one fit come from Bible book of Revelation 6: 8, wey say: "... I come see white horse, and di pesin wey ride am dem call am Death , and Hell follow am ...".
Dis part wey white full well-well fit mean how black pipo dey live witout freedom for society wia white pipo dey get upperhand.
For di final part of di video we see Gambino as im dey run wit force, wey fit mean how dem don take do pipo for centuries inside United States.
Who be Childish Gambino?
Im real name na Donald Glover. Dem born am for California for 1983 and im be actor, comedian, scriptwriter and singer.
For 2017 im win Golden Globe for im performance for Atlanta, wey also win best series award for di same year. Glover na also scriptwriter and producer of di series.
As musician, dem don nominate am seven times for di Grammy awards.
For 2017, im act for di film Spiderman: Homecoming and dis year im go be part of " Star Wars ", and im go be Lando Calrissian for di film.
For 2019, im go voice Simba for di new version of di film "The Lion King" .
Time magazine include am for 2017 for dia list of di 100 most influential pipo for di world.