Why be say Ramadan dey special to Muslims?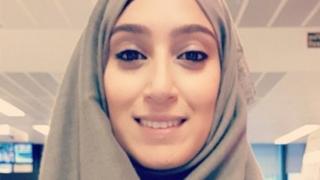 "So you dey fast for 30 days straight?"
"No corner corner (chop and clean mouth)?"
"Even water?"
BBC tori pesin Rabiya Limbada dey tok her own say even as fasting get e own challenge, she like Ramadan pass all di oda months for di year.
Na dis kain kwestion many of my padi dey ask me wen Ramadan reach evri year.
Make I tell una…No, I neva cheat between sunrise and sunset - even water!
Dem born me for east London, England, but my mama and papa come from Yemen and Burma.
Just like my family, plenty Muslims for di world go dey excited as di first day of Ramadan wan show.
Make I tell una why.
Purity
We dey jolli say we no chop or drink water like dat as day dey pass; and for night we go dey pray well well.
Make you no confuse like dat, but for di 30 days, we go happy to dey change some of our behaviour make we find all di reward wey dey for di month wey holy pass inside Islamic calendar.
As we no dey chop and drink water, na di koko of Ramadan, but di month also dey about purification mata.
E just be like say pesin go spiritual boot camp.
Na time to get close to God
Di Quran tok say Ramadan na time to get close to God.
And we dey do dat one through serious prayer and reflection.
As pesin no dey do all di tins wey e like for short period, we dey learn to appreciate am well well.
E dey also allow make we dey very nice to pipo wey no food and water for di world.
How we dey prepare
Like anytin wey pesin wan face, e dey very important say beta plan dey before di month start.
Di koko for preparation dey spiritual.
We dey do extra prayers and we try to read and meditate on the Quran pass we dey do before.
I det try to dey awake for night make I do special prayers wey dem dey do for only Ramadan.
Some pipo dey even fast and change wetin dem dey eat make dia bodi ready well well.
One of my padi dey reduce as she dey take coffee because she don see say if she wait till Ramadan, her bodi go dey react pass pesin wey dey hungry.
Na small small tins, but why pipo dey do am na make dem ready for body and mind for di full month.
Den di physical preparation join sef.
We dey make plenty food in advance. Pesin fit full dia freezer wit different-different food.
Dis no be say pesin too like food; to dey cook batch by batch dey help reduce cooking work, and we go fit get extra time to pray.
Early mor mor mata
For di UK, we go wake up for sahur - early morning food - like dat kain 2:30AM. I no go lie, e no eay at all.
As di month dey push go forward, e go hard to wake up, and you go dey form say you no need chop for morning.
But we go fit fast for up to 18 hours, so even small small porridge and glasses of water fit make tins easy.
Many family dem still dey arrange beta traditional food at 2:00 from soup to bread wey get plenti butter.
Yes, e no too follow for Ramadan mata, but plenti health advice wey pipo go hia for chat and social media be say make pipo eat well well.
Evribodi dey work togeda for Ramadan. For some areas wia plenti Muslim family dey like neighbour, dem even get pipo wey go check if some house no get light - and pesin go go wake dem up to eat sahur.
Fasting dey sweet and dey easy as di week dey go.
Your bodi go come dey handle di change, and you see say you no need plenti sleep laike before plus as you know say no be only you, e go fit dey motivate you.
E dey nice wen your padi and colleagues wey no be Muslim follow you fast join.
Even as wen all dem go halla say "I no fit do am," dem fit and dem dey do am.
To dey share inside di experience dey help pipo to tok about faith mata.
Spirit mata
To do 18 hours wit no food or water na long time; and many pipo dey ask how I dey do am - di ansa na prayer.
Dem first reveal di Quran for dis month and we like am say na so.
As Muslim we suppose pray five times per day and read Quran all di time, but tins wey dey distract us but for fasting time, tins dey change.
Some pipo dey even reduce as dem dey use social media, no watch TV and reduce as dem go out to chill.
As pesin dey reduce dis kain distraction, we dey allow oursef make we enjoy di spiritual part of Ramadan.
No be news ay some pipo fit read di Quran pass 12 times for Ramadan - na big tin o - di Holy book reach pass 900 pages.
For Islam, we believe say fasting na for only God.
Charity
Ontop of fasting, Ramadan na also time to give back, so to dey do charity make brain.
One of di five pillars of Islam na to pay one tax wey dem dey call zakat. Evri year we dey give 2.5% of all we money and property to pipo wey no get.
Many charity dem dey look forward to dis time make dem get money for dia projects.
Ramadan na also time wen we try pass to help we friends and family.
One of my padi dey collect donation of praying mat and Islamic book to share give Muslim prisoners.
Evritin wey pesin do, even if e small, na to do good.
Sunset
Di last hour before we break fast fit dey up and down.
Wen I be pikin, I remember as my mama go dey sharp sharp fry samosa wen iftar dey reach so dat me and my siblings go run give our neighbours.
And up till now, na dat time I like pass for di day.
Even as Ramadan na time wen some family dey togeda, no be evribodi get dat kain luck.
Breaking di fast
All of us like di time of iftar.
For di years wey don pass, Ramadan don dey middle of summer, so di days go long well well and hot for di UK wey go make pesin wan chop plenti.
One year like dis, afta my sister work wella, she go her friend house to break fast.
She just dey chop, na so she dey ask kwestion ontop di kain samosa dem dey cook, but wen dem make di one wit fish (tuna) she alsmost speak am comot.
Di time of iftar na deep spiritual experience.
Our tradition for my house na to break di fast wit dates (dabeno), fruits and cold milkshake.
We love dis month pass all di oda month because e dey increase as we wan dey committed to our faith.
All di days of di fast dey about prayer and devotion - and e get one kain beautiful simplicity.