WestJet for Canada cancel flight, order passengers to come down because small pikin no wear facemask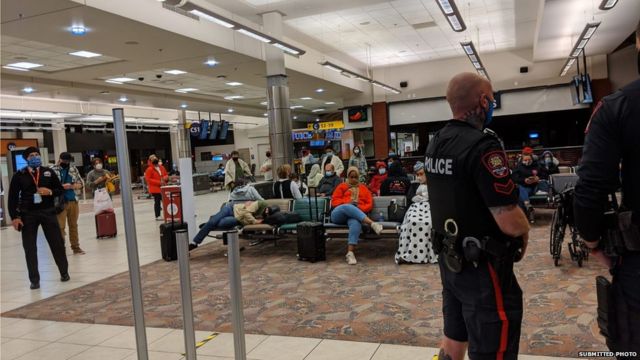 WestJet don cancel one Canadian flight and call police because one small pikin no wear her facemask.
Papa of di pikin, Safwan Choudhry say WestJet want im 19-month-old to wear face mask, but di baby girl no wan stop to dey cry.
Di airline say di issue wey dem get no be about di small pikin wey dey below di age wey dem require to wear mask, but with oga Choudhry three-year-old.
Authorities for di airline stop di Tuesday morning Flight 652 from Calgary to Toronto and order all passengers to shaperly come down
"I neva witness anything like dis for my life, let alone experience am," Oga Choudhry tell BBC.
Oga Choudhry say im oldest daughter, wey be three years old, bin dey chop snack before take-off wen flight attendant waka come meet dem and ask make both dia children wear facemask. E say im and e wife wear mask oh.
E tok say im ask if im daughter fit finish her snack, but dem reply say dem get "zero tolerance policy" and no go close di airplane door without her wearing facemask. Oga Choudhry say im come agree to put one on immediately.
"Most children you need to pet dem to wear facemask, wey be code word for make I bring di iPad out," e tell BBC.
E add say di three-year-old come later wear facemask, after some struggle.
"But my younger one get very difficult time, she just dey out of control." Oga Choudhry say she dey troubled and she vomited.
E say WestJet dey aggressive, and tell dem say because im youngest daughter no wear facemask, and dey too upset to wear mask, di whole family go need to leave.
E say di airline tell dem say if dem no leave, dey fit arrest dem, charge dem and receive prison time.
Oga Choudhry say im and e wife dey respectful. Dem agree to leave.
E later learn say according to Canadian transportation policy, only children ova two na im dem require to wear facemask, and so im 19-month-old no get to put one on.
Wetin WestJet tok?
WestJet argue say di three-year-old no wear facemask. For one statement di airline say:
"Due to non-compliance of di parents to place mask on dia older child wey dey ova di age of two, our crew inform di adults of di regulations we dey follow."
"Our crew request di presence of di authorities afta guests refuse to comply with Transport Canada interim order and also refuse to come down from di aircraft."
One video wey oga Choudhry use im phone do show say im older daughter dey wear facemask inside di plane, afta police come inside.
E say while some passengers dey irritated with di family, plenti of dem inside di plane support dem. Many tok to defend di family, as dia youngest pikin dey cry.
Dat na wen flight staff call police and dem tell everybody to come down from di plane, then dey eventually cancel di flight and rebook for di next day.