Joe Biden inauguration speech today: Full text of wetin di US 46th president tok dey here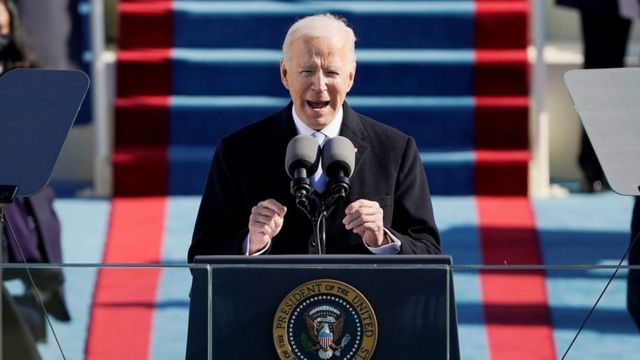 Joe Biden don give im first speech as US president.
"Dis na democracy day," e tok, for im first remarks as US president.
"Dis na America Day. Dis na democracy day. A day of history and hope.
"Through a crucible for di ages, America don dey tested and e don rise to di challenge. Today we celebrate di win of not of one candidate but of a cause, a cause of democracy"
"We learn again say democracy dey precious. Democracy dey fragile and at dis moment, my friends, democracy don win," Biden tok.
"Now, on dis hallowed ground, wia just few days ago violence bin wan shake di Capitol very foundation, we come together as one nation, under God, indivisible, to carry out di peaceful transfer of power as we don dey do for more dan two centuries."
"I thank my predecessors from both parties wey dey here today," di new president tok. Former Presidents Clinton, Bush and Obama attend di ceremony.
Biden say e tok to President Jimmy Carter - wey be 96 - by phone, and salute am for im lifetime of service.
Im immediate predecessor, Donald Trump, no attend di inauguration.
Supreme court Justice John Roberts bin swear in Joe Biden as di 46th president of di United States outside di US Capitol.
Joe Biden and Kamala Harris take di oath to make dem officially US president and vice-president, for laid back event due to Covid and di riots.
Among those wey show na three former presidents: Barack Obama - wey Mr Biden serve for eight years as vice-president - Bill Clinton and George W Bush.
Outgoing Vice-President Mike Pence also attend di ceremony, e no go Mr Trump farewell military salute event for Joint Air Force Base Andrews.
Wetin Biden tok?
Speaking of di challenges wey im administration go face, including di pandemic and di rise of "white supremacy", Biden say e go "confront and we go defeat" each obstacle.
E repeat im campaign vow to "restore di soul of di future of America," but say to do so "require so much more dan words".
"E require one ogbonge tin for democracy: Unity."
"Di forces wey divide us dey deep and dey real - but dem no dey new," Joe Biden tok
"Di battle dey everlasting, and victory no ever dey assured.
"Our better angels don always prevail," di new president tok as e cite moments from US history such as di Civil War.
"History, faith and reason show di way of unity," e tok.
We must meet dis moment as di United States of America, e stress.
Biden call for more mutual respect in society, as e tok say unity dey necessary for American greatness.
"Stop di shouting and lower di temperatures," Biden tok, as e add say "without unity peace no dey".
"Unity na di path forward," e continue.
"And we must meet dis moment as di United States of America," e tok, as e emphasise di word "united".
Di new US president also tok about di inauguration of Kamala Harris.
"Here we stand 108 years ago, thousands of protesters try to block brave women wey dey march for di right to vote.
"Today we mark di swearing in of di first woman in American history wey dem elect as vice-president - Kamala Harris.
"No tell me say things no fit change," e tok.
E ask those for di audience to hold a silent moment of prayer "for those we don leave behind and for our kontri".
"Wetin be di common objects wey we as Americans love?" Biden ask.
"Opportunity, security, liberty, dignity, respect, honour, and yes, di truth," e say as pipo clap.
E add say di events of di past few weeks - wia President Trump and im supporters don claim without evidence say Biden victory dey stolen - don teach us: "Truth dey and lies too. Lies wey dem tell for power and for profit."
We must end dis "uncivil war" wey dey put di red against blue," e tok, in reference to Republicans and Democrats.
"Di answer no be to turn inward, with lack of trust for those wey no look like you or worship di way you do or no dey get dia news from di same source as you do."
"So with purpose and resolve, we turn to those tasks of our time," Biden tok as e conclude im speech on di theme of American unity.
Wetin happun for di inauguration day?
Di day dey mark di beginning di president four years for office. Even if dat president don dey office before, to continue im second term of four year, im must to do inauguration to mark di beginning of di new term.
Di only requirement on dat day na make di president elect recite di presidential oath of office: " I do solemnly swear say I go faithfully execute di Office of di President of di United States, and go to di best of my ability, preserve, protect and defend di Constitution of di United States."
Once president-elect Joe Biden tok dis one on Wednesday January 20, 2021, im go become di 46th president of di United States.
Just before dem swear in di president, di vice-president, dis time Kamala Harris, go first take im oath.
Since 1937, inauguration of di president dey happun on January 20, 12pm for afternoon Washington DC time, between 72 and 78 days afta di presidential election except if January 20 na on Sunday den dem go do am di next day January 21.
Even so, di three times wey d inauguration land on Sunday, di presidents quietly take di oath for private on dat Sunday, before dem do di ceremony again for public di next day Monday 21 January.
President Donald Trump na di most recent president wey im inauguration happun for on January 20 2017.