Comemorações tradicionais na Índia levam 163 pessoas para o hospital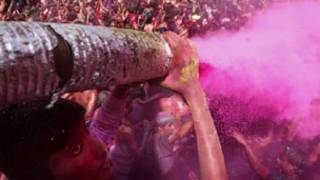 Doctors in the Indian city of Mumbai say 163 people have been admitted to hospital following celebrations for the Hindu festival of colours, Holi. The doctors suspect the coloured powders used by the patients in the festival contained harmful chemicals.
Reportagem: Rajini Vaidyanathan
Clique aqui para ouvir a reportagem
Doctors at Mumbai's Sion hospital say dozens of patients arrived at the casualty ward complaining of giddiness, vomiting and headaches. The vast majority were children from one of Mumbai's largest slums, Dharavi. Most are in a stable condition. It's believed they developed a reaction to coloured powders they were throwing.
Across the country, millions of people from all walks of life smear and cover themselves from head to toe in bright paints and powders as is custom for Holi. But there has been concern for some time that some of the artificially-produced dyes, which are cheap to buy, contain harmful toxic chemicals which can lead to serious skin and breathing problems.
There has been a push in recent years to encourage more revellers to use organic and environmentally-friendly dyes to avoid health risks.
Clique aqui para ouvir as palavras
stable (estável, que não está se deteriorando) steady, not worsening
a reaction to (uma reação a algo, um efeito negativo no corpo causado por) a negative effect on the body caused by
all walks of life (com diferentes experiências de vida) many different backgrounds
artificially (artificialmente, feito pelo homem) man-made
toxic (tóxico, venenoso, nocivo ou perigoso) poisonous or dangerous
push (esforço) concerted effort
revellers (pessoas que estão celebrando, foliões) people who are celebrating
organic (orgânico, natural, feito sem ingredientes artificiais ou químicos) natural, made without artificial ingredients or chemicals