Christchurch Rugby World Cup venue closed after quake
Last updated on .From the section Sport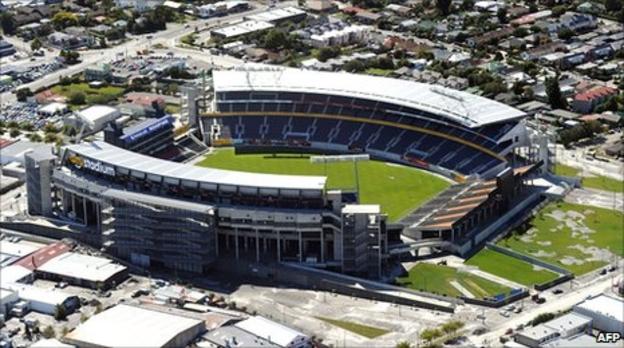 Christchurch's Rugby World Cup stadium has been closed for two weeks to assess the damage caused by the 22 February earthquake in the New Zealand city.
Stadium operator Vbase said the venue had sustained "minor repairable structural damage" and "substantial damage to the surrounding streets."
There is also likely to be significant damage to services infrastructure.
Vbase is due to receive reports on 15 March to determine if Lancaster Park will be able to host World Cup ties.
The tournament runs from 9 September to 23 October and the first match scheduled for Christchurch is England's Pool B meeting with Argentina on 10 September.
It is also set to stage Australia versus Italy on 11 September, England-Georgia on 18 September, Argentina against Scotland seven days later and Australia v Russia on 1 October.
In addition, two quarter-finals have been pencilled in for Lancaster Park on 8 and 9 October.
The venue's closure means Canterbury Crusaders will play their first two home games of the Super 15 season at Nelson's Trafalgar Park.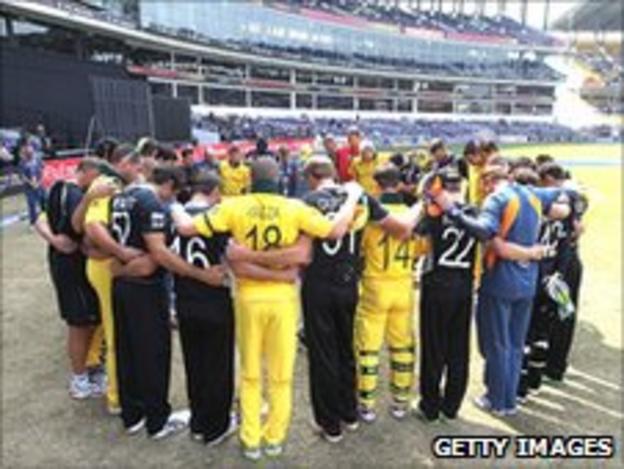 Crusaders have already had this weekend's fixture against the Hurricanes in Wellington called off in the wake of the 6.3 magnitude earthquake, which left 100 dead and more than 200 unaccounted for.
They will now face the Waratahs (4 March) and Brumbies (11 March) in Nelson, which is around a six-hour drive from Christchurch..
"While we can't play at our first choice home ground for now, Nelson is still a real home for the Crusaders," said said Crusaders chief executive Hamish Riach.
"we're looking forward to Crusaders' fans in the region coming out to support the team for these first two home games.
"We are especially grateful to the Waratahs and the Brumbies who have willingly agreed to change their travel schedules from Australia to accommodate our change of venue."
New Zealand Rugby Union chief executive Steve Tew added: "We are very conscious of the extreme and stressful situation facing all those in Christchurch including our friends at the Crusaders.
"We have received offers of support and sympathy for Christchurch and the Crusaders from practically every provincial union in New Zealand as well as rugby organisations around the world, which demonstrates the impact of this tragedy and the strong solidarity that exists within the wider rugby community."
Flags at the six stadiums staging Super 15 matches this weekend will fly at half-mast as a mark of respect to the victims.
And all games will observe a moment of silence prior to kick-off, with players wearing black and red arm-bands.
New Zealand internationals Kieran Read and Andrew Ellis, who both play for the Crusaders, did their bit for the clean-up effort by pitching in with shovels and wheelbarrows to assist local residents.
"This is a bigger thing than footy at the moment, it was the only way to go for us, to be honest," Read told the New Zealand Herald as he worked to remove silt and debris from quake-hit properties.
"We are just wanting to help out in our community, and are doing whatever we can.
The loose forward said New Zealand's second city resembled a "war zone" after suffering its second major quake in six months.
Read was out having lunch when the quake rocked the city and feared for his family as he made his way home through badly damaged roads.
"I tried to get home as quickly as I could but the roads were already flooded," he explained. "I wasn't immediately sure how big the earthquake was. It was not until I saw how much damage there was that I realised there was a lot of danger.
"I just hoped my family was at home. My wife and baby were there, thankfully, and they were pretty shaken up."
Meanwhile, at the Cricket World Cup on the Asian subcontinent Australia and New Zealand paused in the middle of their crucial match on Friday to remember the victims.
Shortly before world champions Australia began their quest for the 207 runs they needed for victory in Nagpur, players from both sides stood shoulder to shoulder, forming a circle on the outfield.
Both teams wore black armbands and before the match started there was a minute's silence.
New Zealand captain Daniel Vettori said: "It has been difficult but I suppose when we put it into perspective, it's nothing compared to what the people back home in Christchurch and all over New Zealand are going through.
"The whole country is hurting immensely and the team feels exactly the same way."
The Australian support staff joined the players in taking the field for the pre-match ceremony and skipper Rickey Ponting stated: "As an Australian team, we've all been extremely saddened by what we've seen happen in Christchurch in the last few days.
"We are neighbours and we treat each other as brothers."