Cumberland wrestling round-up
By Roger Robson
Cumberland wrestling expert
Last updated on .From the section Sport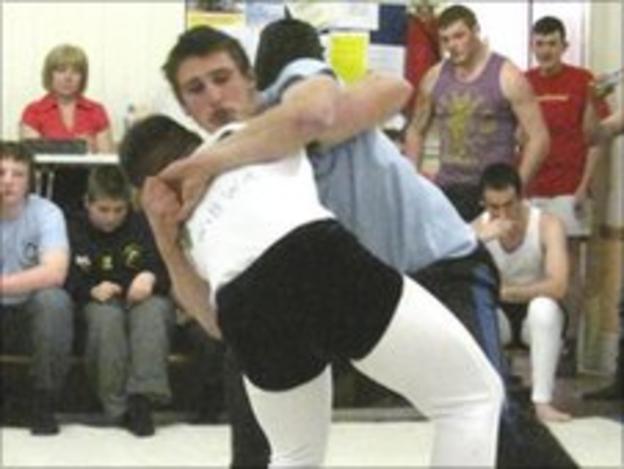 One of the best nights of the winter wrestling season took place in Waberthwaite Village Hall, with every seat taken and nearly 40 wrestlers competing.
Two hours of action kept the mats warm and the crowd loud and keen.
The recent Annual General Meeting of the Wrestling association had advocated more lightweight classes to encourage youngsters, and this event did just that.
Sam Wilson of Kendal is a good enough wrestler to cope with the bigger lads he met on his way to victory in the under-13s, but he also had the luxury of a second win in the seven stones group.
The toughest wrestling of the night came in the final of the under-18 years when William Atkinson and James Hall kept the drama going.
The close nature of their bout was heralded by two dog-falls, before Hall took the lead.
Back came Atkinson with a hipe and twist over the knee to level the score.
The wrestlers were tiring and twice the referee stopped the action as they were liable to land on a spectator's lap.
After taking hold seven times the decisive throw went to Hall who found the power and the sense of direction to fell Atkinson with an inside-hipe.
The occasion was much enhanced by strong contingents of wrestlers from the Milnthorpe and the Kendal academies, but the West Cumbrians were there in force and had their successes.
Andrew Woodend seemed down and out in the 11 stones, and was on the verge of retiring hurt, but he rallied and took a popular home win.
Stephen Mason also gave the home crowd something to shout about when he felled another local, Kevin Hartley in the final of the 13 stones.
The last word, though, went to Matthew Atkinson, who was blown aside in the 13 stones, but came back more determined than ever to win the all weights.
Mason looked to have cleaned Atkinson with an inside-hipe, but a quick cling-on back-heel trumped the hipe and sent Mason onto his back.
Tom Porter does well to organise and sustain such a dynamic academy, remote as it is from the other main wrestling centres.
He involves youth to the full, so we saw young men, not long out of the junior classes taking responsibility for the refereeing and judging, until it was their turn to compete.