Cumberland wrestling round-up
By Roger Robson
Cumberland wrestling expert
Last updated on .From the section Sport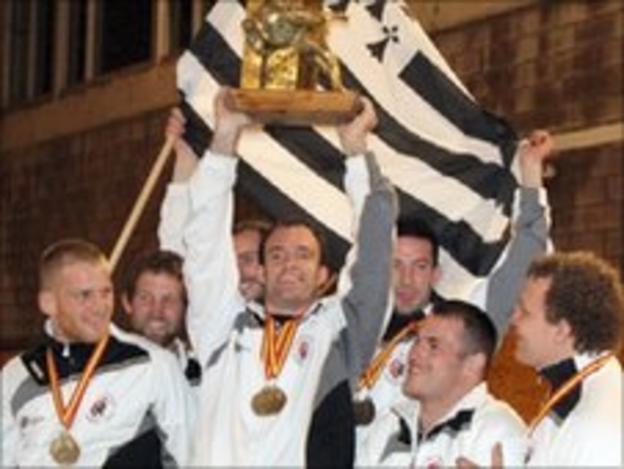 The Breton wrestling team won the European Championships of the International Federation of Celtic Wrestling, held in the Canary Islands.
The hosts, who had high hopes of continuing a successful run in the event, could only manage third place behind the Leonese - their fellow Spaniards.
Cumbrian and Westmoreland wrestlers were absent because of the complications about learning the Lucha Canarias style, and being forced to compete in that discipline before the Championships proper began.
Eight countries from as far apart as Iceland and Sardinia took part.
Several of the Breton wrestlers in the winning team are well known here as we continue to have good contact with them both in the international competition but also in our domestic programme.
Each year a dozen or so Bretons have graced our rings at the end of August around Grasmere Sports time, and already this year our wrestlers competed in Brittany in their Backhold Championships.
Two of the Bretons in Matthieu le Dour and Tudy le Meur made their reputation here many years ago.
Tudy with his spectacular hanks, and Matthieu with his unorthodox style and his rewriting of the laws of gravity.
Younger members of the team included two of the Salaun brothers - Ewen and Mathieu - who have sharpened their skills in our rings.
Their father Christian Salaun is the organiser of the annual foray here from Brittany.
Once upon a time some of the old guard of wrestling did not approve of the influx of wrestlers from abroad, but that is long in the past.
Now competitors and members alike recognise that they add so much skill and sportsmanship to the busiest week of the wrestling year.
For years they camped at my farm, but after two desperately wet summers, the Brown family from Haydon Bridge took pity on them.
Now fundraising by the Browns pays for the use of a local sports pavilion with all the obvious advantages of showers, a roof and some food, too.
Roll on summer.