Manchester revels in FA Cup final & Premier League joy
Last updated on .From the section Sport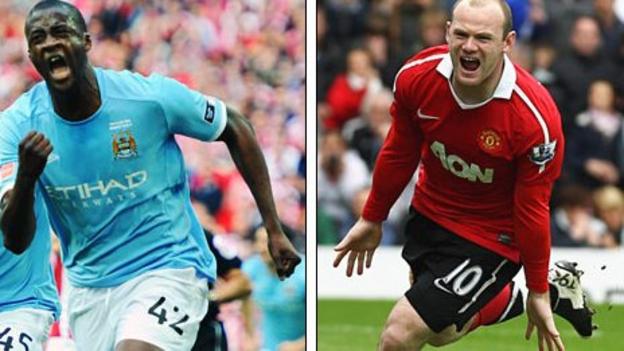 The city of Manchester completed a remarkable double on Saturday as its two football clubs won the Premier League and the FA Cup.
Manchester United's 1-1 draw at Blackburn wrapped up a record-breaking 19th league title, before Manchester City beat Stoke 1-0 at Wembley.
Wayne Rooney's second-half penalty earned United the point they needed to win a 12th Premier League title.
Yaya Toure's second-half goal gave City their first trophy in 35 years.
Earlier this week, Roberto Mancini's side's 1-0 win over Tottenham in the Premier League ensured City will play in the Champions League next season for the first time.
"I think it is amazing we have won this final to go with our Champions League place," said goalscorer Toure, who also scored City's winning goal in their 1-0 semi-final win over United at Wembley.
"It means a lot to the players but even more to the fans," added City midfielder Patrick Vieira, who came on in the final minutes to replace David Silva. "They have been waiting a long time for this."
If Rooney showed no sign of nerves as he thumped his spot-kick past Rovers keeper Paul Robinson, who had brought down Javier Hernandez to concede the penalty, afterwards he admitted he had been "terrified" before taking his kick.
"I just had to compose myself, said Rooney. "After the year I've had, you know the ups and downs," he added, referring to the transfer request he submitted earlier in the season.
United manager Sir Alex Ferguson added: "Our away form has not been great, yet our home form has been absolutely fantastic - that's won us the title."
The Red Devils have dropped only two points at Old Trafford, though Ferguson's side have picked up 25 points from a possible 57 on their travels.
United will be presented with the Premier League trophy on 22 May after their home game at against relegation-threatened Blackpool, who boosted their hopes of survival with a 4-3 win over Bolton on Saturday.
As Mancunians celebrated both in the city, Blackburn and London, Manchester City Council confirmed that Blues' victory parade would take place on 23 May.
United's parade celebrations will be held on 30 May - two days after Sir Alex Ferguson's side face Barcelona in the Champions League final at Wembley.
While Manchester's two set of fans revelled in their respective successes, Mancini insisted his players would not be drinking to toast their FA Cup win.
"No, they know that we should play in three days" said Mancini, referring to City's Premier League game against Stoke on Tuesday at Eastlands. "We have another two games and we want to try if possible to get third position."