Ross Rowing Club's Rhiannon Jones strikes gold on debut
Last updated on .From the section Sport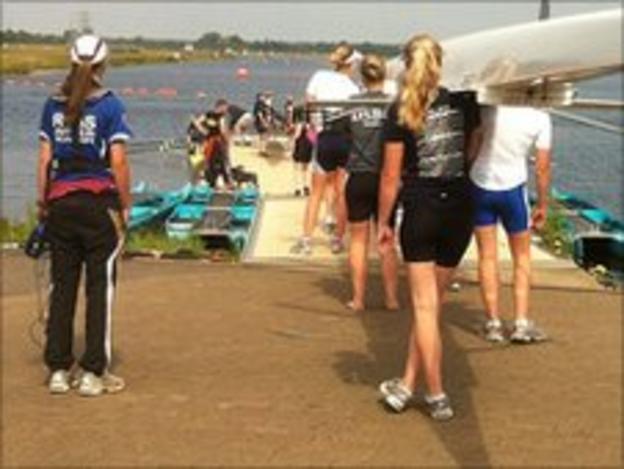 Ross Rowing Club member Rhiannon Jones won two gold medals in the Home International Regatta at Strathclyde Country Park in Scotland on Saturday.
She coxed the England men's eight and four to gold medals as they beat Wales in both finals.
She steered the eight to a six-second victory while the four beat their Wales counterparts by seven seconds.
It was her debut for England in men's events although she has coxed for Great Britain in adaptive rowing since 2009.
Meanwhile, another Ross Rowing Club cox is also looking to make her mark on the international stage.
Morgan Baynham-Williams will cox the GB eight in the Coupe de la Jeunesse in Austria on the weekend of 30-31 July.
Ross sent 17 crews to the weekend's Bewdley Regatta in Worcestershire where they enjoyed considerable success over the two-day event.
The Men's Masters B coxed four of Paul Carpenter, Steven Randall, Philip Davies and Antony Dixon-Gough, coxed by Morgan Baynham-Williams, beat Warwick in a hard-fought final.
The Women's Masters C eight beat Stourport in their final while the Men's Masters B easily beat Minerva Bath to claim their title.