Gold Coast chosen to host 2018 Commonwealth Games
Last updated on .From the section Sport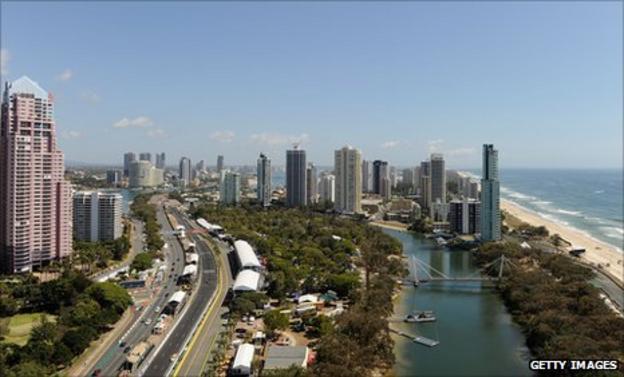 The 2018 Commonwealth Games will be held in Gold Coast after the Australian city beat off the challenge of Sri Lanka's Hambantota.
The decision was made at a meeting of the Commonwealth Games Federation on the Caribbean island of St Kitts.
Gold Coast, in south east Queensland, won by 43 votes to 27.
Australia has hosted the games four times previously in the event's 80-year history while Sri Lanka was bidding to host the games for the first time.
Gold Coast's bid was based largely on the use of existing facilities while Hambantota, a city devastated by the 2004 Boxing Day tsunami, promised to deliver new stadiums, an international airport and other infrastructure by 2016.
Queensland Premier Anna Bligh, who was in St Kitts for the announcement, expressed her delight at the result.
"Congratulations to the Gold Coast, to Queensland and Australia - we did it." she said.
"In 2018 we will be ready to host a unique world-class and friendly event that builds on the Commonwealth brand and enhances our city's reputation.
"This city will be transformed with new infrastructure and a buzz that only a big international event like this can bring.
"Today we hit the bullseye - 2018 is the Gold Coast's time to shine."
The main Metricon Stadium, home of Australian Rules Football Club the Gold Coast Suns, recently increased its capacity to 25,000 spectators.
It will be further enhanced by temporary seating for the Games increasing its capacity to 40,000.
The games are scheduled to take place in April 2018.
The next games, in 2014, are to be held in Glasgow.