London to host 2012 Laureus World Sports Awards
Last updated on .From the section Sport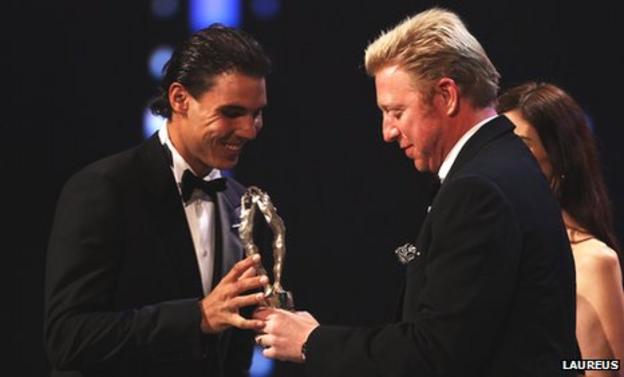 The 2012 Laureus World Sports Awards will be held in London for the first time on Monday 6 February.
Prime Minister David Cameron said: "I can't think of a better way to kick off our Olympic year."
Spanish tennis star Rafael Nadal and American skiing Olympic gold medalist Lindsey Vonn won the awards' top honours last year, in Abu Dhabi.
Spain's World Cup-winning squad were named team of the year in 2011, and French football great Zinedine Zidane won the lifetime achievement award.
Edwin Moses, double Olympic gold medallist and chairman of the Laureus World Sports Academy, said he was "overjoyed" that London will host the 2012 awards.
"Sport is close to the hearts of everyone in London and the UK and that makes me very excited about bringing the Laureus Awards Ceremony to London in February," he added.
Laureus World Sports Academy member Lord Coe, chairman of the London Organising Committee of the Olympic and Paralympic Games, said: "I am thrilled that we are able to bring the Laureus Awards Ceremony to London next year.
"We are all hoping 2012 will be one of the most memorable years for sport in this country and we hope everyone who comes to London for the awards will get a foretaste of the excitement to come."
Boris Johnson, the Mayor of London, said: "Celebrating the power of sport here in London with the world's sporting superstars will provide the perfect start to our Olympic year, and it marks the beginning of a real and long-lasting grassroots sports legacy for London and beyond."
Proceeds from the Laureus World Sports Awards underpin the work of the Laureus Sport for Good Foundation, which supports 89 community sports projects around the world including 10 in the UK.
The first Laureus awards were held in 2000 with ceremonies previously staged in Monaco, Portugal, Barcelona, Abu Dhabi and St Petersburg.
The 2012 awards will be held in Westminster at Central Hall.