Alison Merrien wins Sports Commission award
Last updated on .From the section Sport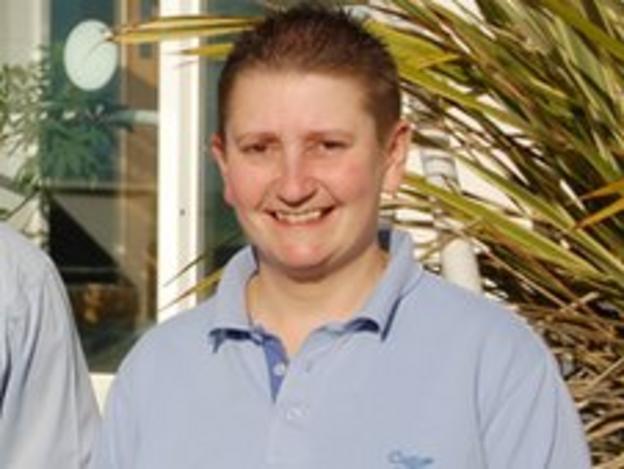 Bowler Alison Merrien has won the Guernsey Sports Commission's top award.
She succeeded runner Lee Merrien who won the 2011 award and Heather Watson who took the award in 2010.
Lee Merrien took the award for outstanding individual achievement by a man after being the first Briton to finish the 2011 London Marathon.
Table tennis player Alice Loveridge won the women's outstanding achievement accolade, but all three were unable to collect their awards in person as they were off-island competing or training.
Guernsey's cricketers took the Team of the Year title after they gained promotion from World Cricket league Division Six following their victory in Malaysia in the autumn.
Owen La Vallee MBE received a lifetime achievement award for his work in sport, which includes being a founding member of the Guernsey Island Games Association and heavily involved in the island's Commonwealth Games teams.
He said: "All the years that I've spent in administration have been my hobby and it's been very rewarding that I've been able to travel the world going to Commonwealth games countries and island games member islands and making lots and lots of friends. It's been very rewarding.
"What I tried to say to the sports people here when they step down from competition is, give a thought to doing something to put back something into your sport either by coaching or sitting on committees.
"If you do that then your sport is going to gain membership who is going to enjoy it as much as they did when they were competing."
The Dave Dorey Memorial Trophy for coaching and development was given to hockey's David Wray.
The Sir John Loveridge Trophy, for the sportsperson making the most progress in the year, went to swimmer Joshua Lewis.
Footballer Ryan Ozanne was named disabled sports achiever of the year.
The island's compound archery team won the small team trophy at the 2011 Island Games in the Isle of Wight.
Swimmer Kristina Neves, who has broken numerous records this year, was given the Lambourne Shield for the outstanding individual sporting achievement of a sportsperson aged between 11-18.
Guernsey FC was named top event organiser for their home matches in Combined Counties League Division One.