Sportsday Live - Tuesday, 14 February
Last updated on .From the section Sportsday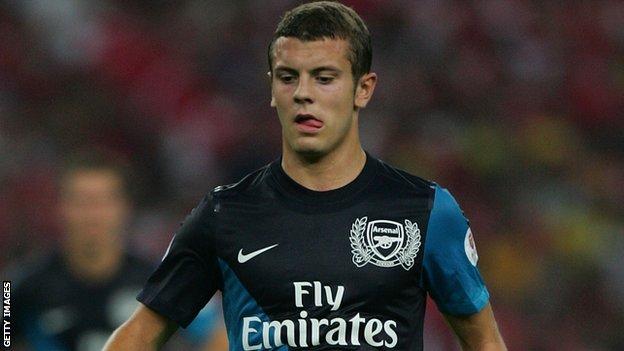 PLEASE MANUALLY REFRESH THIS PAGE
1845: That's it for Tuesday's Sportsday Live. Chris Bevan will be with you for live commentary as Barcelona resume the defence of their Champions League title against Bayer Leverkusen, West Ham meet Southampton in a top-of-the-table Championship clash and there is a full Football League programme. Sportsday Live will return at 0800 GMT on Wednesday.
1837: FOOTBALL
Manchester United striker Dimitar Berbatov has been left out the Bulgaria squad for a friendly with Hungary on 29 February despite saying he would come out of international retirements. Aston Villa Stilyan Petrov and Bolton's Martin Petrov are also left out.
1832: GOLF
Open champion Darren Clarke will use Phil Morbey as his new caddy on a temporary basis, as he tries to halt a run of poor results since his win at Royal St George's. Clarke will "borrow" Morbey from Englishman Danny Willett for a three-week run of events in the United States.
1827: FOOTBALL
The Argentina FA have been warned by Fifa that plans to rename their domestic league may breach rules on political involvement in football. They plan to rename their top flight the Crucero General Belgrano First Division, after the cruiser which sunk during the Falklands War.
1823: RUGBY UNION
The Irish Rugby Football Union has expressed its disappointment with the Six Nations Council at the new date of Sunday, 4 March for Ireland rearranged game with France. They would have preferred the game to have been played 24 hours earlier with a game against Scotland coming up the following Saturday.
1817: SNOOKER
Stuart Bingham has beaten Mark King 4-2 at the Welsh Open.
1810: FOOTBALL
Rangers' Premier League game against Kilmarnock looks set to go ahead as planned at Ibrox on Saturday. The Scottish champions went into administration earlier today and Strathclyde Police sought assurances they would be paid for policing the event.
1806: FOOTBALL
Sammy Lee has rejoined Bolton as head of academy coaching. Lee, 53, finished his playing career with Bolton in 1991 and was assistant manager and then manager from 2005-07.
1802: FORMULA ONE
Red Bull owner Dietrich Mateschitz warns World Champion Sebastian Vettel can dominate Formula One for another season and claim a third consecutive title. Mateschitz said: "He's going to be even stronger in competition because he knows the complexity of his sport even better now."
1758: GET INVOLVED
Smirnecki on Twitter: "The biggest farce about the Rangers case is that it's only a 10 point deduction. Seems you can play high stakes at low risk #bbcsportsday"
1750: GET INVOLVED
Dan Craven on Twitter: "It's OK blaming HRMC for Rangers situation, but a club of that size shouldnt be allowed to be anywhere near liquidation #bbcsportsday"
1736: VOLLEYBALL
The International Volleyball Federation have confirmed that Hawkeye or any other video replay system will not be used at the London Olympics.
1730: FOOTBALL
Wolves will start the interview process for their new manager within the next 48 hours. Alan Curbishley, Neil Warnock and Steve Bruce are all in the frame.
1721: GET INVOLVED
Scott Hobro on Twitter: "If Rangers were to fold, question marks would hang over Celtic's future in the SPL. Talk of Premier League / Championship move would resurface #bbcsportsday"
1710: SNOOKER
Stephen Hendry has thrashed Neil Robertson 4-1 at the Welsh Open.
1704: FOOTBALL
Scottish FA Chief Executive, Stewart Regan:
"In light of confirmation that Rangers Football Club have appointed administrators, I would like to express my deep regret that a Scottish institution should find themselves in the kind of parlous state that has necessitated today's course of action.
"This is a profoundly sad chapter in the history of Scottish football and we should not underestimate the potential ramifications for the image of the game as a whole."
1700: BREAKING NEWS - RUGBY UNION
The Six Nations match between France and Ireland, which was postponed just minutes before kick-off on Saturday because of a frozen pitch in Paris, will be played on Sunday 4 March. The match will kick off at 3pm in the UK, 4pm in Paris.
The original match was due to kick-off at 9pm local time.
1655: GET INVOLVED
mik green on Twitter: "Anyone else think that a winning goal against Manchester United has Tevez written all over it? Welcome to Manchester (again) Tevez #bbcsportsday"
1652: FOOTBALL
Former Rangers Chairman Sir David Murray: "I am hugely disappointed at the decision to go into administration."
1641: GET INVOLVED
Paul Cox on Twitter: "The return of Tevez is a sign of panic from Mancini, with Mourinho and Capello likely to be looking for jobs MCFC must win the Premier League #bbcsportsday"
1636: FOOTBALL
Wolves captain Roger Johnson on the sacking of manager Mick Carthy: "The manager can maybe take five to 10% of the blame. The rest of it is down to the lads. We have let Mick down, the club down and ourselves down."
1630: SNOOKER
Seven-time world champion Stephen Hendry leads Australian Neil Robertson 2-1 in the first round of the Welsh Open. Hendry pinched the third frame on a re-spotted black. In the other afternoon match, Stuart Bingham has just clinched the first frame against Mark King. Earlier today Stephen Lee swept aside Michael Holt 4-1 and home-favourite Mark Williams edged Andy Hicks 4-3.
1625: BREAKING NEWS - FOOTBALL
Rangers have been deducted 10 points after going into administration.
1616: RUGBY UNION
According to sources, the postponed France versus Ireland Six Nations match will take place on Sunday 4 March.
1608: 2020 OLYMPICS
Italian Prime Minister Mario Monti has withdrawn Rome as a candidate to host the 2020 Olympic Games, describing a planned bid as "irresponsible". The Italian leader decided the current economic crisis would make such a financial commitment untenable.
1603: SYNCHRONISED SWIMMING
One of Spain's most successful athletes, synchronised swimmer Gemma Mengual, has called a news conference for Wednesday when she is expected to announce her retirement from the sport, missing out on the Olympic Games in London.
1556: GET INVOLVED
mike green on Twitter: "After watching #mcfc struggle to break down teams in recent weeks, bringing back Tevez is less a gamble but more common sense #bbcsportsday"
1552: SNOOKER
In case you had not noticed, you can access live coverage of the Welsh Open on the front page.
1547: GET INVOLVED
weaponx on Twitter: "#bbcsportsday regarding Tevez & Mancini, surely the last few weeks have taught us football is leading the way in demonstrating forgiveness?"
1541: GRAND NATIONAL
BBC Sport's Frank Keogh on Twitter: "Away from the obvious, Irish Hennessy third Treacle (33-1) looks like an interesting Grand National contender on a handy weight #GN2012"
1536: OLYMPICS
Italy's premier says government will not make financial guarantees for Rome's 2020 Olympic bid, report Associated Press.
1532: GET INVOLVED
Simon Gill on Twitter: "#bbcsportsday Glad to see that Jack Wilshere is only a month away from being back, hopefully he can work really well with Mikel Arteta"
1526: RUGBY UNION
France coach Philippe Saint-Andre has not made any changes to his matchday squad for the Six Nations clash with Scotland at Murrayfield on 26 February.
1523: GET INVOLVED
Tom Pyman on Twitter: "Mancini has absolutely bottled it over Tevez and done a complete U-turn. Would you ever see Fergie or Mourinho doing that?! #BBCSportsday"
1518: GET INVOLVED
Lee Smith on Twitter: "Bringing back Tevez is a huge gamble, #MCFC are only in 2 comps, how will they accommodate 4 strikers?? #bbcsportsday"
1512: HOCKEY
Great Britain women's coach Danny Kerry believes the team's near-miss in the Champions Trophy may actually do them more good in the long run. "Silver in the long-term might not be necessarily a bad thing," he said. "It is the right mixture of aspiration and disappointment.
1504: BREAKING NEWS - FOOTBALL
Arsenal manager Arsene Wenger also says Germany defender Per Mertesacker will be out for at least a month with the ankle injury he sustained in the match against Sunderland last weekend. "He had a reconstruction of his ankle in Germany before he joined us and the scan didn't look too positive yesterday. Certainly in the next month he will not be with us," said the French manager.
1458: BREAKING NEWS - FOOTBALL
Arsenal manager Arsene Wenger says midfielder Jack Wilshere could be back within "a month if all goes well." The England player has been out with an ankle injury this season.
1452: BREAKING NEWS - FOOTBALL
Rangers appoint administrators Duff and Phelps, it has been confirmed in the Court of Session in Edinburgh.
1452: FOOTBALL
Hearts announce they have now paid an outstanding tax bill in full. A winding-up petition was presented to the Court of Session by the Advocate General for Scotland on 27 January and published on 7 February, with HMRC giving the Edinburgh club eight days to pay.
1446: GET INVOLVED
Nick Sneddon on Twitter: "So the 'Beagle' has finally landed! #bbcsportsday"
1440: FOOTBALL
Amsterdam authorities are stepping up security for Thursday night's first-leg Europa League match between Ajax and Manchester United, saying there was "an increased chance of confrontation" between fans.
1436: FOOTBALL
Ronaldinho has been included in Brazil's squad for the friendly against Bosnia this month, while Kaka and Robinho have again been left out.
1431: GET INVOLVED
So Manchester City forward Carlos Tevez is actually back in Manchester. By May, he would have scored the goals that will have helped City to the title. Surely? How do you think the saga will pan out? Tweet us at #bbcsportsday
1425: BREAKING NEWS
Manchester City forward Carlos Tevez has landed in the city.
1423: GET INVOLVED
Callum Sanderson on Twitter: "Why would Benitez want the Wolves job? Best for the England job more than most managers including 'arry!! #bbcsportsday #Rafaforengland"
1417: BOXING
World champions, Nathan Cleverly and Ricky Burns, have given messages of support to fellow Briton Dereck Chisora, who is set to fight Vitali Klitschko for the WBC world heavyweight championship in Munich on Saturday. "All of Britain will be behind him and there's every chance he could cause an upset," said WBO world light heavyweight champion Cleverley. "With men of that size, all it takes is one punch, and I'm confident that Dereck is capable of surprising a lot of people," added WBO world lightweight champion Burns.
1410: ICE HOCKEY
Hull Stingrays ice hockey player Jereme Tendler has been suspended after testing positive for an illegal substance, report BBC Look North, Hull.
1405 TENNIS
Judy Murray has given her reaction to the Fed Cup draw which will see Britain take on Sweden in April: "Sweden's top two players, Johanna Larsson and Sofia Arvidsson, are similar in ranking to our top two players, Elena Baltacha and Anne Keothavong, so it should be an interesting match up," she said. "We are looking forward to it as it's a big opportunity for GB to grab a place in World Group II."
1356 BREAKING NEWS - FOOTBALL
According to reports Rangers have been given until 1530 to take the club into administration by the Court of Session in Edinburgh. If they fail to meet the deadline then the court will appoint an administrator.
1354 GET INVOLVED
It seems the possible appointment of Roy Walker as the new Glentoran boss has caused some humour amongst our readers, here's the pick of the latest tweets to #bbcsportsday.
Samuel Green on Twitter: "Would love Roy Walker to get Glentoran job! I can just see him saying to the ref "Say what you see!" and Mr. Chips be a coach!"
Daniel Theobold on Twitter: "Can't believe Roy Walker from catchphrase fame is being linked with Glentoran job"
1348 RUGBY UNION
Plymouth Albion centre Keni Fisilau has been given an 18 week ban after he was charged with a dangerous tackle during the Championship match at London Scottish on January 7. Appearing before an RFU disciplinary panel on Monday night, the Tongan international pleaded guilty to the charge. He will now miss all of Albion's relegation play-off games, as he is not eligible to play again until May 22.
1340 ICE HOCKEY
Hull Stingrays Canadian forward Jereme Tendler has been suspended following a positive drugs test. The test was carried out after the game at Coventry Blaze in January which the Stingrays lost 5-2 and a statement on the club's official website said Tendler is provisionally suspended pending the outcome of the remainder of the testing process.
1331 FOOTBALL
Wolves defender Sebastien Bassong is hoping to be fit to face former club Newcastle later this month after a scan on his hamstring injury revealed no serious damage. The player, who is on loan from Tottenham was forced off during Wolves'5-1 home defeat against West Brom but he is likely to be back sooner rather than later. Speaking on Twitter he said: "Scan done, just got the result, nothing big. If everything is going well, should be back for Newcastle."
1322 FOOTBALL
Kettering Town supporters have been urged to attend Wednesday's fund-raising match against Coventry in a bid to pay players' wages. The Poppies squad have not received their full wages for two months and all money raised will go towards paying the players on Friday and away travel for Barrow.
1314 RUGBY UNION
Former England hooker Matt Cairns has been forced to retire due to an ankle injury. He joined Harlequins last year but spent a decade of his career at Saracens enjoying two spells sandwiched by a season at Sale. The 34-year-old won one England cap back in 2007, as a replacement against South Africa.
1306 FOOTBALL
Irish Premiership side Glentoran are expected to name their new manager before the end of this week. It is understood the interviewed four shortlisted candidates on Monday. They are believed to be Ian Foster, Pat McGibbon, Eddie Patterson and Roy Walker.
1257 FOOTBALL
Scottish first division side Livingston confirm former Hibernian bosses John Collins and John Hughes as the club's new management team. Collins joins the club in the newly created position of director of football operations, while Hughes replaces Gary Bollan as manager.
1250 FOOTBALL
Former Arsenal midfielder Fredrik Ljungberg has left Japanese side S-pulse by mutual consent, following a "difference in vision". The Swedish international who only joined the club in September 2011 said: "I loved my time in Japan, and I am grateful to have had the chance to live in Japan and embrace the Japanese culture."
1242 RUGBY UNIONSamoa winger David Lemi will join Worcester next season as a replacement for the outgoing Marcel Garvey. The 30-year-old currently plays for with Pro12 side Glasgow Warriors and has represented his country in the last two Rugby World Cups. He has also previously played for Wasps, scoring 36 tries in 95 games in the English top-flight.
1234 GET INVOLVED
There are a lot of mixed opinions from Wolves fans when it comes to who they want to replace Mick McCarthy as the club's new manager, here are some of your #bbcsportsday tweets.
Jamie Ellison on Twitter: "Wolves should move heaven and earth to get Curbs [Curbishley] in. Would stabilise and cement their place in the PL."
Kevin Carfray on Twitter: "Wolves should approach Walter Smith about the management position! Can't believe his name doesn't get mentioned for jobs."
1225 RUGBY LEAGUE
Hull KR confirm they will be without acting captain Michael Dobson for a month with a shoulder injury. The Australian scrum-half sustained the injury in Sunday's 22-10 Super League win at Wakefield. He joins his half-back partner Blake Green and newly-appointed captain Ben Galea on the sidelines.
1217 TENNIS
Great Britain have been drawn away to Sweden in the Fed Cup World Group II play-offs on 21-22 April. Judy Murray's team of Elena Baltacha, Anne Keothavong, Heather Watson and Laura Robson came through the Euro/Africa Zone I earlier this month.
1212 FOOTBALL
There's a full night of action coming up in the Football League with the pick of the action in the Championship coming from Upton Park, where it's first against second as West Ham host Southampton. In League One league leaders Charlton host fifth placed MK Dons, second placed Sheffield Wednesday welcome sixth placed Stevenage, while Sheffield United travel to Huddersfield in a big Yorkshire derby. In League Two fourth placed Torquay travel to second placed Cheltenham while third placed Crawley go to fellow promotion chasers Swindon. We will have all the action as well as live text commentary on the Champions League matches between Bayer Leverkusen v Barcelona and Lyon v Apoel Nicosia.
1203 FOOTBALL
Former Rangers manager Graeme Souness fears the club will cease to exist in their current form as they prepare to pay the price for "chasing the dream". Speaking to talkSPORT he said: "I think they will go into administration and reappear as Rangers 2012 or something, sadly. It is just a tragedy that has happened to them."
1154 F1
Mercedes AMG Petronas announce plans to unveil their 2012 F1 car, the F1 W03, at the Circuit de Catalunya on 21 February 2012.
1145 FOOTBALL
The FA confirm that new FA Women's Super League licenses will be offered to the eight current FA WSL clubs for the 2013 season while plans are being discussed to open the league from 2014 onwards. Plans include exploring the introduction of a second tier FA WSL from 2014. The FA anticipates the review will be completed by June 2012 and will confirm the position after that.
1138 BREAKING NEWS - FOOTBALL
HM Revenue and Customs (HMRC) is set to ask the Court of Session to put Rangers Football Club into administration. The legal move counters the club's bid on Monday to file for protection against its creditors.
1138 FOOTBALL
Manchester United manager Sir Alex Ferguson is still disappointed about their exit from the Champions League. The Scot believed his side were good enough to reach the final for a second successive season. He said: "It was a massive disappointment, because my feeling is that if we'd gone through, we would have gone on to the final". Instead his side are now preparing for a trip to Ajax in the Europa League.
1130 HORSE RACING
Synchronised is handed top weight of 11st 10lb for the Grand National at Aintree on April 14. Last year's winner, Ballabriggs, will be saddled with 11st 9lb. The early 14-1 favourite, Junior, sits on 11st 2lb.
1126 CRICKET
The latest one day international between India and Sri Lanka has ended all square. India needed four runs from the final ball to win the match, after being set a target of 237, but they could only score three to tie the match.
1120 FOOTBALL
Former and current team-mates of Arjen Robben have leapt to the defence of the Bayern Munich winger after he was branded an "egoist" by German legend Franz Beckenbauer. The 28-year-old has been dropped to the bench in recent weeks after suffering a loss of form with Munich second in the German league behind defending champions Borussia Dortmund. Rafael van der Vaart said; "They should let him play as he always has done, or they will be robbed of his class" while Christoph Metzelder added "of course he's a special player who is looking for a lot of one-on-one situations and has a little extra class."
1112 TENNIS
World number one Novak Djokovic has been awarded the top state honour in Serbia. He will be presented with the Karadjordjeva Star Medal, the highest honor in the Balkan country, at a ceremony on Wednesday. President Boris Tadic said he deserves the medal for "special merits in representing Serbia.''
1105 CRICKET
Derbyshire have signed experienced Pakistan bowler Rana Naved for this season's FL t20 campaign. Naved, who has played county cricket for Sussex and Yorkshire, has played 74 one-day internationals and nine Tests.
1058 FOOTBALL
PFA Scotland chief executive Fraser Wishart has offered to work with Rangers owner Craig Whyte to help the club through their financial crisis. He is s on standby to help players at Ibrox after the club lodged notice of their intention to go into administration. A final decision will be made in the next 10 days.
1042 FOOTBALL
Following the sacking of Wolves manager Mick McCarthy speculation is already mounting about who will be the next Premier League manager to leave their club. Bookmakers have Chelsea boss Andre Villas-Boas as the favourite at odds of 1/1. His odds were slashed following Saturday's 2-0 defeat at Everton.
1034 FOOTBALL
Cardiff City manager Malky Mackay believes the pre-match handshake between players should be scrapped. Speaking ahead of the Bluebirds clash with Peterborough he said: "I would [scrap it] if it was me because you now look at the trouble it causes. But at the end of the day for a handshake being the centre of attention in the news, I'm not sure that's too right."
1026: GET INVOLVED
It seems there's plenty of love around on this Valentine's Day. Unfortunately it only spreads as far as football. Here are more of your #bbcsportsday tweets.
Ron Bowkett on Twitter: "Happy Valentines Day darling. Sorry but there is a huge game at Upton Park tonight. West Ham to cement lead at top."
Muyiwa Oyebanji on Twitter: "This year's Valentine Day is not about romance it's about the return of the Uefa Champions League love it!"
1017: TENNIS
Great Britain will learn their opponents and the venue for April's Fed Cup World Group II play-off when the draw is made in London at 1200 GMT. Judy Murray's team of Elena Baltacha, Anne Keothavong, Heather Watson and Laura Robson secured a play-off spot with an unbeaten week in Israel earlier this month, and will face France, Switzerland, Sweden or Argentina on 21-22 April. Britain's women have not played a home Fed Cup tie since 1993.
1008: FOOTBALL
Aston Villa defender Carlos Cuellar has told the club website that he is happy to play anywhere including in goal, after making an appearance at left back in the weekend's defeat to Manchester City. He said: "I will play anywhere. If you give me some gloves, I will play in goal - anything for the good of the team. "For me the best feeling is being in the first XI. I don't care where I play".
1000: FOOTBALL
If you missed the Monday Night Club on 5 live Sport last night you can download the football daily podcast and listen to Jez Moxey and Marcus Hahnemann talking about the departure of Wolves' boss Mick McCarthy. Others to feature include: Portsmouth chief executive, David Lampitt, Avram Grant and West Ham assistant manager Neil McDonald and the authority on Zambian football - after their win at the Africa Cup of Nations on Sunday - the John Motson of Zambian broadcasting, Dennis Liwewe.
0954: CYCLING
BBC Sport's Ollie Williams on Twitter: "In Canary Wharf hotel room with @JillADouglas awaiting GB track cyclists. 13 BBC interviews for British team today, 44 including other press"
0947: FOOTBALL
Wolves chief executive Jez Moxey insists club owner Steve Morgan's dressing-room outburst after the home defeat by Liverpool earlier this month did not contribute to Mick McCarthy's downfall as manager. "We had a staff meeting the following day where I believe we cleared the air and Mick and Steve had the same relationship they had before he [Morgan] went into the dressing room," said Moxey.
0942: GET INVOLVED
Here are more of your #bbcsportsday tweets.
Simon Gill on Twitter: "#bbcsportsday it won't matter if Rangers reach Europe in administration, because they will have to sell all they good players eventually"
Mark Tucker on Twitter: "I agree with Leon almost, not Warnock or Bruce for Wolves, Curbishley or Benitez could do a job for them though #bbcsportsday"
0938: CRICKET
Former India batsman Sunil Gavaskar hopes a window can be found to accommodate an India-Pakistan series. "The tight schedules are stopping the revival [of the series]. India are tight up until 2014," Gavaskar told AFP. "I think if the ICC [International Cricket Council] can convince other scheduled tours for India and Pakistan to be delayed then maybe it can create a window."
0933: ATHLETICS
World 400m hurdles champion Dai Greene on Twitter: "A tropical 4 degrees outside this morning. I am too lucky, will I need my sunblock...?!"
Athletics coach Toni Minchello on Twitter: @DaiGreene possibly, with your skin colour, can never be to careful in Olympic year.
0924: CRICKET
New Zealand beat Zimbabwe by five wickets in their second Twenty20 international match.
0919: SNOOKER
Mark Allen on Twitter: "Just to let you all know, there's is absolutely NO chance of me withdrawing from the Welsh Open. I will give 100% regardless of my finger!!"
0914: CYCLING
Check out BBC Sport Ollie Williams's blog on Mark Cavendish and his first competition with new colleagues Team Sky. You can read about his exploits on the BBC Cycling page.
0908: GET INVOLVED
Leon Kendrick on Twitter: "I still love McCarthy. Left with dignity, top man. Please dont appoint Curbishley/Bruce/Warnock. 2 wrongs dont make a right!"
0901: FOOTBALL
The Zambian government has given $59,000 (£37,500) to each player in the national side which won the country's first Africa Cup of Nations title on Sunday.
0856: GET INVOLVED
Rangers, Ryan Giggs and Carlos Tevez seem to be theme of your early #bbcsportsday tweets. Keep them coming.
len b on Twitter: "Is Giggsy going to be one of the first players to play 1000 games for a club? He certainly has the energy to do so. #bbcsportsday"
James Cooper on Twitter: "Is it ironic that Tevez returns to Man City on Valentines Day. Squabbling partners reunite to form a lasting relationship? #bbcsportsday"
Kevin Morris on Twitter: "If Rangers lose 10pts they stay 2nd- they could go into administration have debt reduced & still play in Europe next year hardly fair? #bbcsportsday"
0848: BASKETBALL
The famous Harlem Globetrotters have a new recruit - Paul "Tiny" Sturgess. He is 7ft 8in and originally from England. You can watch the video on the BBC News front page.
0840: FOOTBALL
The theme of today's Sportsday seems to be romance and relationships. One relationship that has lasted 21 years is the one between Ryan Giggs and Manchester United. Giggs, 38, is set to make his 900th appearance for the club, but has told the Daily Telegraph he has no plans to retire soon. "When to retire is difficult. Do you quit too early or go that one too many games and let people see you on the slide? Retirement is just a decision that I have to take my time with because I feel different after each game."
0835: GET INVOLVED
Safwaan Rawat on Twitter: "This year's Valentine Day is not about romance it's about the return of the Uefa Champions League love it!#bbcsportsday"
0831: GET INVOLVED
Doni on Twitter: "Twitter wasn't invented the last time Alan Curbishley got hired as a manager!"
0830: FOOTBALL
Manchester United striker Michael Owen on Twitter: "Fair play to Mick McCarthy, that interview he did in his car leaving the training ground having been sacked was top notch #dignity."
0825: FOOTBALL
Apart from the sad situation at Rangers, the other football story that dominated the backpages was the sacking of Wolves manager Mick McCarthy. Alan Curbishley has thrown the metaphorical hat in the ring - who do you think should take over? Tweet us at #bbcsportsday
0820: ATHLETICS
Jessica Ennis on Twitter: "Happy Valentines Day!"
0818: FOOTBALL
Staying with football, a player by the name of Carlos Tevez is understood to be returning to Manchester City today. The Argentine forward and the club seem to have settled their differences. He is set to be at City's Carrington training facilities today - stay tuned to Sportsday and the website to find out if he turns up.
0812: FOOTBALL
Football politics has dominated the headlines over the past week - but later we will be focusing on the action on the pitch when the knockout rounds of the Champions League begin. We will have live text commentary on the matches between Bayer Leverkusen v Barcelona and Lyon v Apoel Nicosia.
0807: GET INVOLVED
Sportsday is not Sportsday without your input - tweet us at #bbcsportsday. Maybe you want to discuss the Carlos Tevez saga or the predicament faced by Rangers. The forum is yours.
0800: FOOTBALL GOSSIP
Hello. As usual, we start with three snippets from the gossip column.
Lille winger Eden Hazard, 21, has decided to join Tottenham at the end of the season - a fee has yet to be agreed between Spurs and the French side. (France Football)
Arsenal have Benfica striker Rodrigo lined up as a possible replacement should Robin van Persie leave the Emirates Stadium. (Daily Mail)
Manchester United will face competition from CSKA Moscow and Juventus for the signature of Basel midfielder Granit Xhaka. (talkSPORT).