Sportsday Live - Thursday, 16 February
Last updated on .From the section Sportsday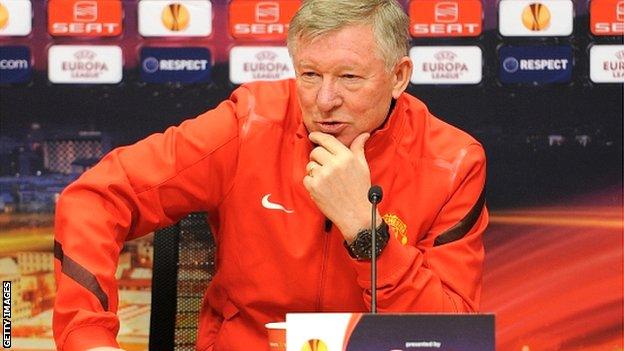 All times in GMT
That's it for Thursday's Sportsday Live. Mike Henson will be with you for all the Europa League action between Manchester United vs Ajax, before Manchester City and Stoke face Porto and Valencia respectively, and Sportsday Live will return at 0800 GMT on Friday.
1728: FOOTBALLTottenham manager Harry Redknapp says he knows that he is the 'popular choice' to be the next England boss and believes the job can be done on a part-time basis at Euro 2012. "I'd be a liar if I said I wasn't the popular choice," Redknapp told Abu Dhabi Sports. "I know I am, it's been everywhere, in every paper every day. But it's not an easy one. I have a good job and I work with good people and I have a good team. Just to walk away now, when we're in such a good position, it wouldn't be fair, it wouldn't be fair on Tottenham. I have to really keep focusing on Tottenham." When asked if he would take the job on a part-time basis Redknapp added: "In the short term I think it's possible for the European Championships. But I think in the long term it's not possible to manage a club team and manage a national team."
1724: FOOTBALLThe president of Uruguay has defended Liverpool striker Luis Suarez, insisting his compatriot "is not a racist and never will be". Jose Mujica felt the situation surrounding the 25-year-old and his eight-match ban for racially abusing Manchester United's Patrice Evra had been over-hyped. Speaking to Uruguayan radio station M24 the president said: "There is solidarity with Suarez. Suarez is not a racist and never will be."
1722: FOOTBALL
The Football Association confirm the England squad for the friendly game against the Netherlands will be named by Stuart Pearce at a press conference at Wembley next Thursday, 23 February.
1717: RUGBY LEAGUE
Hull owner Adam Pearson has revealed that a Rugby Football League tribunal will look into teenager Luke Briscoe's move to Leeds last September. The 17-year-old brother of Hull's England winger Tom was highly regarded at the Black and Whites before opting to join the Rhinos on a four-year contract.
1712: FOOTBALL
Middlesbrough midfielder Barry Robson signs a pre-contract agreement to join Major League Soccer side Vancouver Whitecaps in July.
1704: GET INVOLVED ON TWITTER
Ben Forbes on Twitter: "@BBCSport #bbcsportsday Brian Clough once said God created grass to play football on... dont mess with the big man :)"
Tim Wildey on Twitter: "As a Barnsley fan, I support artificial pitches! Less postponed matches. Football league must finance it however! #bbcsportsday"
Kev Hegarty on Twitter: "How many times in a row will #Celtic win the #SPL title now before they push for a move to the #EPL? #bbcsportsday"
Papa Zula on Twitter: "@BBCSport Arsenal are not having a "blip". They are in terminal decline and have been for 12 months at least #bbcsportsday"
Lee Smith on Twitter:"There's only so many excuses #AFC & Wenger can make a blip? It's 6 years without a trophy ,signing potential stars isn't enough #bbcsportsday"
1658: SNOOKER
Today's current Welsh Open Second Round results, best of 7 frames:
Mark Williams (Wal) 1-4 Ronnie O'Sullivan (Eng)
Matthew Stevens (Wal) 2-4 Stephen Maguire (Sco)
Stephen Hendry (Sco) 0-4 Mark Allen (NI)
Stephen Lee (Eng) 4-1 Tom Ford (Eng)
1654: FOOTBALL
The team news is in for theEuropa League clash between Ajax v Manchester United - Ajax: Vermeer, Anita, Alderweireld, Vertonghen, Koppers, De Jong, Aissati, Eriksen, Ozbiliz, Bulykin, Sulejmani. Subs: Cillessen, Boilesen, Blind, Lodeiro, Serero, Van Rhijn, Lukoki. Man Utd: De Gea, Jones, Ferdinand, Evans, Fabio Da Silva, Nani, Carrick, Cleverley, Young, Rooney, Hernandez. Subs: Amos, Smalling, Park, Welbeck, Scholes, Valencia, Pogba.
1652: ATHLETICS
Kenya's world champion distance runner Vivian Cheruiyothas withdrawn from Saturday's Aviva Grand Prix in Birmingham due to illness. The outdoor 5,000m and 10,000m world champion had been scheduled to run the 3,000m at the National Indoor Arena.
1648: GOLF
Former women's world number one Annika Sorenstam has rejected the chance to captain the European Solheim Cup team in next year's biennial match against United States. "The Solheim Cup has been an important part of my career and I hope to one day lead the European team," the Swede said. "With my young family, foundation, businesses and other commitments I have already made to try and help grow the game, I simply cannot provide the necessary time," added Sorenstam.
1643: RUGBY LEAGUE
Warrington Wolves centre Rhys Evans tells BBC Radio Merseyside he wants to secure a run of games in the side, as the Wolves prepare for Saturday's Super League match with Huddersfield.
1636: FOOTBALL
Former Arsenal midfielder Emmanuel Petit has warned the club need to get rid of a host of their big names and sign six established players if they are to return to their former glories. "Certain young players haven't done enough to justify the confidence that Arsene has in them. Walcott - somehow he's going to have to reach the next stage. It's been years that he's been at the same level. (Aaron) Ramsey, against Milan, I got the impression it was his (twin) brother on the pitch. In the way they behave, in their body language, we see they're not there anymore. You have to send out a strong signal. You have to say to Arshavin, and to Rosicky: 'Gentlemen, thank you, but goodbye'. And soon."
1632: GOLF
England's Paul Casey is out of next week's Accenture Match Play Championship in Arizona, but hopes to have recovered from his dislocated shoulder in time for the WGC-Cadillac Championship in Miami on 8-11 March.
1630: RANGERS PRESS CONFERENCE LIVE
Paul Clark of administrators Duff and Phelps says there have been "several expressions of interest from parties not connected to the club" after Rangers went into administration.
1629: RANGERS PRESS CONFERENCE - LIVE
Rangers administrators Paul Clark and David Whitehouse on Rangers situation: "Daniel [Cousin] was at the training ground this morning as I addressed the players. We can't say for sure at the moment if that will go through - that's still under review."
1627: RANGERS PRESS CONFERENCE - LIVE
Rangers administrators Paul Clark and David Whitehouse on Rangers situation: "We had a good productive meeting with Ally and we will work together to find a solution. So from that you can assume Ally will be involved in any changes in the playing staff."
1626: RANGERS PRESS CONFERENCE - LIVE
Rangers administrators Paul Clark and David Whitehouse on Rangers situation: "We believe the debt to be £24m but some of it is deferred. We're confident in what we've seen that we can achieve a successful result and that Rangers will continue as a football club."
1621: RANGERS PRESS CONFERENCE - LIVE
Rangers administrators Paul Clark and David Whitehouse on Rangers situation: "When the club was taken over it had a substantial contingent debt - as matters have unfolded the levels of losses have not been funded by the normal course of trade. The insolvency of the club has resulted from those losses of funding."
1617: RANGERS PRESS CONFERENCE - LIVE
Rangers administrators Paul Clark and David Whitehouse on Rangers situation: "The reason it [tax] hasn't been paid is that it hasn't been sent. There were deductions that were made at source that were fundamentally used to fund the club. It's something we need to look into. We have to carry out a full investigation into what has happened but what we can say is that the business has been loss-making."
1613: RANGERS PRESS CONFERENCE - LIVE
Rangers administrators Paul Clark and David Whitehouse on Rangers situation: "We have a statutory right to act on the behalf of the creditors. We would have liked to have found a solution before going down the administration route. We hope a CVA can be achieved. In layman's terms we are hopeful that a settlement can be reached. We are wholly confident that Rangers will continue as a football club and will not face liquidation from what we have seen so far."
1611: RANGERS PRESS CONFERENCE - LIVE
Rangers administrators Paul Clark and David Whitehouse on Rangers situation: "The immediate task was to get the weekend's game to happen. This morning I spoke to Ally McCoist. It will be next week at least before anything is decided in this area. We will be making the February payroll obligations in the normal manner and in full."
1608: RANGERS PRESS CONFERENCE - LIVE
Rangers administrators Paul Clark and David Whitehouse on Rangers situation: "We have a statutory right to act on the behalf of the creditors. It will be conducted to the highest professional standards. I would like to pay tribute to the fans, players and staff of Rangers Football Club. There will be a full account of the club's financial affairs and we will publish that report."
1605: RANGERS PRESS CONFERENCE - LIVE
Rangers administrators Paul Clark and David Whitehouse on Rangers situation: "It is at a very early stage of the process. Craig Whyte is not associated in any way with Duff and Phelps."
1601: FOOTBALL
Liverpool centre-back Martin Skrtel believes the mix of his no-nonsense defending and Daniel Agger's more cultured approach is proving an ideal match for the Reds. "I don't think I've deliberately tried to be more aggressive, as long as it's the right level of aggression," he said. "That's the way I try to do my job. It's the only way I know to play. Sometimes it works, sometimes it doesn't - at the moment it is."
1553: FOOTBALL
Tottenham defender Ryan Nelsen is hoping his new club can finally help him reach an FA Cup final at the third time of asking. "I've been to three semi-finals, two of them in the FA Cup, so it would obviously be nice to push on," said Nelsen, who also experienced semi-final heartbreak in the Carling Cup in 2010.
1547: FOOTBALL
English football is a step closer to reintroducing artificial pitches after the Football League announced plans to seek opinion on their possible return. Accrington Stanley chief executive Rob Heys told BBC Sport: "I was not surprised, the Football League has taken this seriously, and I am very pleased indeed, it might be one of the oldest leagues in the world but it is very forward thinking. It's another big step that it is being considered in this way. The Football League put a lot of time into the document and will continue to do so when gathering the results. There is a lot of positivity, not so much that everyone wants one but there is a definitely a drop in opposition. They are much better than the ones a few years ago."
1541: GET INVOLVED
Lee smith on Twitter: @BBCSport not sure on artificial pitches,watching big teams play on a poor pitch in the FA cup is what makes it fascinating #bbcsportsday
1535: EQUESTRIAN
Sussex eventer Tina Cook is looking to qualify for the Olympics at the FEI event in Ireland later this month. Cook needs to qualify as a combination with her horse Miners Frolic, after he suffered from colitis last year.
1530: FOOTBALL
Cheltenham manager Mark Yates tells BBC Gloucestershire that his team need to work through their recent "sticky patch" after losing two of their last three games.
1527: RUGBY LEAGUE
Manly Sea Eagles' co-captain Jason King insists the Australian champions are up for the challenge against Leeds. "The squad has taken it very seriously," said the experienced front-row forward, who was in the side that beat Leeds 28-20 three years ago. It's a good reward for the players to represent the NRL competition against the best team in the Super League. It's a big honour for everyone involved and I know all the players have been looking forward to the tour."
1521: FOOTBALL
Defender Thomas Vermaelen has urged Arsenal to put their San Siro nightmare behind them if they are to get the season back on track with FA Cup victory at Sunderland. "We will have to learn our lessons from what happened in Milan, but it is important at times like this to remain mentally strong and focus on the next game," he said.
1515: FOOTBALL
Wolves striker Kevin Doyle believes Mick McCarthy's successor will have a "fighting chance" of ensuring the club guarantee Premier League survival for a third successive season. Club owner Steve Morgan and chief executive Jez Moxey have been interviewing Alan Curbishley in a London hotel with the ex-Charlton and West Ham boss favourite to replace the sacked McCarthy. "We're not cast adrift in any way, we're not really struggling. We are in a good position to get out of it. We've given ourselves a fighting chance. We feel we can pick up points along the way," Doyle said.
1512: SNOOKER
Ronnie O'Sullivan reaches the quarter-finals of the Welsh Open thanks to a 4-1 victory over Mark Williams.
1508: FOOTBALL
Winger Simon Davies wants Fulham to push on and achieve a top-10 finish this season. The Cottagers have struggled for consistency over the course of the campaign, thanks in no small part to their attempts to juggle domestic and European exertions. "We want to really push on and get into the top half of the table with another couple of good results. We all obviously know it'll be very hard still because they're all fighting for survival down the bottom there but they're games that we have got to be looking to go and take the initiative in."
1504: FOOTBALL
Celtic have released a statement on Alex Salmond's views on Rangers: "We are very disappointed with the First Minister's claims that Celtic 'need' Rangers and that Celtic 'can't prosper' unless Rangers are there. This is simply not true. In a series of interviews given just 3 days ago, we made it abundantly clear that Celtic has a well defined strategy and a business plan independent of the fortunes of any other club. That remains absolutely the case. The predicament of Rangers is clearly a serious and complex matter with a whole range of possible outcomes. However, we are extremely well qualified to make our own position clear and have no wish to see that being misrepresented for political reasons."
1458: FOOTBALL
Blackburn boss Steve Kean has not given up hope that Junior Hoilett will sign a new contract at Ewood Park. Hoilett's current deal with Rovers runs out this summer and Kean admitted in January that the club would have to consider approaches for the Canadian winger, with Tottenham being linked with a move at the time. Kean told the Lancashire Telegraph: "We would like to think that the way that he's playing, he's been playing with a spring in his step and he's back to the form that he had before the transfer window opened, so we've not given up on that.
1452: SWIMMING
This year's European Swimming Championships have been switched from Antwerp to Debrecen due to financial problems. The event, a key competition in the build-up to this summer's London Olympics, will be held on the same dates as originally planned - 21-27 May.
1447: GOLF
Golfer Lee Westwood hopes receiving an OBE from the Queen will help spur him on to win his first major tournament this year. The 38-year-old from Worksop, who was world number one for a five-week spell last year, said he had his eyes set on the US Masters in April. "Hopefully I'll win it," he said. "I think this year could be it. I'm certainly playing well enough and getting my game together."
1441: FOOTBALL
Bury manager Richie Barker tells BBC Radio Manchester he will look to rotate the squad over the next few weeks in order to keep the players fresh for the end of season run in.
1435: FOOTBALL
Several Wigan supporters have been told they are "no longer welcome" at the club after a flare was let off during a derby match with Bolton.
1430: FOOTBALL
English football is a step closer to reintroducing artificial pitches after the Football League announced plans to seek opinion on their possible return. The public consultation will run until the end of April and canvas the views of clubs, fans and officials. The Football League's chief operating officer, Andy Williamson, said there was a "clear appetite" to reconsider the use of artificial surfaces. that artificial pitches could make a return.
1423: GET INVOLVED
Darren Smith on Twitter: "#AFC fans need to wise up. You have financial security, an identity, a philosophy & 1 of best mgrs in world. This is a blip."
1422: SNOOKER
Ronnie O'Sullivan has raced 3-1 ahead in his best-of-seven match against Mark Williams at the Welsh Open. He is at the table in frame five so the match might not last much longer, but while it does you can watch it now on the BBC website.
1418: FOOTBALL
Another reminder that Manchester United's Europa League game against Ajax kicks off at 1800 GMT tonight and you can listen to live commentary on BBC Radio 5 live from 1745 GMT. Porto against Manchester City follows on the same station from 2005 GMT.
1415: FOOTBALL
More from former Arsenal manager George Graham, who was asked on BBC Radio 5 live whether Arsene Wenger should be sacked: "No, definitely not. The club really still rate him very, very highly and rightly so. If he left Arsenal tomorrow the top sides in Spain and Italy would be after him. But sometimes you have done as much as you can do at a club. He's still an excellent manager."
1410: FOOTBALL
Scottish First Minister Alex Salmond believes the survival of Rangers is crucial for rivals Celtic and the rest of Scottish football to prosper: "Obviously HMRC have got to pursue, in the public interest, taxation," he told told Sir David Frost, in an interview to be broadcast on Frost over the World on Al Jazeera English. "We've certainly been arguing to HMRC on one hand, and indeed to Rangers, to for goodness sake get a settlement, get a settlement and a structure over time whereby Rangers can continue because Rangers must continue for the future of Scottish football and for the fabric of the country."
1405: CYCLING
Sir Chris Hoy and Jason Kenny have been talking to BBC Sport ahead of this week's Track World Cup meeting in London about their battle for Britain's lone individual sprint place at this summer's Olympics. "It's just a shame yourself or your team-mate misses out but, in terms of selection, I think the team will pick itself," said Hoy. "Results from the season so far and the World Championships will pick the team. It's tough but that's life, you do the best you can." #olympicthursday
1401: FOOTBALL
Former Arsenal manager George Graham has been speaking to BBC Radio 5 live this afternoon about the club's current form. "It's a topsy-turvy season so far but they've still got an outside chance for the top four," he says. "But I think they've been on a slippery slope the last couple of years, particularly after the wonderful teams Arsene [Wenger] has produced in the past. But the majority of players coming to the club now are not as good as the ones leaving the club."
1400: FOOTBALL
Former Spurs midfielder David Howells, who helped the club to their 1991 FA Cup triumph, tells TheComet that Stevenage are capable of earning a replay against the Lilywhites in Sunday's FA Cup tie.
1351: CYCLING
German Marcel Kittel has won the third stage of the Tour of Oman. Compatriot Andre Greipel retains the overall lead.
1347: CRICKET
Scotland bowled out the United Arab Emirates for just 100 in their ICC Intercontinental Cup match in Sharjah. Safyaan Sharif and Gordon Goudie took three wickets each as the hosts were skittled in little more than 40 overs, Amjad Javed top-scoring with 24.
1345: SNOOKER
It's 1-1 in the best-of-seven second-round match between Ronnie O'Sullivan and Mark Williams at the Welsh Open. You can watch the match now on the BBC website.
1340: GET INVOLVED
Jacob Connor on Twitter: "Christian Erikson is going to show Sir Alex tonight who he should have bought in the transfer window."
1337: FOOTBALL
Meanwhile, Chelsea manager Andre Villas-Boas says he only needs the support of owner Roman Abramovich to carry out his duties and does not require the full backing of his squad. Asked whether he still had the support of his players, Villas-Boas told a news conference: "They don't have to back my project, only the owner needs to back my project".
1334: FOOTBALL
Nicolas Anelka, who has joined Chinese Super League side Shanghai Shenhua, says his former Chelsea team mate Didier Drogba could soon join him at the club. "Yes I am frequently in contact with him. I think Drogba should be joining us, if all goes well, but that is not my position to announce," he said.
1330: FOOTBALL
The club sponsor of Rangers, Tennent's, vehicle partner Lomond Audi and retail partners JJB Sports plc say they will continue to back the Scottish champions, who went into administration this week. A reminder that the club's administrators will be holding a press conference at 1530 GMT and we will bring you news of that as we get it.
1320: TENNIS
Top seed Roger Federer was handed victory in his second-round match at the Rotterdam Open when opponent Mikhail Youzhny withdrew because of a foot injury.
1315: FOOTBALL
Before that, in 20 minutes to be precise, at 1335 GMT, former Arsenal boss George Graham will discuss the team's mediocre season on BBC Radio 5 live.
1312: HORSE RACING
Tomorrow is a busy day of racing at Newbury and you can listen to all seven races on the card, including Cheltenham Gold Cup winner Long Run in the Betfair Denman Chase at 1240 GMT, live on Radio 5 live sports extra from 1205 GMT.
1307: RUGBY UNION
More from Northampton director of rugby Jim Mallinder, who has chosen not to apply for the England coach's job. "I spoke to Rob Andrew a month or so ago and, as I've done previously, I expressed that, one day, it's a tremendous job to do," he told BBC Look East. "It's probably the best job in the world, coaching wise. What a great opportunity. But it's got to be the right thing, the right time, the right place. And at the moment I'm concerned with getting Northampton to win something. We've got a chance this year and that's all my focus is on."
1303: GOLF
Scotland's Peter Whiteford had four successive birdies in a six-under-par 66 to share the first-round lead with Spaniard Alejandro Canizares - son of former Ryder Cup player Jose Maria - at the Avantha Masters in New Delhi. Former Open champion John Daly - fourth in Qatar two weeks ago - finished the day second-last following a seven-over-par 79.
1259: SNOOKER
Ronnie O'Sullivan is always entertaining and you can watch him from 1330 GMT against Mark Williams in the Welsh Open on the BBC website (UK users only)
1249: ATHLETICS
It is one of the key questions ahead of this summer's Olympic Games - what colour will Phillips Idowu dye his hair for the Games? "I might do something interesting….." he tells BBC Sport. #olympicthursday
1245: GET INVOLVED
Simon Wisdom on Twitter: "If Man Utd fail to beat Ajax tonight how many fans will lose sleep over it?"
1240: FOOTBALL
Bayer Leverkusen director of sport Rudi Voller has condemned the behaviour of Michal Kadlec and Manuel Friedrich, who argued over who would have Lionel Messi's shirt after their Champions League encounter on Tuesday. "I can guarantee that Kadlec and Friedrich will auction off their Messi shirts for a good cause," Voller told the Bild newspaper. "What the pair did was a bit over the top."
1230: RUGBY UNION
Northampton director of rugby Jim Mallinder decides not to apply for the position of England coach.
1227: FOOTBALL
Southend boss Paul Sturrock tells BBC Essex of the Rangers saga: "It's scary stuff up there. Finance has always been a problem up in Scotland, but it's never really tainted Rangers and Celtic. It just shows you how far it's gone when Rangers can get themselves into a sticky mess. I hope things sort themselves out up there."
1225: FOOTBALL
Brighton and Hove Albion look close to completing the double loan signing of Manchester City midfielders Abdul Razak and Guy Assulin. Razak, 19, is set to sign a three-month deal with the Seagulls and would be available for Sunday's FA Cup game at Liverpool.
1220: FOOTBALL
Just to remind you, that United game against Ajax kicks off, in the footballing sense, at 1800 GMT and you can listen to live commentary on BBC Radio 5 live from 1745 GMT. Porto against Manchester City follows on the same station from 2005 GMT.
1215: FOOTBALL
Manchester Evening News reporter Mike Keegan on Twitter: with some disturbing news from Amsterdam ahead of United's game with Ajax tonight. "88 arrests in Amsterdam so far. Mainly preventative. One Brit on suspicion of assault. More at: Manchester Evening News shortly."
1210: FOOTBALL
Celtic defender Daniel Majstorovicwins an appeal against his dismissal against Inverness last weekend.
1205: ATHLETICS
Olympic sprint champion Usain Bolt will run at the Golden Spike meet in Ostrava, in the Czech Republic, which is part of the new IAAF World Challenge series. The meet is scheduled for May 25. "The Golden Spike meeting always has a full house and the fans are so full of energy - every year they push me to good performances. It is a good track and nice stadium where the fans are close to the action," he says.
1155: FOOTBALL
Len B on Twitter: "Good result will be draws for both Manchester clubs today. Porto very tricky, Ajax cannot be underestimated. Go for away goals."
1150: CRICKET
One more piece of cricket news and uncapped left-arm spinner Jon Holland will join Australia's squad for Friday's triangular series match against Sri Lanka as cover for Xavier Doherty who suffered back spasms during practice on Thursday.
1145: CRICKET
Another cricket line from down under, and former Australian wicketkeeper Luke Ronchi, who played four one-day internationals and three Twenty20 matches between 2008 and January 2009, is to move to New Zealand next season in a bid to qualify to play for the Kiwis. "I am heading across the Tasman with no guarantees but at 30 years of age I feel that I still have a lot to offer at the very highest level and I am looking forward to making the move with my family," said Ronchi, who will be eligible to play for New Zealand from January 2013.
1140: CRICKET
Interesting news being reported on cricinfo Australian all-rounder Andrew Symonds, who was due to participate in this year's Indian Premier League event, has announced his retirement from all forms of cricket.
1135: GET INVOLVED
Damon Miles on Twitter: "A message to the AFC board, why did we move to the Emirates? To compete with the best wasn't it? Keep going backwards."
1133: FOOTBALL
Brazilian football supremo Ricardo Teixeira, who is also the president of the 2014 World Cup organising committee, is under increasing pressure to step down after the country's largest newspaper, the Folha de S. Paulo, published a report linking him to a company being investigated for over-billing an international friendly four years ago. Teixeira, who has presided over Brazilian football and the national team for 23 years, has repeatedly denied any wrongdoing.
1130: FOOTBALL
Bolton boss Owen Coyle has confirmed Tyrone Mears is facing more time on the sidelines after the defender suffered a setback in his recovery from a broken leg. "He has had to have a screw replaced and he will be out for a number of weeks on the back of that," Coyle says.
1127: CRICKET
Recuperating India all-rounder Yuvraj Singh on Twitter: "Got very good news from Dr Lawrence today! The tumour is almost way out of the system after reading my [sic] today's scan! Second cycle has started."
1125: SKI JUMPING
Organisers have cancelled a World Cup event in Germany for the second day running because of high winds.
1121: FOOTBALL
Another football line for you, and Aston Villa's Darren Bent, Alan Hutton and James Collins have been named on Stuart Pearce's provisional list of over-age players for this summer's London Olympics, Press Association Sport reports.
1120: FOOTBALL
Meanwhile, Wigan manager Roberto Martinez believes 13 clubs - including Sunderland and Everton - are still involved in this season's Premier League relegation scrap, according to the Wigan Evening Post.
1118: FOOTBALL
Wigan have banned more than a dozen fans as a result of incidents during last weekend's victory at Bolton. A number of flares were set off in the Latics end at the Reebok Stadium and the club have responded by writing to 17 spectators, predominantly aged between 15 and 22, to inform them they are no longer welcome to attend matches.
1115: WRESTLING
American Kurt Angle has been talking to BBC Sport about his desire to qualify for the Olympics. The 1996 gold medal winner said: "I've had my ex-wife Karen tell me you're not fit for it. I've had family members say they're concerned about my neck, my mother's always worried and even some of my brothers aren't taking me seriously." #olympicthursday
1110: GET INVOLVED
Ste Darwin on Twitter:"City wont be ready for Porto tonight, Hulk will tear them apart."
1105: SWIMMING
Re 0952: British Swimming have confirmed that no discussions have taken place with LEN with regards to staging the 2012 European Championships as a replacement for Antwerp, Belgium. British Swimming understands LEN has held discussions with alternative cities with a view to hosting the event originally scheduled for May this year. The London 2012 Organising Committee (LOCOG) also told BBC Sport that no discussions have taken place with regards the Aquatics Centre hosting the event.
1102: FOOTBALL
Leyton Orient chairman Barry Hearn tells Sky Sports News that the Olympic stadium is not suitable for football. "We're looking at it but, I have to say, after my tour of the stadium, I become more and more convinced that this stadium is not fit for football purposes," he says. "Obviously we are keeping our options open because we want to see how the land is going to lie and if there's any alternative."
1100: Good morning and welcome to Sportsday Live, coming to you from MediaCityUK in Salford Quays. Don't forget you can share your thoughts on the latest sporting issues via Twitter, whether they be on Arsenal, Rangers, the English teams in the Europa League tonight, or any other matter, with the hashtag #bbcsportsday
1100: ATHLETICS
World duathlon champion Sergio Silva has been stripped of his gold medal after testing positive for a banned stimulant following a race.
The Portuguese athlete will serve only a six-month doping ban instead of two years after the International Triathlon Union decided he acted "with no intent of enhancing his performance."
Silva tested positive for methylhexaneamine after the championships, held in September 2011 in Dijon, Spain.
1058: GET INVOLVED
Mark Tucker on Twitter: "Followed Wolves for 45 yrs Macca is in my top 3 mgrs in that time. my rating of candidates, Curbs 80% Bruce 50% Warnock 5% #bbcsportsday".
1055: GET INVOLVED
Matt Williams on Twitter: "#bbcsportsday Wolves need someone who demands performances. They need a manager, not a friend. Maybe they were complacent with Mick?"
1052: GET INVOLVED
Matt Wood on Twitter: "Arsenal looked as out of their depth last night as Chisora will in his title fight. #bbcsportsday".
1045: FOOTBALL
Rangers confirmed that administrators Duff and Phelps will address the media at a press conference at Ibrox stadium at 15.30GMT.
1042: GET INVOLVED
Stuart Cole on Twitter: "#bbcsportsday Sad to see Mick get the boot ! but i guess Wolves feel that if Sundeland can do it? then they can to!?"
1040: RUGBY UNION
New Zealand's Hoani Tui and Jason Shoemark have agreed new two-year contracts with Exeter.
"I don't want to be making too many changes year on year and these two guys are a big part of things, on and off the pitch," said Exeter head coach Rob Baxter.
1035: GET INVOLVED
Imran Jan on Twitter: "After South Africa everyone thought we needed youth in the squad. Now people are saying bring Scholes back. Make up your mind #bbcsportsday".
1030: FOOTBALL
Liverpool striker Luis Suarez could be in line for a move to French club Paris Saint-Germain, France's L'Equipe newspaper has reported.
Any move would see Suarez link up with his Uruguay team-mate and close friend Diego Lugano, who also captains the South American country.
1025: GET INVOLVED
Stewart Gardner on Twitter: "#mufc on walkabout in Amsterdam http://yfrog.com/h2obaovj".
1020: GET INVOLVED
Tom Lee on Twitter: "#bbcsportsday Good to see both Manchester clubs giving the Europa League respect judging by the squads. I thought this wouldn't be the case."
1015: GET INVOLVED
Who should get the Wolves job? What needs to change to save the Wanderers from relegation? And did Mick McCarthy really deserve to go? Tweet us using the hashtag #sportsday in your message, and give us your views on this and all of the day's sporting news.
1010: FOOTBALL
Striker Kevin Doyle says he never lost respect for sacked Wolves boss Mick McCarthy even though he was ousted as the club's first-choice striker by Steven Fletcher.
Doyle said: "I didn't play for probably the last month but it didn't change my feelings towards the manager.
"We all respected him massively and got on with him as a person and not just as a manager."
1005: GET INVOLVED
Cricketer Jimmy Anderson on Twitter: "Currently tootling through the desert. The combination of 'upset stomachs' and @finnysteve's breath has turned the bus into a nuclear weapon".
1000: GET INVOLVED
Chukwuma W. Okwoli on Twitter: "What we got frm Milan we shall always get if we don't use the transfer window & keep hoping on our injured players #afc #bbcsportsday".
0955: SWIMMING
Antwerp organizers say the European swimming championships will be moved from the Belgian city to London because of a budget shortfall.
The organizing committee claimed that the move was at the instigation of the European swimming federation (LEN) and the event will now be held at the Olympic swimming facilities.
The event was due to be held from May 16-27 in Antwerp but it is unclear if the dates will remain the same in London.
0950: GET INVOLVED
Josh Fairhurst on Twitter: "Looked like AC Milan where playing a Sunday League team last night against Arsenal. Was shocked by how bad Arsenal seemed #bbcsportsday".
0945: GET INVOLVED
Matthew Colgan on Twitter: "I think Scholes should go to the Euros. He will be the perfect man in midfield and he can control the game and set the tempo #BBCsportsday".
0940: FOOTBALL
Bayer Leverkusen players Michal Kadlec and Manuel Friedrich will have to auction off Barcelona shirts from Lionel Messi in a 3-1 Champions League defeat after sports director Rudi Voeller said they were too enthusiastic in their quest for a souvenir.
"I can guarantee you that these two players will auction off the tops for a good cause," Voeller told the Bild newspaper.
"What they did was too much of a good thing. I have not yet spoken with them but I will do it."
0935: RUGBY LEAGUE
Wigan's new prop Tom Spencer has joined Co-operative Championship side Leigh on a dual-registration contract after making his Super League debut in Saturday's 20-6 win over Leeds.
Wigan's rugby manager Kris Radlinski said: "We are very comfortable with the environment that Leigh provides and know that Tom will gain a great deal from this experience.
"Every party benefits out of the arrangement with the player getting valuable playing experience at Championship level and Leigh receiving a high-quality young player to add to their playing squad."
0930: FOOTBALL
Rangers' administrators will meet with manager Ally McCoist and the players later - although they claim at this stage that there will be "no immediate cuts in the playing staff".
Firm Duff and Phelps took control of the Scottish champions on Tuesday after the club was forced into administration over an unpaid tax bill of £9million, accrued since Craig Whyte took control of Rangers in May 2011.
Joint administrator Paul Clark said: "There will be a review of staff, including playing staff. That will take its course."
The spokesman also said players had not been asked to play without being paid.
0925: GET INVOLVED
Scudgie Boy on Twitter: "Fabio Aurelio leaving LFC will be a sad day. Great player whose appearances were restricted through injury, A true gent nonetheless #bbcsportsday".
0920: CYCLING
With the world's best track cyclists in action at London's Olympic velodrome from Thursday evening in the World Cup, Olympic champion Victoria Pendletonhas been talking to BBC Sport: "I sound like I'm some kind of psycho, manic-depressive, unstable individual. But I just say it how it is, and I can be honest about how I feel right now: I feel positive and enthusiastic and in control of where I'm at." Have your say on the Olympics on Twitter, and use the hashtag: #olympicthursday.
0915: FOOTBALL
Former Arsenal defender Nigel Winterburn told BBC 5live that the club's 4-0 defeat against AC Milan will have a damaging effect on Arsene Wenger's team.
"Arsenal's confidence will be completely shattered," he said. "When Arsenal went to AC Milan in '08, Wenger talked about how his team was very confident. Now in the build up to the game he talked of a team trying to rebuild."
Despite the set back, Winterburn was convinced manager Arsene Wenger would still be at the club next year.
0910: CYCLING:The Track World Cup will be covered extensively across BBC TV, the Red Button, the BBC Sport website and 5 live sports extra, with the coverage getting under way from 1830 GMT on Friday. The website will bring you extensive preview material, video interviews and reports over the next four days. #olympicthursday
0905: TENNIS
Number two seed Andy Roddick has beaten his countryman Denis Kudla 6-7 (5-7) 7-6 (7-5) 6-4 in the second round of the ATP SAP Open, in San Jose, California.
0900: GET INVOLVED
Tom Daley on Twitter: "Last day in Southend today...training this morning and then we are off to London!!!!"
0855: FOOTBALL
Striker Peter Crouch insists Stoke will relish the chance to take on European giants Valencia in the first leg of their Europa League last-32 clash.
Crouch said: "There's not been many opportunities in previous seasons to play the likes of Valencia at the Britannia.
"Everyone wants to play in it and it's a big, big game for the football club.
"It'll be a test for us but, certainly at the Britannia, we'll look to get a good result."
0850: GET INVOLVED
Viv Powers on Twitter: "If English clubs have another season like this one, then the EPL run the risk of losing one of their CL places #bbcsportsday".
0845: GET INVOLVED
F1's Jenson Button on Twitter: "Morning guys I'm at the MTC today driving the simulator, hopefully we'll make some good progress to help chase after that championship! :-D".
0840: GET INVOLVED
Sportsday needs your input. We love hearing your thoughts on your team or sport. Tweet us at #sportsday with your views and we'll publish the best.
0835: FOOTBALL
Stoke owner Peter Coates has said he is looking forward to one of the biggest nights in Stole City's history, when his side take on Valencia on Thursday at the Britannia stadium.
He said: "We're looking forward to it - we are playing one of the top clubs in Europe. It is a big challenge and we are looking forward to doing well."
0830: CYCLING
European champion Matt Crampton, 25, believes his time on the bruising Japanese keirin circuit can help him beat Sir Chris Hoy to a place on Great Britain's Olympic team.
Crampton, who has spent time racing in Japan since 2009, said: "There's a lot more contact, you get good knocks around.
"I think I've got the tools to beat him. On my day, I should be there."
0825: FOOTBALL
Manchester United boss Sir Alex Ferguson has conceded he got it wrong in Europe this season, ahead of the Red Devils' Europa League tie against Ajax on Thursday.
"To make changes was working fine for us because our home record was always so good but we threw it away in our home game against Basel and were unlucky against Benfica," he said.
"That caught us short and we suffered for it.
"I would certainly try to play my strongest team in each round now."
0820 CRICKET
Former England opener Geoffrey Boycott has hailed Alastair Cook as "the complete player" after he made history by becoming the first England captain to score successive one-day international centuries, in the second one-day international against Pakistan in Abu Dhabi.
"[His innings] were totally different to how he played in the two Test matches," Boycott told BBC 5Live.
"His feet were moving well, he was getting right forward, right back; he seems to have a wider range of shots.
"He just looks the complete player."
0815: BOXING
Dereck Chisora is angry after German promoters banned his "childish" ring walk tune - the theme from TV's Only Fools and Horses - for Saturday's world heavyweight title fight in Germany with Vitali Klitschko.
"No sense of humour, obviously," Chisora told the Sun. "I could not believe the Klitschkos KO'd my music. I mean, next to the national anthem, it's the most recognisable theme tune in the world!
"They want me to come into the ring with some Euro rock trash like Europe's The Final Countdown, but I can't come out to that — everyone knows me as Del Boy."
0810: FOOTBALL
BBC Sport's Mark Pougatch brings you all the reaction as Arsenal lose 4-0 to AC Milan in the Champion's league, on the latest BBC 5live football podcast. Pat Nevin, Henry Winter and Alan Green all offer their verdict on the result and Arsene Wenger analyses his team's performance.
0805: FOOTBALL
Arsene Wenger urged his Arsenal players to regroup and show their strength of character in Saturday's FA Cup fifth-round tie at Sunderland after a "shocking" 4-0 defeat to AC Milan in the first leg of their Champions League tie.
Wenger said: "The season is not finished. We have a big game on Saturday and it is a good opportunity to show we have character and mental strength, that we can respond after such a shocking defeat.
"We have a lot of work to regroup and not a lot of time to prepare for Saturday's game, when we need to show something completely different."
0802: GET INVOLVED
Sportsday is not Sportsday without your input . What did you think of Arsenal's capitulation against AC Milan? Can Scholes really play for England again? Has Dereck Chisora got a prayer in his fight against Vitali Klitschko on Saturday? And should England's successful one-day team be given a go in the next Test match? Tweet us at #sportsday with your views on these and the rest of the day's sporting news.
0800: FOOTBALL GOSSIP
Morning everyone. As usual, we start with three snippets from the gossip column.
Zambia striker Emmanuel Mayuka, 21, is being targeted by a number of Premier League sides, with Arsenal, Newcastle and Fulham all monitoring his progress.(talkSPORT)
Striker Daniel Sturridge is believed to be considering his future at Chelsea. The 22-year-old has just over a year left on his current contract at Stamford Bridge. (the Sun)
Fabio Aurelio looks set to leave Liverpool in the summer. The 32-year-old left-back is out of contract at the end of the season and there have been no talks about a new deal. (Liverpool Echo)