Sportsday Live - Friday 17 February
Last updated on .From the section Sportsday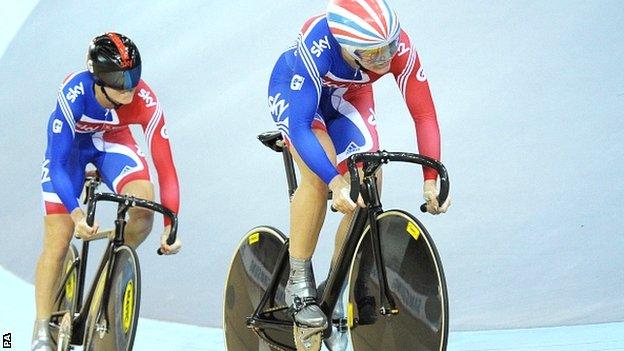 PLEASE MANUALLY REFRESH THIS PAGE
Sportsday Live - breaking sports news
2210: That's it for Friday's Sportsday Live. Please keep sending us your news, views and comments via Twitter with the hashtag #bbcsportsday. Join us again at 0800 GMT on Monday for all the breaking news and build-up to another busy week of sport.
2205: GET INVOLVED
BBC Sport's Ollie Williams on Twitter at the Olympic Velodrome: "Superb ride from GB's Ben Swift ends evening at #twclondon. Third in omnium eliminator. Omnium concludes tomorrow. Gonna come back for more?"
EpicallyFailing on Twitter: "Great ride by @swiftybswift in the devil! Viviani is a class act though. Great evening of cycling #twclondon #bbcsportsday"
2157: CYCLING
Britain's Ben Swift finishes third in the elimination section of the men's Omnium. Elia Viviani wins it but Juan Esteban Arango sits top of the overall standings, with Swift up from 14th to joint-eighth. The remaining three disciplines take place on Saturday.
2155: FOOTBALL
Reading beat Burnley 1-0thanks to an 11th-minute strike by Jason Roberts. The Royals move up to third in the Championship table while Burnley sit 10th.
2154: GET INVOLVED
Wigan Warriors player Sean O'Loughlin on Twitter: "Well done Leeds, top game! How important was that interception from Ryan Hall!"
2150: SNOOKER
In the final two Welsh Open quarter-finals, Stephen Lee and Ding Junhui are all square at 3-3, while Mark Selby is 4-3 up on Stephen Maguire. Best of nine frames.
2148: RUGBY LEAGUE
Full-time at Headingley, where Leeds beat Manly 26-12 to win the World Club Challenge.
2146: RUGBY UNION
Dan Parks is the hero as Cardiff Blues Playing his first game since retiring from international rugby, former Scotland fly-half Parks scores 16 points, including a try, with winger Tom James claiming the hosts' other touchdown as they come from 11-6 down at the break to win 21-14. In the evening's other matches, Leinster beat Scarlets 16-13 and Ospreys see off Aironi 23-7.
2143: RUGBY LEAGUE
Carl Ablett reacts quickest to touch down Kevin Sinfield's grubber kick and wrap up the win. Sinfield adds the goal. Leeds lead Manly26-12 and the World Club Challenge is almost theirs.
2140: RUGBY LEAGUE
Ben Jones-Bishop squeezes through in the corner. Kevin Sinfield hits the post with his goal attempt. That makes it Leeds 20-12Manly with a few minutes remaining in the World Club Challenge.
2137: CYCLING
Albert Torres of Spain wins the points race, which is not an Olympic event. Now we're into the men's Omnium.
2130: RUGBY LEAGUE
RFL chief executive Nigel Wood tells BBC Radio 5 live sports extra that the World Club Challenge could be played outside the UK and Australia.
2122: CYCLING
Still 24 laps (6km) to go before we get a winner in the points race. Meanwhile, another man who will be aiming for gold in the Velodrome come July is Bradley Wiggins. The three-time Olympic gold medallist put in a punishing shift in the third stage of the Tour of Algarve to finish in the top 10 and help Team Sky team-mate Richie Porte win the stage and take the leader's yellow jersey.
2120: SNOOKER
In the final two Welsh Open quarter-finals, Stephen Lee and Ding Junhui are all square at 2-2 and Stephen Maguire is 3-2 up on Mark Selby. Best of nine frames.
2118: GET INVOLVED
Keep your thoughts coming on all of tonight's sport by contacting up on Twitter using the #bbcsportsday hashtag.
2113: RUGBY LEAGUE
Daley Cherry-Evans bundles his way over the line and the goal is kicked to make it Leeds 16-12 Manly in theWorld Club Challenge.
2112: FOOTBALL
Jay Rodriguez heads against the post as Burnley push for an equaliser against Reading.
2110: GET INVOLVED
BBC presenter Jake Humphrey on Twitter: "Great night here in the velodrome. Glad so many of you seem to be tuning in and enjoying our coverage. Great #Olympic practice for me!"
2108: CYCLING
The BBC Radio 5 live commentary has finished but the action goes on and you can watch it on the Red Button or here on the BBC Sport website. We're into the points race and there are 73 laps to go.
2100: RUGBY LEAGUE
Back under way at Headingley, where Leeds lead Manly 16-6 in theWorld Club Challenge.
2055: GET INVOLVED
Manchester United striker Michael Owen on Twitter: "Anyone see that Burnley defender stick his head in there to stop a goal? Could of got his head kicked off. Bravest defending I've ever seen."
2052: GET INVOLVED
Sir Chris Hoy on Twitter: "Just sitting waiting for podium presentation, v.pleased with bronze closing the gap on the top2 nations at the moment. #moretocome"
2050: FOOTBALL
Reading lead Burnley 1-0at half-time thanks to an 11th-minute strike by Jason Roberts.
2040: RUGBY LEAGUE
A second try of the night for RyanHall, who collects Kevin Sinfield's cross-field kick before storming over the line. Sinfield misses the goal, so it's Leeds 16-6Manly at half-time in theWorld Club Challenge.
2038: BASEBALL
Veteran Boston Red Sox pitcher Tim Wakefield announces his MLB retirement.
2035: RUGBY LEAGUE
A well-worked move is rounded off by Brett Stewart and over goes the goal to make it Leeds 12-6Manly in theWorld Club Challenge.
2033: FOOTBALL
Reading are still1-0 up against Burnley at the Madejski Stadium. Charlie Austin headed against the bar early on before Jason Roberts opened the scoring.
2030: RUGBY LEAGUE
Ryan Hall intercepts a pass close to his own line and runs the length of the pitch to score the second try of the night. Kevin Sinfield adds two points with the boot to make it Leeds 12-0Manly in theWorld Club Challenge at Headingley.
2025: GET INVOLVED
edpower76 on Twitter: "re 2010 if Strachan doesn't take a job in football management, with an answer like that, he could always try politics!! #bbcsportsday"
2023: RUGBY LEAGUE
Leeds take the lead against Manly in the World Club Challenge as Kallum Watkins goes over from close range after being teed up by Brent Webb. Kevin Sinfield kicks the goal to make it 6-0.
2020: SNOOKER
In the final two Welsh Open quarter-finals,Stephen Lee leads Ding Junhui 2-0 and Stephen Maguire is 2-1 up on Mark Selby. Best of nine frames.
2017: GET INVOLVED
rulitos14 on Twitter: "I've never known a GB or Home Nations team to be as dominant in their particular sport. Awesome. #twclondon #bbcsportsday"
2015: FOOTBALL
Against the run of play, Jason Roberts curls a first-time finish past Lee Grant to make it Reading 1-0 Burnley.
2012: GET INVOLVED
BBC sports editor David Bond on Twitter: "Just been trackside as Britain's women set two WRs on way to double gold. Just hope atmosphere is as noisy when it really counts in summer."
2010: FOOTBALL
Speaking to BBC Radio 5 live, Gordon Strachan will not be drawn on whether he's interested in succeeding Mick McCarthy as Wolves manager: "In life I am happy at the moment. You can't ask the question if I want the job unless someone asks you if you want the job first. But I still think I can offer clubs a lot."
2007: CYCLING
Sir Chris Hoy: "I've never been to any venue in the world and seen any team get the support we've had from the crowd. The wall of noise when you're on the track is unbelievable. I believe the crowd have been a decisive factor in our performance. Goodness knows what they'll be like in a few months time. We're probably about a length and a half behind [the top men's sprint teams] but we're a new formation, a new combination and that was our fastest time since 2009. It's a medal, it's not gold, but it's a medal. Bring on the Olympics."
Ross Edgar: "It's such a good crowd, a mega atmosphere and we really enjoyed it. I definitely feel there's more in there, I didn't get it all out today. I'm looking forward to the World Championships and beyond."
Jason Kenny: "We've been messing around a bit with the formation but we're definitely getting better and we can bridge that gap before the worlds."
2000: CYCLING
No world record for Sir Chris Hoy, Ross Edgar and Jason Kenny in the men's team sprint but their bronze makes it three medals for Great Britain tonight. And it's a 50th world medal for Hoy. "I didn't realise that," he tells BBC Sport.
1952: GET INVOLVED:
BBC sports news correspondent Dan Roan on Twitter: "They said the Olympic velodrome was designed to be the fastest in the world. It's living up to its billing."
peteelite73 on Twitter: "#Britishcycling is the best and what a track #bbcsportsday"
EpicallyFailing on Twitter: "And another! Great ride @LauraTrott31, @DaniKing1 and Jo! British women on fire tonight! #twclondon #bbcsportsday"
1950: BREAKING CYCLING
Great Britain beat Australia to win bronze in the Track World Cupmen's team sprint.
1948: CYCLING
The winning time by Joanna Rowsell, Dani King and Laura Trott is three minutes 18.148 seconds. It's a second gold of the night for GB and the atmosphere at the Olympic Velodrome is electric.
1945: BREAKING CYCLING
Great Britain beat Canada to win gold in the Track World Cupwomen's team pursuit.
1942: FOOTBALL
Portsmouth are deducted 10 points by the Football League for going into administration.
1940: CYCLING
A third world record of the day goes at the Track World Cup in London's Olympic Velodrome as Australia beat the Netherlands to take bronze in the women's team pursuit. Now it's time for Great Britain v Canada for gold.
1938: GET INVOLVED
Northampton Saints rugby union lock Christian Day on Twitter: "World Club Challenge about to rev up. I've got a feeling Manly are going to be too strong. Got a definite feeling there's gonna be some biff."
1935: GET INVOLVED
BBC Sport's Ollie Williams on Twitter at the Olympic Velodrome: "What's that you say? Another final with Britain in? Go on then. Women's team pursuit, GB v Canada, coming up shortly. #twclondon"
1933: SNOOKER
The final two Welsh Open quarter-finals are under way. Stephen Lee leads Ding Junhui 1-0 and Mark Selby is 1-0 up on Stephen Maguire. Best of nine frames.
1929: RUGBY LEAGUE
The World Club Challenge teams are in...
Leeds: Webb, Jones-Bishop, Watkins, Hardaker, Hall, Sinfield, McGuire, Leuluai, Burrow, Peacock, Jones-Buchanan, Delaney, Ablett. Replacements: McShane, Bailey, Griffin, Clarkson.
Manly: B. Stewart, D. Williams, Lyon, Matai, Oldfield, Foran, Cherry-Evans, King, Ballin, Kite, Watmough, T. Williams, G. Stewart. Replacements: Buhrer, Mauro, Lussick, Rose.
1928: CYCLING
Coming up at the Olympic Velodrome, the women's team pursuit final and the men's team sprint final. Tune into the web-only BBC Radio 5 live commentary and BBC Two, or get it all here on the BBC Sport Website.And get involved on Twitter using the #bbcsportsday hashtag. A word from Sir Chris Hoy: "2012 is here. It's the first sample of that Olympic experience and we are so excited about it. If I can get some success leading up to London then that will be a great experience. There is one position for the individual events available which is a shame because there are some world class athletes who will miss out on the Olympics. If I can perform well this weekend and then at the worlds in Melbourne then I will be out to defend three golds in London but it depends."
1924: GET INVOLVED
BBC Sport's Ollie Williams on Twitter at the Olympic Velodrome: "There's only one way it's going to get better than that for Britain, and that's if it happens again in here at the Olympic Games. #twclondon"
1922: CYCLING
Jess Varnish:"I can't believe it I need to pinch myself. I didn't think I could go faster, I was feeling fatigued. But hopefully we can repeat this in the Olympics."
Victoria Pendleton:"It sends out the message that we are a force to be reckoned with. We tried something new with the gears in the final and we have learned something. It was a risk but now is the time to experiment - before the worlds and the Olympics. The crowd were unbelievable - I was shaking on my bike."
1920: FOOTBALL
American entertainment company AEG deny they are interested in buying Tottenham. Timothy J Leiweke, president and chief executive of AEG, says: "The stories that AEG is interested in or has been negotiating for the purchase of Tottenham are untrue. We currently enjoy a very good business and personal relationship with Tottenham and have been involved with a number of transactions over the years. However, at no time have we had a desire to purchase that club. We will continue to have a great relationship with [Tottenham chairman] Daniel [Levy] and Tottenham moving forward."
1915: CYCLING
It's a world record timeof 32.754 seconds for the British pair. "It says we're a force to be reckoned with," says Pendleton. Unbelievable noise and celebrations inside the Olympic Velodrome. "I'm pinching myself," says 21-year-old Varnish. "It's a dream."
1912: BREAKING CYCLING
Great Britain's Victoria Pendleton and Jess Varnish beat world champions Kaarle McCulloch and Anna Meares of Australia to win gold in the Track World Cupwomen's team sprint.
1910: GET INVOLVED
BBC Sport's Ollie Williams on Twitter at the Olympic Velodrome: "You'd better all be watching this here track cycling. Live on BBC Two and 5 live sports extra. Women's team sprint starting now. #twclondon"
1905: CYCLING
Jess Varnish: "It obviously is pressure because I want to do Vicky Pendleton proud but we are a team and we have to do it together. You prepare for what you have to do. I have been training alongside some of the boys."
1900: FOOTBALL
Rangers' bid to re-sign striker Daniel Cousin fails after the SPL rejects his registration. Rangers announced this week that a deal had been done for Cousin, subject to international clearance, but the club were then placed into administration and handed a transfer embargo. An SPL statement reads: "The consent of the board of the SPL was required for the registration of the player with the SPL. The board of the SPL declined to give that consent. Accordingly the player is not registered with the SPL and is not eligible to play in SPL matches."
1855: CYCLING
You can listen to BBC Radio 5 live commentary from the Track World Cup on the BBC Sport website. 5 live Sport will be going over to the Velodrome for updates throughout their show, but you can listen to unbroken coverage online. Also, from 1900-2000 GMT, you can watch the action live on BBC Two (and online). Footage continues on the Red Button from 1900-2205 GMT.
1852: GET INVOLVED
BBC Sport's Ollie Williams on Twitter at the Olympic Velodrome: "In the next two hours Britain going for gold in women's team sprint/women's team pursuit, and bronze in men's team sprint. #twclondon"
1850: CYCLING
The focus of our attention will be London's Olympic Velodrome, where the British pair of Victoria Pendleton and Jess Varnish go for gold against Australia's Kaarle McCulloch and Anna Meares in the women's team sprint final. GB's Dani King, Laura Trott and Jo Rowsell take on Canada in the women's team pursuit final, while Olympic champions Ross Edgar, Sir Chris Hoy and Jason Kenny will face Australia for the men's sprint bronze medal.
1845: LIVE NOW
Right now on the BBC News Channel, you can watch a full preview to the sporting weekend. We bring you all the latest on Portsmouth and Rangers, plus we cross live to the Track World Cup cycling in the Olympic Velodrome and hear from Mo Farah ahead of the Indoor Grand Prix athletics in Birmingham. Plus there are FA Cup previews and you can see Dereck Chisora's interesting tactic at his weigh-in with Vitali Klitschko in Munich.
1840: WELCOME
Sportsday Live is continuing until around 2200 GMT to cover cycling's Track World Cup, the rugby league World Club Challenge between Leeds and Manly, and two quarter-finals at the Welsh Open snooker.
1822: BOXING
Unbeaten former world champions Brandon Rios and Yuriorkis Gamboa will fight for the vacant World Boxing Association lightweight title on 14 April.
1817: GET INVOLVED
Stephen Hole on Twitter: "Well done to Chisora and Klitschko for getting some good media coverage for their fight."
1812: FOOTBALL
The Anschutz Entertainment Group, who supported Tottenham in their failed attempt to move into the Olympic Stadium, have denied reports that they plan to buy the north London club. AEG president Tim Leiweke says: "We have a very good business and personal relationship with Tottenham and have been involved with a number of transactions over the years. However at no time have we had a desire to purchase that club."
1808: CYCLING
Paul Deighton, chief executive of Locog, the London Organising Committe of the Olympic Games, has been speaking to the BBC about the ticketing process for the road cycling this summer. "We're focused at moment on getting as many tickets into hands of British public as possible. We are on track to meet commitment to get 75% of total tickets for Olympic Games into hands of British public. We want to make sure as many of remaining tickets still to be sold get into hands of British public as possible and are committed to doing that. Once we've gone through the sales process we'll be in a position to show who's got what and how it ended up that way."
1805: FOOTBALL
West Ham midfielder Ravel Morrison has admitted a Football Association charge of "using abusive and/or insulting words" after a homophobic remark on Twitter.
1802: FOOTBALL
West Ham striker Freddie Sears has joined Colchester on loan until 18 March.
1756: RUGBY UNION
Wasps owner Steve Hayes is close to finalising the sale of the Aviva Premiership club after revealing that talks are at an "advanced stage" with four interested parties. A statement on the club's website read: "No preferred party has yet been selected but the club is confident that the process is now nearing conclusion."
1748: BOXING
Vitali Klitschko has vowed to take revenge on Dereck Chisora on Saturday after being slapped on the face by the WBC heavyweight title challenger "like a woman" earlier today. "He's not all there. Dereck is full of nervousness and I feel he is afraid, otherwise he would not have jumped back like he did," Klitschko said. "He hit me not like a boxer but like a woman, with an open hand. If he wants to fight properly, he must do that with his fists."
1740: GET INVOLVED - RUGBY LEAGUE
BBC Radio 5 Live reporter George Riley on Twitter: "Tons of Rhinos fans having pre-match refreshments in Headingley .Expecting 21,000. I'm enjoying a pre-commentary lemonade #bbcsportsday"
1733: FOOTBALL
BBC Sport's Mike Sewell reports that the prospective new owner of Reading Football Club, Russian businessman Anton Zingarevich - who is heading up the takeover by Thames Sports Investment - is being taken on a tour of the Madejski Stadium by Sir John Madejski ahead of tonight's game at home to Burnley.
1725: FOOTBALL
Hereford manager Jamie Pitman tells BBC Hereford and Worcester he is looking for a more consistent line up over the closing months of the season.
1717: FOOTBALL
Clarence Seedorf faces several weeks on the sidelines after he was diagnosed on Friday with a pulled hamstring. The veteran Dutch midfielder was forced off during Wednesday night's 4-0 demolition of Arsenal in the Champions League.
1710: GET INVOLVED ON TWITTER - #BBCSPORTSDAY
Matt Chamberlain on Twitter:#bbcsportsday The FA have to find a way to deal with the financial parts of football clubs as it is dragging the passion out of the sport
Rob Bown on Twitter:#bbcsportsday Wolves have either sacked Mick without knowing who they want, or their making a great ploy of making it look unplanned.
Paul Christianson on Twitter: Delighted Warnock's being spotted at Leeds training ground, means hes not coming to Wolves! #lfc #wwfc #bbcsportsday
1703: RUGBY UNION
Jersey Rugby Club could extend their winning run to 17 with a victory over Sedgley Park, a side without a home win since early December. Flanker Steve O'Brien and centre Dai Bishop could return to the side, with teenager Sam Fuller replacing injured winger Ed Dawson.
1656: GET INVOLVED
Get involved on Sportsday Live on Twitter with the hashtag #bbcsportsday
1649: F1
Vitaly Petrov is "very excited" to join the Caterham F1 team after being announced as Heikki Kovalainen's team-mate for the 2012 season at the expense of Italian veteran Jarno Trulli.
1640: SNOOKER
England's Shaun Murphy beats Northern Ireland's Mark Allen 5-4 to reach the semi-finals of the Welsh Open. Earlier, Ronnie O'Sullivan beat Judd Trump 5-3 in their best-of-nine match at the Welsh Open in Newport.
1636: FOOTBALL
Hamiltonhave mutually agreed to terminate the remaining three months of goalkeeper Tomas Cerny's contract. Earlier in the season the club was informed that Cerny would not be signing a contract extension and he would be leaving the club in May.
1630: F1
Sir Stirling Moss hails Sebastian Vettel as "a modern-day Fangio" who he believes will again outshine Lewis Hamilton and Jenson Button this season. In the eyes of Moss, five-time champion Juan Manuel Fangio will always remain the greatest driver in Formula One history. "Vettel is a modern-day Fangio in Formula One. I can't see, other than his natural ability, how he can be that good," Moss said. "The problem for Jenson and Lewis is they're up against a better outfit."
1626: FOOTBALL
Rangers manager Ally McCoist plans to include Daniel Cousin in his squad for Saturday's Clydesdale Bank Premier League game against Kilmarnock. The striker's signing was announced the day before the club went into administration and, although he has yet to be registered with the Scottish Premier League, McCoist remains hopeful he will be involved in the clash at Ibrox.
1621: FOOTBALL
Everton will be without Steven Pienaar for Saturday's FA Cup fifth-round tie against Blackpool at Goodison Park because the winger, on loan from Tottenham, is cup-tied. Landon Donovan is available for the last time before he returns to the Los Angeles Galaxy, but illness could rule him out. Striker Nikica Jelavic definitely misses out due to pubalgia.
1618: FOOTBALL
Chairman Milan Mandarichas stressed his commitment to Sheffield Wednesday after confirming he had "no interest" in becoming involved with Rangers. He later pledged his intention to stay with the npower League One side and said in a statement: "I can tell you that my commitment is intact and my only loyalty is with this club.
Rangers.
1609: CRICKET
On the sentencing of Mervyn Westfield, Pakistan skipper Misbah ul Haq said: "I think it's always disappointing - this is a clean game, this is a gentlemen's game, it should remain like that. When these sort of things happen, I think it just loses the interest of the audience. It's in the interest of the game that it should not happen like that."
1604: FOOTBALL
Alan Curbishley, Neil Warnock and Steve Bruce have all been interviewed for the vacant managerial post at Wolves. No decision is expected imminently with the club likely to interview further candidates. Possible names in the frame include Gordon Strachan, Walter Smith and Paul Ince.
1559: FOOTBALL
Defender Ben Turner says Cardiff City will have to 'keep an eye' on former striker Michael Chopra when they face Ipswich at Portman Road.
1552: FOOTBALL
Brighton & Hove Albion manager Gus Poyet tells BBC Sussex their FA Cup fifth round tie away to Liverpool is a great opportunity for his players to impress.
1543: GET INVOLVED ON TWITTER - #BBCSPORTSDAY
Darren Boyle on Twitter: Neil Warnock spotted at Leed's Thorpe Arch training ground and his odds slashed at all bookmakers #bbcsportsday
Simon Gill on Twitter: #bbcsportsday Per Mertesacker out for the long term now, not a big loss TBH Koscielny and Vermaelen by far the best centre backs we have.
Leigh Hine on Twitter: PR goldmine waiting for a company who buy the naming rights to St James' Park. Buy them and 'gift' the stadium name back? #NUFC #bbcsportsday
Kev Hegarty on Twitter: Shame to see clubs like #Rangers and #Portsmouth in financial trouble. Two clubs with great histories. Feel sorry for their fans #bbcsportsday
1535: SNOOKER
Ronnie O'Sullivan has beaten Judd Trump 5-3 in their best-of-nine match at the Welsh Open in Newport. While Northern Ireland's Mark Allen is losing 3-2 to England's Shaun Murphy.
1533: FOOTBALL
Motherwell manager Stuart McCall has played down the possibility of Champions League football at Fir Park for the first time next season. "What finishing third brings at the end of the season, we would have to wait and see," McCall said. "But we are not getting carried away with all this Champions League nonsense, if you like, because nobody knows what is going to happen."
1530: FOOTBALL
In a statement Rangers chairman Craig Whyte has said he is "100% confident that the administrators' report will prove that every penny that has come in and gone out of Rangers has been properly accounted for. And I wish to state categorically for the record now that I personally have not taken a single penny out of Rangers since I became chairman and have paid all my expenses from my own funds."
1524: FOOTBALL
Manager Steve Evans believes Crawley have the wherewithal to cause an FA Cup upset against Stoke this weekend. "I can't say it any louder or clearer that we respect Stoke City, but we certainly don't fear them," said Evans.
1519: BOXING
BBC Radio 5 Live boxing commentator Mike Costello says Dereck Chisorais lucky to still be allowed to fight after his "disgraceful" slap on Vitali Klitschko at the pre-fight weigh-in in Munich.
1513: FOOTBALL
MK Dons boss Karl Robinson tells BBC Three Counties Radio he has been aware of "serious interest" in him from other clubs, but is happy at Stadium MK.
1513: FOOTBALL
MK Dons boss Karl Robinson tells BBC Three Counties Radio he has been aware of "serious interest" in him from other clubs, but is happy at Stadium MK.
1508: FOOTBALL
Greek Football League organisers say top division football matches will be suspended for one week at the end of the month in protest at a new sporting law that has also drawn criticism from Fifa. Organisers say that scheduled games will not be played on 25-26 February in opposition to a law voted this week that gives expanded powers to a state-controlled sporting oversight committee.
1503: SNOOKER
Ronnie O'Sullivan leads Judd Trump 3-2 in their best-of-nine match at the Welsh Open in Newport. O'Sullivan won the fifth frame with a superb break of 139. While Northern Ireland's Mark Allen is losing 3-1 to England's Shaun Murphy.
1457: CRICKET
Former Essex county cricketer Mervyn Westfield has been jailed for four months at the Old Bailey for spot-fixing. He will serve half the term in prison.
1456: RUGBY LEAGUE
Widnes Vikings have suspended three members of their first-team squad for a breach of club discipline less than a month into the new season. Former St Helens and England hooker Scott Moore and back-row forwards Hep Cahill and Simon Finnigan have been dropped for Sunday's home game against Salford. The club, who are back in Super League this season after a six-year absence, have not divulged any details of the breach.
1455: CYCLING
Britain's men's sprint team of Sir Chris Hoy, Jason Kenny and Ross Edgar miss out on a place in the final at the World Cup meeting at London's Olympic Velodrome, posting the fourth-fastest time overall. GB will take on Australia for bronze on Friday evening, with France and Germany racing for gold and silver. Live coverage starts across the BBC from 1900 GMT.
1451: FOOTBALL
Ivory Coast captain Didier Drogba admits he finds it hard to talk about his penalty miss in the Africa Cup of Nations final. The match finished goalless after extra time, and the much-favoured Ivorians lost on penalties to Zambia.
1447: FOOTBALL
Notts County manager Martin Allen tells BBC Radio Nottinghamno-one's place in the team is safe ahead of their trip to Hartlepool.
1445: FOOTBALL
Nottingham Forest boss Steve Cotterill tells BBC Radio Nottingham the Reds need to stay calm in their relegation clash with Coventry.
1442: SNOOKER
You can watch live coverage of the matches between Ronnie O'Sullivan vs Judd Trump and Shaun Murphy vs Mark Allen at the Welsh Open on BBC Two Wales, BBC Red Button and online. You can also view updates, reports and latest scores on BBC Sport website.
1437: FOOTBALL
Bristol Rovers manager Mark McGhee tells BBC Radio Bristol that being in charge at the League Two club is still a "learning process" for him.
1434: RUGBY UNION
Bath centre Olly Barkley tells BBC Points West that the importance of the rivalry with Gloucester has been "instilled" in him by the long-serving players at the Rec.
1429: FOOTBALL
Portsmouth administrator Trevor Birch of PKF says that the supporters of the club are "probably happy" with a new change. He added: "Lets hope we can achieve something successful. The intention is to try and sell the club a s a a going concern. We have to travel hopefully and confidently. There has always been someone who has come out of the woodwork to buy a football club."
1420: FOOTBALL
Hearts manager Paulo Sergio insists that a top-four finish in the Clydesdale Bank Premier League would be a great result for the club. "We have fought our problems and did what we have to do, nobody can ask for Hearts to be second or third place this season after what has gone on this season," said Sergio.
1412: FOOTBALL
Former Chelsea manager Guus Hiddink has signed an 18-month deal to take over at wealthy Russian club Anzhi Makhachkala.
1404: FOOTBALL
Arsenal defender Per Mertesacker has ankle surgery and is ruled out for the "long term" says manager Arsene Wenger.
1359: FOOTBALLUefa are awaiting their match delegate's report before deciding whether to take action against alleged racial abuse during Manchester City's Europa League win at Porto last night. Earlier today, City lodged an official complaint to European football's governing body.
1353: SNOOKER
Judd Trump against Ronnie O'Sullivan is always going to be worth watching and Trump has just made a 109 to win the first frame in their best-of-nine match at the Welsh Open. You can follow it now on the BBC website.
1348: BOXING
BBC Sport's Richard Conway on Twitter: "Dereck Chisora has slapped Vitali Kiltschko at their weigh-in. I can't help but feel it's not one of Dereck's wisest moves..."
1345: FOOTBALL
Asked about Rangers going into administration, manager Ally McCoist says: "Well I have to inform you that I am as surprised at some of the revelations as the next man. Of that there is no doubt. The one thing I would say to you is that I'm a Rangers supporter and I want some answers, I would like some answers."
1342: FOOTBALL
Newcastle's Demba Ba has been left out of the Senegal squad for a friendly against South Africa in Durban on 29 February. Magpies team-mate Papiss Demba Cisse and Wigan Athletic midfielder Mouhamed Diame are included.
1340: FOOTBALL
Inverness will be without suspended defender Steve Williams for tomorrow's Premier League clash at Dunfermline. Billy McKay could return from a hamstring injury but Gregory Tade is likely to miss out again, while Aaron Doran, Roman Golobart, Chris Hogg and Andrew Shinnie remain out.
1338: FOOTBALL
Trevor Birch is appointed as Portsmouth's new administrator.
1332: CRICKET
England all-rounder Stuart Broad on Twitter when asked by BBC cricket correspondent Jonathan Agnew if tomorrow's third one-day international against Pakistan in Dubai could be in doubt: "Couldn't breathe out there mate, just mouthful of sand. Had to bowl in sunglasses just to open the eyes!"
1325: CYCLING
At the World Cup held at London's Olympic Velodrome Australia's Anna Meares and Kaarle McCulloch break their own women's team sprint world record by 0.095 seconds with a time of 32.828 seconds. Victoria Pendleton and Jess Varnish set a new British record in 32.966 seconds to qualify second. This means Britain will face the Australians for gold live on BBC Two/red button/BBC Sport website/5 live sports extra tonight. Full coverage details on the BBC website.
1322: HORSE RACING
Champion jockey AP McCoy is able to walk away after being treated following a serious fall in the Betfair Chase at Newbury.
1320: CRICKET
Assuming that match takes place, you can hear live commentary on BBC Radio 5 live sports extra from 1045 GMT on Saturday.
1318: CRICKET
England all-rounder Stuart Broad on Twitter with a worrying weather forecast ahead of tomorrow's third one-day international against Pakistan in Dubai: "Training was highly unpleasant in the sandstorm, struggled to open the eyes! Conditions will have to change for 2moros game to be ok."
1315: FOOTBALL
Brighton are likely to be boosted by the return to full fitness of in-form winger Will Buckley, but have doubts over former Spanish international Vicente Rodriguez ahead of Sunday's FA Cup tie at Liverpool. Assessing the match, Seagulls boss Gus Poyet says: "If we are average and they are at their best we will have no chance. In some respects it's an easy game for us because we don't have a lot of pressure compared to other games this season, and it will be a pleasure to be managing the team whatever the outcome."
1310: GET INVOLVED
Luke Collins on Twitter in reaction to the £1,000 fine imposed upon Swindon for failing to control their players in Tuesday's win against Crawley."Overcrowding the ref = fine, If the FA are setting a precedent at Swindon then apply it everywhere, FA consistency please?"
1300: BOXING
Britain's Dereck Chisora in defiant mood ahead of tomorrow's WBC title challenge against Vitali Klitschko in Germany: "I know I've got to go in there and do a job on him. I'm in tip-top condition and the best shape I've been in in my entire career, so I'm confident I'm going to smash Mr Vitali Klitschko to bits," he says.
1257: TENNIS
Second seed Tomas Berdych beats Andreas Seppi 6-3 6-4 in the quarter-final of the ATP event in Rotterdam.
1253: HORSE RACING
Cornelius Lysaght at Newbury on Twitter: "Great leap at last from Long Run to win Denman Chase - just - from Burton Port. Long Run showed well-being & didn't do a lot wrong; wider margin win would have been nice but returning Burton Port superb."
1250: FOOTBALL
Sunderland's Lee Cattermole could feature in tomorrow's FA Cup tie with Arsenal after recovering from hamstring trouble. On-loan Nicklas Bendtner is back in training but is ineligible to face his parent club, while David Vaughan, Wes Brown and Titus Bramble are still sidelined by injury.
1248: GOLF
Scotsman Peter Whiteford enhanced his bid for a maiden European Tour title after adding a 68 to his opening 66 to lead the Avantha Masters in New Delhi by two shots at the halfway stage. The 31-year-old world number 236 was an early starter in cold conditions and combined three bogeys with an eagle and five birdies to reach 10 under, ahead of Thailand's Prom Meesawat, the former world junior champion, who birdied five of the last six holes for a best-of-the-week 64.
1245: HORSE RACING
Cheltenham Gold Cup winner Long Run wins the Denman Chase at Newbury.
1240: CRICKET
The court in the Mervyn Westfield spot-fixing case has been told that former Pakistan spinner Danish Kaneria was allegedly the middleman between Westfield and the man who paid him.
1239: CYCLING
Germany's Andre Greipel of the Lotto team has won the fourth stage of the Tour of Oman to consolidate his overall lead of the race.
1235: FOOTBALL
A man has been charged with criminal damage at Newcastle United's stadium after its old name was painted on a wall. There was outrage yesterday when workmen were filmed removing the St James' Park lettering from the famous ground, which has been renamed the Sports Direct Arena. Overnight the old name was daubed in white paint close to where the lettering had been removed. More workmen were seen this morning removing the paint.
1230: CRICKET
Australia captain Michael Clarke will again miss out because of a hamstring injury when his team play India in Brisbane in the next traingular series match on Sunday. Former skipper Ricky Ponting, who presided over Friday's eight-wicket Duckworth-Lewis defeat against Sri Lanka, will again take charge.
1225: HORSE RACING
Cornelius Lysaght at Newbury on Twitter: "Arkle fav Sprinter Sacre breath-taking winner of opener; fabulous."
1222: GOLF
Former world number one Karrie Webb was two shots ahead when rain prematurely ended the second round of the LPGA Thailand. Webb had a hole-in-one at the 12th and was 10-under-par after 14 holes, but is one of 13 players who have to complete their rounds early on Saturday.
1220: FOOTBALL
Spurs will be without playmaker Rafael van der Vaart because of a calf injury for Sunday's FA Cup tie at Stevenage. Younes Kaboul is struggling with a knee injury and Ledley King is likely to be rested, meaning Ryan Nelsen should make his first start for the club.
1215: GET INVOLVED
Joe Watts on Twitter:"Don't think any of the people available at the moment are up to Wolves job, how about a youngster - Lee Clark or Karl Robinson?"
1210 GET INVOLVED:
Andy McKellar on Twitter: "It's a sorry state of affairs when two football clubs with such history as RangersFC and Portsmouth are in administration."
1207: GET INVOLVED
Life Student on Twitter: "De Gea may improve, but the reality is he'll never be worth what Sir Alex Ferguson paid for him. He'll be no better than Dudek."
1203: HORSE RACING
Cornelius Lysaght at Newbury on Twitter: "Picture This now non-r (2-55)"
1201: FOOTBALL
Manchester United defender Rio Ferdinand says the club is well equipped to cope with the loss of Antonio Valencia, who could be sidelined for four weeks with hamstring trouble. "It's a really big blow because Antonio's been a fantastic player for us this season," he said. "But when somebody gets injured or loses form at this club the manager can always call upon another player to perform."
1159: FOOTBALL
Adrian on Twitter with forthright views on the Wolves vacancy: "Without being disrespectful Warnock and Bruce both tried and failed this season, it has to be Curbs if that is the shortlist."
1157: FOOTBALL
Paul on Twitter with a blunt reaction to news of Portsmouth going into administration: "Needs to be more than -10 points deduction for Pompey. They will never learn otherwise. Harsh on fans but that's football."
1155: HORSE RACING
Another reminder that you can listen to a busy day of racing at Newbury, with commentary on all seven races on the card, including Cheltenham Gold Cup winner Long Run in the Betfair Denman Chase at 1240 GMT, live on Radio 5 live sports extra from 1205 GMT.
1153: HORSE RACING
Cornelius Lysaght at Newbury on Twitter: "Sir Alex Ferguson & Sam Allardyce just helicoptered in; AF owns What A Friend (12-40), Empire Levant (1-15), Picture This (2-55)"
1147: FOOTBALL
Sheffield Wednesday chairman Milan Mandaric issues a statement following reports that he is interested in buying Rangers. "First and foremost, I can categorically deny that there is any substance to these stories and I am disappointed that such articles are printed without any foundation whatsoever. I have never had any dialogue or contact to anyone relating to Glasgow Rangers. Glasgow Rangers is a huge football club with a great heritage and history, but I already have that here at Sheffield Wednesday. For clarity, I have not instructed any of my associates to register an interest in the administration process at Glasgow Rangers and I have no interest, now or in the future, of becoming involved in the club."
1145: FOOTBALL
Dunfermline will be without Iain Turner (back) and Mark Kerr (ankle) for tomorrow's Premier League game against Inverness. Nicky Phinn could return after being plagued by a hamstring problem but Andy Barrowman remains sidelined with a calf injury.
1140: FOOTBALL
Stoke are without Robert Huth, who serves the second of his three-match domestic ban, for Sunday's FA Cup fifth-round trip to Crawley. Midfielder Dean Whitehead will be assessed after he sustained a nasty gash to his leg in Thursday's Europa League defeat against Valencia.
1137: FOOTBALL
Reports from Russia suggest that former Chelsea boss Guus Hiddink is close to agreeing an 18-month contract with affluent Russian club Anzhi Makhachkala that would make him one of the world's highest-paid managers.
1135: CRICKET
In other legal news, we are expecting the verdict this morning in the case of former county cricketer Mervyn Westfield, who is charged with spot-fixing.
1133: FOOTBALL
A statement from the Football League reads: "The Football League would like to clarify that at all times following its takeover of Portsmouth Football Club, Convers Sports Initiatives - and in particular Mr Vladimir Antonov - complied with the requirements of the Owners' and Directors' Test as set out in the regulations of The Football League."
1130: GET INVOLVED
Chris Mullis on Twitter: "Sad news about Portsmouth. Let's hope they can survive."
1125: FOOTBALL
At the High Court Mr Justice Norris said he intended to appoint an administrator for Portsmouth after the hearing began this morning. The court was told the Championship club has debts of around £4m.
1120: GET INVOLVED
Samuel Green on Twitter: "Shame about Pompey! B'pool played them last weekend and they played good football and were a joy to watch and play. Good luck!"
1115: FOOTBALL
It is confirmed that Portsmouth have gone into administration for a second time in three seasons.
1105: CRICKET
A cricket line to bring you and Sri Lanka have beaten Australia by eight wickets under the Duckworth-Lewis method in the triangular series in Sydney. In a 41-over match the Australians, captained by Ricky Ponting in the absence of the injured Michael Clarke, were all out for 158, their fourth-lowest one-day international score at the SCG. Skipper Mahela Jayawardene hit an unbeaten 61 as Sri Lanka won with 101 balls remaining. With another four matches left for each team, India lead on 10 points, Australia have nine and Sri Lanka seven.
1102: HORSE RACING
A reminder that you can listen to a busy day of racing at Newbury, with commentary on all seven races on the card, including Cheltenham Gold Cup winner Long Run in the Betfair Denman Chase at 1240 GMT, live on Radio 5 live sports extra from 1205 GMT.
1101: Good morning and welcome to Sportsday Live, coming to you from MediaCityUK in Salford Quays. We'll round up the team news ahead of the weekend's FA Cup matches and there will be snooker from Newport later. Don't forget to share your thoughts on the latest sporting issues with us via Twitter with the hashtag #bbcsportsday
1100: FOOTBALL
Fifa security director Chris Eaton is leaving football's governing body just weeks after he launched a global campaign to fight match-fixing.
Fifa said Eaton will join the Qatar-based International Center for Sport Security in May as its Director of Sport Integrity.
A statement from Fifa said: "Fifa will appoint in the coming weeks a replacement for Chris Eaton, who will work together with his successor over the next few months to ensure a seamless transition and hand over the various ongoing investigations."
1055: GET INVOLVED
Paul Rowe on Twitter: "More chance of Tevez playing for Man City again than Chisora winning tomorrow! #bbcsportsday".
1050: GET INVOLVED
Manchester United's Tom Cleverley on Twitter: "Woke up feeling fresh from last night. In for recovery session now. Expect another giveaway later today!"
1045: GET INVOLVED
Matt Drogie on Twitter: "We already know De Gea is a good shot stopper. He'll come good in Europa against Euro teams that don't cross the ball as much. #bbcsportsday".
1040: GET INVOLVED
Tottenham's Kyle Walker on Twitter: "Wishing @TomHuddlestone6 a successful operation, got my fingers crossed for him. #goodluckmate".
1035: FOOTBALL
Botswana - surprise qualifiers for the African Nations Cup finals - have turned down a friendly with former champions Egypt this month because they now cannot field a team.
Botswana coach Stanley Tshosane told his football association to turn down the invitation to play on 29 February because he was not sure who he could pick anymore.
"Most of the senior players had indicated they were quitting international football, hence we have no team to take on Egypt," he said.
1030: GET INVOLVED
Your Sportsday needs YOU! Tweet for victory and remember, careless tweets costs, erm... . You get the idea. We want to know what you think of all the big sporting issues. Are Caterham right to drop Jarno Trulli? Who should replace Mick McCarthy at Wolves? And has Derek Chisora got a prayer against Vitali Klitschko? Tweet using the hashtag #bbcsportsday.
1025: F1
The Caterham Formula One team have dropped Italian Jarno Trulli and replaced him with Russian driver
It marks a return for Russia's first Formula One driver, who was dropped by Renault, now Lotus, at the end of last season.
Petrov said: "I have been training hard all winter and am ready to get back into the cockpit and go to work."
Caterham's other driver is Finland's Heikki Kovalainen.
1020: FOOTBALL
Manchester City have lodged a complaint with European soccer's governing body UEFA about what they said was racist abuse directed towards striker Mario Balotelli during a Europa League match against Porto.
A City representative said on Friday the club had brought the matter to the attention of UEFA officials.
1015: GET INVOLVED
Sean O'Connor on Twitter: "Give DeGea a break, he's only 20 and his mistakes mirror Schmeichel in 1992-4, but I'm sure you know how that turned out #bbcsportsday".
1010: FOOTBALL
Wolves playmaker Jamie O'Hara insists the players have to shoulder the blame for Mick McCarthy's sacking as the search continues today for his replacement.
"It's been us who have been putting in the bad performances, " said O'Hara. "He'd done a lot of the club."
"I've only been here a short time but I loved working for him and think he is a fantastic manager."
1005: FOOTBALL
Jonathan Pearce presents 5 live Sport from 1900GMT. Jonathan is joined by the former Aston Villa manager David O'Leary and the ex-Celtic manager Gordon Strachan for a look ahead to all the weekend's football action and debate on all the stories making the headlines on and off the pitch. Graham Hunter the Spanish football expert will also be on the programme to talk about his book on Barcelona FC.
1000: GET INVOLVED
Martin Wilding on Twitter: "Hulk...more like Sulk. Useless. Crouch any day. #bbcsportsday".
0955: FOOTBALL
Birmingham will be without front-line strikers Nikola Zigic (knee) and Marlon King (groin) for the FA Cup fifth-round tie with Chelsea at Stamford Bridge.
Adam Rooney is set to spearhead the attack as npower Championship play-off contenders City look to secure a quarter-final spot for the third successive season via a major upset.
Midfielder Guirane N'Daw (hamstring) is also sidelined.
0950: GET INVOLVED
Richard Finch on Twitter: "If Spurs falter in the next three months, any involvement with the England team will take the blame. Don't do it Harry! #bbcsportsday".
0945: FOOTBALL
Bolton forward Kevin Davies has been ruled out of tomorrow's FA Cup fifth-round tie at Millwall due to a knee injury.
Davies sustained medial ligament damage in last Saturday's 2-1 league loss to Wigan and will miss the game, along with defender Tyrone Mears, who is facing more time on the sidelines after suffering a setback in his recovery from a broken leg.
Striker Marvin Sordell is cup-tied, but Joe Riley may feature having regained his fitness after a groin problem and there could be first Bolton starts for two January signings in centre-back Tim Ream and on-loan winger Ryo Miyaichi.
0940: CRICKET
New Zealand beat South Africa by six wickets in the first Twenty20 in Wellington. Martin Guptill top-scored for the hosts, with 78 off 55 balls, as they chased down a total of 148 with four balls to spare.
0935: CRICKET
Australian all-rounder Shane Watson has made his return to domestic cricket, having been out with calf and hamstring problems since October. He made 21 opening for New South Wales, as his state were dismissed for 91 on day one of their match against Western Australia.
0930: FOOTBALL
John Terry looks unlikely to be risked for Chelsea's FA Cup fifth-round tie against Birmingham, despite recovering from the knee injury that has sidelined him for three weeks.
Ashley Cole (calf) is rated 50-50 for the trip to Italy, Didier Drogba and Salomon Kalou will only be available in midweek after returning from African Nations Cup duty, but Ramires could return from a knee injury.
0925: GET INVOLVED
Man City's Nigel de Jong on Twitter: "Morning tweeps. Up and running again. Weekend off. Airport now. First stop Hamburg."
0920: FOOTBALL
Stevenage manager Gary Smith has no injury concerns ahead of his team's FA Cup fifth-round clash against Tottenham on Sunday.
Smith is likely to stick with the same XI that beat Sheffield Wednesday on Tuesday, meaning there will be starts for former Spurs goalkeeper Chris Day and ex-Arsenal man Luke Freeman. Chuks Aneke, who is on loan from the Gunners, is not available under the terms of his deal.
0915: CRICKET
Australia captain Michael Clarke is unlikely to be fit for Sunday's tri-series one-dayer against India, while allrounder Mitchell Marsh is in doubt for the remainder of the season.
"I've got a little hamstring strain. It's on the mend. It's probably unlikely I'll be picked for Brisbane, though,'' Clarke told Channel Nine television.
0910: GET INVOLVED
Patrick Skinner on Twitter: "Hulk has to be one of the most overrated players in world football if last night is anything to go by! 80 million?? #bbcsportsday".
0905: FOOTBALL
West Brom's Hungarian international midfielder Zoltan Gera, 32, thinks he has an outside chance of returning to action before the end of the season after rupturing his anterior cruciate ligament in November.
"If you have the synthetic ligament, you can come back quicker but it's too risky and my plan is not to play for one of two more years," he said.
"But I wanted a proper operation so I can play as long as I can. I still feel I can play for a long time."
0900: GET INVOLVED
Jeremy Rogers on Twitter: "#bbcsportsday of course Harry can manage England part time - the players aren't full time either".
0855: GOLF
Emily Perry, Lynnette Brooky, Kym Laratt and Joanna Klatten shared a four-way lead after the first round of the ISPS Handa New Zealand Women's Open in Christchurch.
The quartet topped a packed leaderboard after shooting five-under par rounds of 67. Much talked about 14-year-old New Zealand amateur Lydia Ko shot a 69.
0850: FOOTBALL
Striker Didier Drogba admits it would be a "disaster" if Chelsea fail to qualify for the Champions League.
"If we don't make the top four it would be a disaster," said Drogba.
"Every time we've started a season since I've been with Chelsea we never even finished as low as fourth. It is the hardest season I've known since I've been here."
0845: GET INVOLVED
BBC Sport's Jake Humphrey on Twitter: "Morning! The Pringle or the Velodrome, whatever you call it, it's the focus on British Cycling fans the next 2 days! See you 7pm on BBC Two".
0840: GET INVOLVED
Colin Orpington on Twitter: "DeGea looking the real deal? Dont make me laugh. He's painfully out of his depth. He will cost man u & keep on making me laugh #bbcsportsday".
0838: GET INVOLVED
Sportsday wants your views. We want to know what you think of all the big sporting issues. Tweet using the hashtag #bbcsportsday in your message.
0835: CRICKET
David Hussey's aggressive half century was the sole highlight for Australia as the hosts were bowled out for just 158 after a top-order collapse in the rain-shortened one-day tri-series match against Sri Lanka.
The match was shortened to 41 overs each after the Australia innings was interrupted by rain for almost two hours, but the hosts were dismissed two balls short of their quota. Farveez Maharoof took two wickets for Sri Lanka.
0830: GET INVOLVED
Andrew Webb on Twitter: "So Milan Mandaric wants to buy Rangers? I think that he shouldn't bother, they are in a bad state in a poor financial league #bbcsportsday".
0825: GET INVOLVED
England's Tim Bresnan on Twitter: "Sand storm in Dubai today. Might have to practice in a dust mask. As the saying goes. It really does get everywhere. A brisk 20 degrees too".
0820: CRICKET
New Zealand contained South Africa's batting line up to set themselves a target of 148 in the first Twenty20 international at Westpac Stadium.
Paceman Tim Southee took three for 28 after New Zealand captain Brendon McCullum's decision to send South Africa into bat after winning the toss saw the tourists finish their innings at 147-6.
JP Duminy top scored for South Africa with 41, while Justin Ontong, returning to the national team after a three-year absence, hit four successive sixes in his 32 off 17 balls.
0815: FOOTBALL
Former Portsmouth and current Sheffield Wednesday chairman Milan Mandaric has expressed an interest in buying crisis hit Rangers.
BBC Scotland has learnt that the Serb - recently cleared of two counts of tax evasion - is one of those to have contacted by administrators Duff and Phelps.
0810: HORSERACING
The rescheduled Newbury meeting takes place with Cheltenham Gold Cup winner Long Run featuring in the Denman Chase at 1240GMT. What a Friend, co-owned by Manchester United manager Sir Alex Ferguson, may also run. Commentary is on BBC Radio 5live Sports Extra.
0805: GET INVOLVED
Gareth Howells on Twitter: "De Gea now looking the real deal #bbcsportsday #mufc".
0801: GET INVOLVED
It has been said before but it's worth repeating. Sportsday is not Sportsday without your input. We want to know what you think of all the big sporting issues. Harry Redknapp says the England job can initially be done part-time - is he right? What action should Uefa to stamp out racism following Manchester City's match against Porto? And Dereck Chisora predicts an eighth-round ko of Vitali Klitschko for the WBC heavyweight title on Saturday - what's your prediction for the fight and can anyone topple boxings dominant siblings? As always, tweet using the hashtag #bbcsportsday in your message.
0800: FOOTBALL GOSSIP
Morning everyone. As usual, we start with three snippets from the gossip column. to brighten up your day.
Italian side Palermo have admitted they would consider bidding for Liverpool striker Luis Suarez, who is reportedly unhappy with the way he has been treated in England. (Metro).
Roberto Mancini and Sir Alex Ferguson are battling to sign Derby and England's midfielder Will Hughes, 17. (Daily Mirror)
And Blackburn midfielder Junior Hoilett, 21, is attracting interest from Italy as he nears the end of his contract - but Rovers boss Steve Kean has not given up on the Canadian remaining at Ewood Park. (Lancashire Telegraph)