Clare Balding presents Sport and the British on Radio 4

By Clare Balding
Presenter, Sport and the British
Last updated on .From the section Sport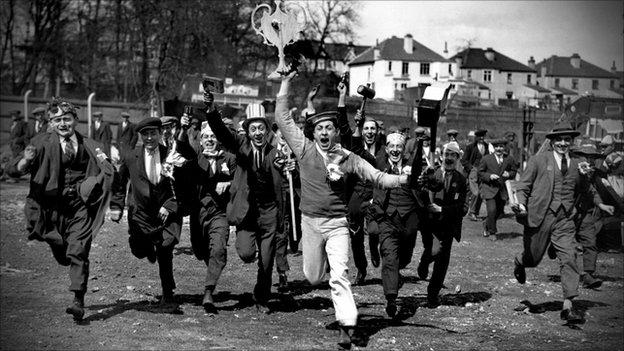 So we come to the final week of Sport and the British. I will be rather sad when it's over but I know from hearing from so many listeners that it has inspired creative teaching around sport and has interested many of you. I'm thankful for that.
One correspondent said: "They are not 'just' about sport. Rather, they are snapshots of social history through the prism of sport."
I have been surprised at how many non-sports fans have enjoyed the series and I hope the final programmes will also find favour.
Instead of going into any detail about the subjects we will be covering, I would rather share with you a few thoughts about where we are going with sport in the 21st century.
The way forward for sport is not necessarily to continue its global commercialism and I would warn against the distance that is growing between fans and the football clubs they have supported since childhood.
What makes any sport meaningful is not how many titles a club wins or even whether England wins the Ashes or the World Cup - what makes it meaningful is how it shapes society.
That means the chances it gives to individuals who would not get them anywhere else, the basis it establishes for children, the confidence it can give young girls about their bodies, young boys about their voice or middle-aged folk about their viability.
I have always believed in the beauty of sport and its ability to empower the disaffected or the disadvantaged but this series has, to paraphrase the film Jerry Maguire, "shown me the money".
History may not always be accurate, it may be the victor's version of the story, but this wasn't a war and therefore one might hope it is as true a history as we, the team behind the series, could produce.
Sport provided the foundations upon which the British Empire was built. It helped band the far-flung countries of that Empire together and it now does the same with the broad family that makes up the Commonwealth.
It's too easy to be romantic about sport - which manifests itself as either loving it or hating it more than it deserves. That is why I have tried to remain enthusiastic but logical.
The series has looked at what sport has given us, how it has shaped British society and helped spread a moral code of behaviour that represented British values.
Through the persistence of key women and visionary companies, it provided an opportunity for girls to grow in strength and confidence and it still can today - especially in countries where women are bound by tradition and restrictive clothing.
Having said that, all in the garden is not rosy.
I have heard concerns about the lack of school sports facilities in the state sector as well as worries about engaging youngsters in sports. There are challenges too in the huge growth of professional, ever-commercialised sport and the danger of a disconnection with the people who feed it.
It will be interesting to see what will happen with sport and the British in the future and how it will shape our society for generations to come.
I've had a lot of feedback on Twitter and am thrilled that so many people who thought they could never find sport interesting are enjoying the series. Do get in touch on @clarebalding1
Sport and the British can be heard at 1345 GMT on Radio 4 each weekday until 9 March or at any time on the Radio 4 website or as an MP3 download.