Andrew 'Freddie' Flintoff's Record Breakers for Sport Relief
Last updated on .From the section Sport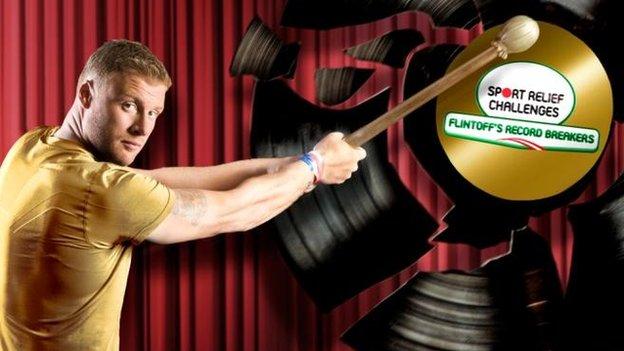 Former cricketer Andrew Flintoff will try to break 12 world records in 12 hours to raise money for Sport Relief.
The list of potential records Freddie is hoping to break include:
Most likes of a Facebook item in one hour

Most cricket balls faced in one minute

Fastest

zorbing

over 100m

Most hotdogs made in one minute
Freddie will be dashing around London between locations by the quickest means possible, appearing on various TV and radio shows throughout the day.
He said: "I can't wait to take on my record-breaking challenge for Sport Relief. I have never held a world record before, so achieving 12 within 12 hours would be an incredible achievement.
"I'm used to high-pressured situations, especially during my cricket career - so hopefully I can hold my nerve and the nation will get behind me again and sponsor me."
During his preparations for the challenge, Freddie has been trying to get to grips with records including catching the most lemons blindfolded in a minute. The record stands at 19 lemons, although Freddie has so far only achieved a maximum of 12.
Freddie claims to have already mastered the skills required for the fastest time to eat three eclairs - and pop the most party poppers in one minute.
Freddie's efforts will be overseen by an adjudicator from Guinness World Records, so he can get instant confirmation each time he sets a record.
You can sponsor Freddie at sportrelief.com/flintoff.
Highlights from Freddie's challenge will be shown on the Sport Relief night of TV on BBC One and BBC One HD on Friday, 23 March.