Wednesday's gossip column
Last updated on .From the section Football

TRANSFER GOSSIP
Newcastle and Fulham are weighing up bids for former Real Madrid striker Raul. The 34-year-old Spaniard is leaving Schalke in the summer and is expected to move to Qatar, but the Premier League clubs are hopeful of changing his mind.
Manchester City, Tottenham and Liverpool could be poised for a bidding war over Arjen Robben, 28, after the former Chelsea winger pulled out of contract talks with Bayern Munich.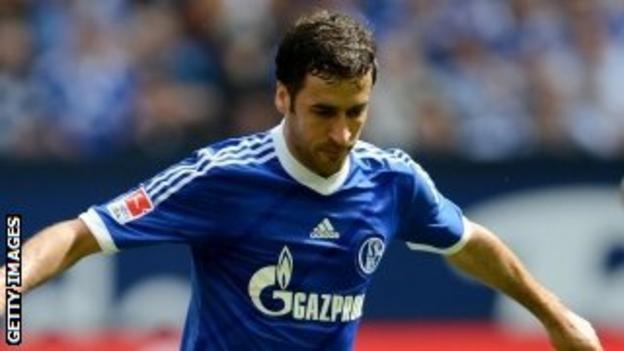 Former Manchester United defender Gerard Pique, 25, tops manager Sir Alex Ferguson's shopping list as he plans to splash the cash to reel in Manchester City next season.
Lille winger Eden Hazard, a target for Manchester United and Manchester City, attended the derby clash between the sides on Monday night.
Chelsea are preparing a £22m bid for 24-year-old Everton midfielder Marouane Fellaini as owner Roman Abramovich looks to overhaul his ageing squad.
Liverpool are chasing £12m-rated Netherlands striker Luuk de Jong, who has scored 30 goals for FC Twente this season. But the Anfield club face competition for the 21-year-old's signature from 15 other clubs.
The Reds are also set for another scouting mission to watch AZ Alkmaar midfielder Rasmus Elm, 24, in action. The birth of his first child at the weekend saw the Sweden international pull out of a game and left manager Kenny Dalgish to re-schedule another scouting trip.
Fulham will battle Norwich and Swansea in the summer for £2m-rated Nottingham Forest defender Chris Gunter, 22.
Everton boss David Moyes wants to sign Burnley striker Jay Rodriguez, 22, for £8m to play alongside Nikica Jelavic.
Sunderland's forgotten man Asamoah Gyan, 26, looks set to complete a £10m permanent move to UAE club Al-Ain this month.
ROY HODGSON REACTION
"Whether you were a Redknappist or a Hodgsonian, you could hardly deny that, at his introduction as England manager, the new man conducted himself with dignity and composure at Wembley."
Full story: Sam Wallace in The Independent
"There is a difference, you see, between hope and expectation. Hodgson hoped that he would get the England job, but he did not expect it. Harry Redknapp allowed himself, perhaps understandably given the number of people whispering excitedly in his ear, to be drawn into a certain expectation. And where matters relating to the England team are concerned, there is a well-established lesson that expectations grate."
Full story: Oliver Kay in The Times (subscription required)
"As Roy Hodgson walked in to face the welcoming committee at Wembley yesterday, Sky TV were plugging the James Cameron film Voyage to the Bottom of the Earth. It was a suitable reminder of most people's expectations when England travel to Poland and Ukraine this summer."
Full story: Steven Howard in The Sun
"So that was the first press conference ticked off. Now comes the really hard part and the most relevant question of the lot when the European Championship is getting so close and England's preparations have been so jumbled and chaotic. It is whether Hodgson can put together a fully integrated plan when there is so much to do and so little time."
Full story: Daniel Taylor in The Guardian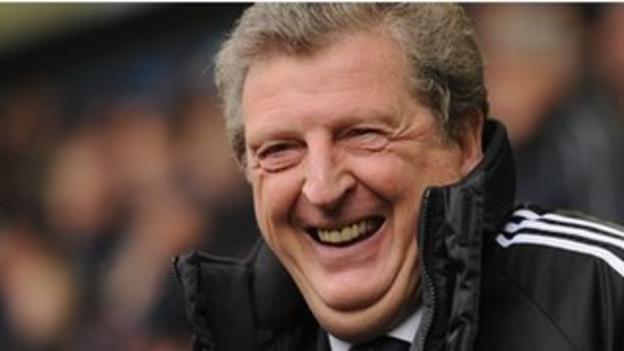 "Hodgson has international credentials, tournament experience and a proven record for dragging footballers across the boundaries of over-achievement. In that respect, and given England's drift into mediocrity, he sounds ideal. It's just a shame it'll be to Albion's loss."
Full story: Chris Lepkowski in the Birmingham Mail
"Swapping the Hawthorns for the gorse-filled rose garden of England, Hodgson knows that many problems need solving. Issues hang all around him."
Full story: Henry Winter in the Daily Telegraph
"Now put yourself in Hodgson's shoes. As an XI, he will never have had a collection of talent like that, not even at Inter Milan. Why should he be downcast, or even subdued? He has considerably fewer problems now than would have confronted him on his first day at West Bromwich Albion. Just greater expectations."
Full story: Martin Samuel in the Daily Mail
"My only regret, having been advocating Hodgson as England manager since the last century, is that Bernstein and Brooking were not in positions of such influence in 2000, when the FA embarked on the foolish and horribly expensive policy of hiring foreigners who had made their reputations in the club game."
Full story: Patrick Barclay in the London Evening Standard
OTHER GOSSIP
Manchester United striker Danny Welbeck, 21, will be fit for the Euros after a scan revealed he had only suffered severe bruising after a challenge by Nigel De Jong during Monday's Manchester derby.
And United captain Nemanja Vidic, 30, is on course to return to action at the start of next season as he recovers from a serious knee ligament injury.
Chelsea could revive their interest in luring Spurs boss Harry Redknapp, 65, across London after he was snubbed for the England job.
Everton manager David Moyes has warned injured midfielder Jack Rodwell, 21, that his priority is getting fully fit for the start of the Premier League season rather than rushing back for the Olympics.
AND FINALLY
A ball girl has sprung to fame in Brazil after inadvertently providing the assist for a Botafogo goal in the state championship final.