Floyd Mayweather knocks Tiger Woods off the top of Forbes list
Last updated on .From the section Sport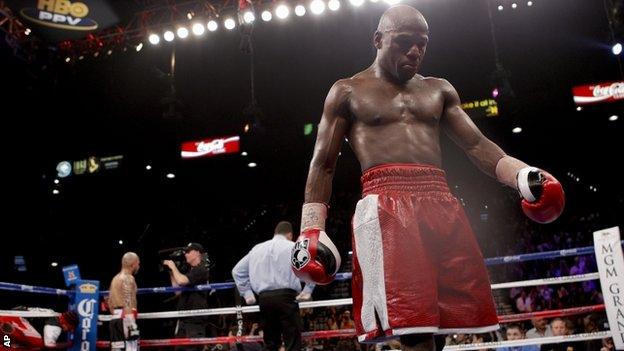 Floyd Mayweather has overtaken Tiger Woods at the top of Forbes magazine's list of the 100 highest-paid sports personalities over the past year.
Boxer Mayweather, currently serving a three-month jail sentence for domestic assault, made $85m (£54.25m) - a figure bolstered by promoting his own fights.
Golfing legend Woods dropped to third having received $59.4m (£37.92m) with boxer Manny Pacquiao rising to second on earnings of $62m (£39.57m).
David Beckham is eighth on the list.
He is the highest paid footballer with earnings of $46m (£29.36m).
Surprisingly, Olympic champion and world record-holding sprinter Usain Bolt, who is the most high-profile star of London 2012, was only 63rd with $20.3m (£12.96m) - just a quarter of Mayweather's earnings.
He also brought in less than half of golfer Phil Mickelson's $47.8m (£30.51m).
Woods had topped the Forbes list since 2001 but saw a drop in his earnings of $16m (£10.21m) from the previous year and was down by half from his peak in 2009.
He has suffered a tail off in endorsements since then as a result of being embroiled in a sex scandal.
Miami Heat star LeBron James ranks fourth at $53m (£33.84m), the highest of 13 basketball players and on the list. Swiss tennis star Roger Federer was fifth at $52.7m (£33.64m).
Real Madrid and Portugal star Cristiano Ronaldo earned $42.5m (£27.10m) and can lay claim to the top annual salary of any athlete in any league at $20m (£12.75m).
Fernando Alonso comes in as Formula 1's top earner at 19th with overall earnings of $29.4m (£18.7m).
MotoGP's Valentino Rossi is 20th, seven-times F1 champion Michael Schumacher is 21st, while Lewis Hamilton is 24th after earning $17.8m (£11.3m), with $15.9m (£10.1m) of that in salary from McLaren.
Manchester United and England striker Wayne Rooney is at 37th with $15.5m (£9.8m), while Luke Donald, golf's current world number one, is at 48th, earning $14.17m (£9m).
Only two women made it on to the list. Russian tennis player Maria Sharapova is 26th at $27.9m (£17.79m), while Li Na, China's 2011 French Open champion Li Na, is 81st at $18.4m (£11.72m) after becoming the first Asian-born player to win a Grand Slam singles crown.