BBC streams Summer of Sport on Facebook with 'social viewing' app
Last updated on .From the section Sport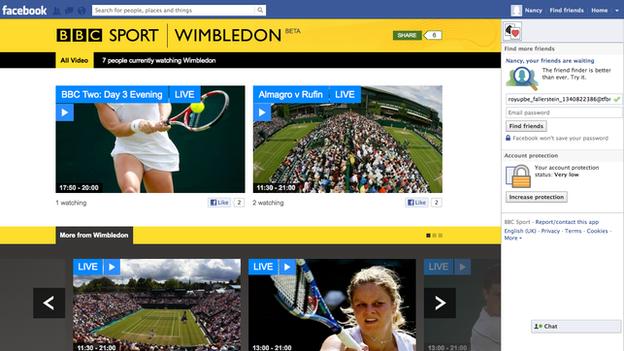 BBC Sport has launched a Facebook application offering audiences live streams of Wimbledon and up to 24 streams of Olympics coverage.
This is the first time the BBC has live streamed events on Facebook.
The app is launched as a beta for Wimbledon, offering BBC's TV coverage plus up to six extra match streams.
By downloading the app, users can watch events with friends who are also on Facebook, and chat about the action via comment threads under each stream.
Press play on a stream, or 'Like' it, and it will be shared with friends via the Facebook news feed.
There is also an Activity Stream which updates in real time to show what streams each user's friends are watching.
For the Olympics (starting on 25 July with the Olympics football tournament ahead of the opening ceremony on the 27th), the app will make available up to 24 live streams showing every event from the London 2012 Games, as they happen, as well as the BBC1 & BBC3 Network TV output, and BBC2 when available, all in HD.
During the Olympics additional functionality will be added, including the ability to chat live with friends.
Phil Fearnley, general manager of BBC News & Knowledge, said: "It's a core part of the BBC's mission to bring our quality content to audiences wherever they are, so I'm very excited to be able to offer sport fans on Facebook a really distinctive live streaming experience.
"With our Facebook app we aim to bring even greater value to our online audiences, enabling them to watch together and share their excitement. We hope to use it to test the benefits of social viewing, as part of our ambition to deliver more innovative and transformative experiences to sports fans."
Alongside the new Facebook app, audiences can watch BBC Summer of Sport coverage online at bbc.co.uk/sport, on mobile and tablet, on connected TVs, and via the Red Button.
The app can be accessed from the BBC Sport Facebook page and from the Facebook Apps Centre. You can read these FAQs for more information.