The Olympics could inspire Jersey's 2015 Island Games
By Lucy O'Sullivan
BBC Kick Off reporter
Last updated on .From the section Sport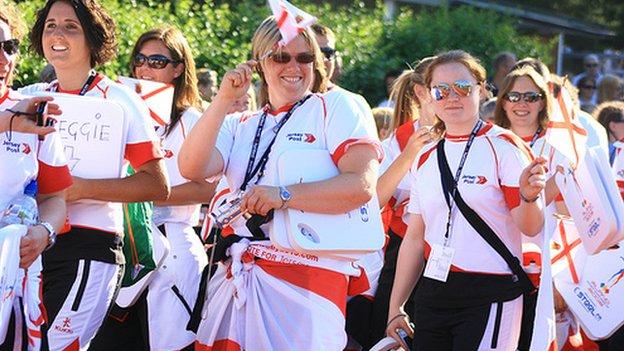 Organisers of the 2015 Island Games in Jersey hope the London Olympics will inspire the island to put on a successful and engaging Games.
Preparations for the £1.8m event, held biennially, are now stepping up a gear.
The organising committee has audited the associations of eight of the 14 featured sports, looking at facilities and development plans.
"I hope the Olympics have inspired everyone," said Phil Austin, chairman of the organising committee.
"It's a golden moment for sport and for us in Jersey it gives us a great opportunity."
Jersey won the right to host the event by beating Gotland by one vote.
The organising committee has watched how volunteers were used in London.
"We've learned a lot from the Olympics, so a core of volunteers for 2015 will be essential to delivering a successful Games," Austin told BBC Radio Jersey.
"We don't have any fixed ideas yet [about the opening and closing ceremonies] all we can say is that we have an open mind.
"Athletes and competitors don't like standing around for two to three hours, hopefully it will be something interesting and dynamic but not too long."
The organisers are working with sports in the island to ensure facilities are at their best for the Games.
Venues are set to include the New Gilson Hall for badminton, Fort Regent for basketball and Les Quennevais for swimming.
"The only major piece of infrastructure that needs attention is the running track," Austin added.
"There are plans to replace that running track in 2014 and a separate budget is set aside to do that.
"We will be expecting 3,500 to 4,000 people. We've spoken to hospitality and they are delighted with the prospect of having that many people here."
There is still the Island Games in Bermuda to come before Jersey takes centre stage two years later.
Austin said: "Once we've got Bermuda out the way in 2013, then the spotlight is on us.
"A key part of the success of the Games will be engaging the community.
"What we've got to do is set the framework and create the atmosphere and the ambiance around it."