Monday's gossip column
Last updated on .From the section Football

TRANSFER GOSSIP
For updated transfer news and gossip throughout the day, read our breaking news service Sportsday Live.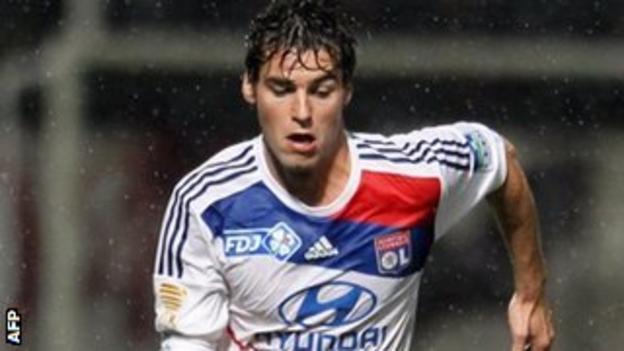 Arsenal are preparing to put in a January bid for Lyon's French international midfielder Yoann Gourcuff, 26, after failing to sign him last year.
Fulham and Southampton are planning £2m bids in the January transfer window for Millwall's 24-year-old midfielder Liam Trotter. Trotter has scored six goals already this season and Saints boss Nigel Adkins is a big fan, having signed Trotter on loan during his time in charge at Scunthorpe.
Striker Romelu Lukaku wants to remain at West Brom even though Chelsea can recall him from loan in January.
OTHER GOSSIP
Former Barcelona boss Pep Guardiola wants to manage Chelsea next season. Guardiola, who is on a year-long break from the game, has made it clear to his close circle of advisors that Stamford Bridge is his preferred destination.
Manager Roberto Mancini says Manchester City are not ready to win the Champions League, stating that the road to European glory is "very long".
Defender William Gallas is sweating on his Tottenham future as the club stall on a deal to extend his contract beyond the current season.
The Premier League will hold racism crisis talks with the Football Association and Professional Footballers' Association this week following the decision of several players to boycott the Kick It Out anti-racism campaign T-shirts.
Ole Gunnar Solskjaer says he dreams of becoming Manchester United manager one day. "I'm not naive enough to say I can do that job but in life you should have big dreams and big goals."
Football Association chairman David Bernstein says he is keeping an "open mind" on the possibility of recording referees during matches following the row involving Mark Clattenburg and Chelsea.
Manchester United captain Patrice Evra has likened Robin van Persie's class and touch to that of former United great Ruud van Nistelrooy.
Liverpool boss Brendan Rodgers believes Liverpool can still attract world-class players to Anfield. "This football club and its history will always attract top players. There is a real mystique and feel about playing for Liverpool," he said.
Everton manager David Moyes believes his current Toffees side is his best ever in his 10 years in charge of the Goodison Park club.
AND FINALLY
Arsene Wenger is looking for answers from Arsenal's Brazilian defender Andre Santos after he swapped shirts at half-time in Saturday's game at Old Trafford with Manchester United striker Robin van Persie. Santos was caught on TV taking Van Persie's top as he and the former Arsenal striker walked towards the tunnel at the break and Wenger was left stunned when the Brazilian strolled into the dressing room with the shirt over his shoulder.