BBC Sport launches smartphone app to enhance mobile coverage

By Ben Gallop
Head of Interactive, BBC Sport
Last updated on .From the section Sport74
The sporting calendar waits for no fan. And with the London 2012 retrospectives coming to an end, it's time to finally move on from the so-called "greatest year of sport" and wake up to the delights of 2013.
For us, the new year brings a new product: a BBC Sport smartphone app. We've launched it today for iPhone and iPod Touch - and in the next few weeks we'll roll it out for Android, followed in due course by a version that will be optimised for Kindle Fire.
You can read more about the product strategy behind the app in this blog from my colleague Lucie McLean.
Our aim is to provide the best of BBC Sport wherever you are. The main features of the app are:
• Top stories and breaking news from a range of sports, including live text commentaries from all the big events
• In-depth football coverage, including: a new live scores section; a page for every match in England and Scotland; tables, fixtures and results searchable by any day of the season; plus the latest football transfer gossip
• Live audio streams of BBC Sport coverage on our two radio stations: 5 live and 5 live Sports Extra
• Customisable navigation, with the ability to add your favourite sport to the quick-links (soon you'll be able to do the same for football teams)
• The ability to share pages in the app with your friends, through email, Facebook and Twitter, which we know is increasingly important for people in a connected world
• And, coming soon, live and on-demand video - in time for another busy year of coverage for BBC Sport on TV
The BBC Sport website has been around since 2000. The app is a major step forward in our development and one that recognises the importance of mobile, right now and in the future.
A third of traffic to the site already comes from mobile - a proportion that rises to more than 40% at the weekend when live sport is going on. It won't be long until most of our audience is accessing our content through handheld devices, which simply reflects the explosion in mobile browsing that is transforming the wider web.
In that context, we want to be able to offer more choice: mobile web or an app, depending on your preference.
So why now? It's hardly as if apps are a particularly new concept, after all.
Well, last year was a special one - full of amazing sport - but was dominated by one event: London 2012. Our focus was on building the right kind of tools and providing the breadth and depth of coverage that only an event of the scale of a home Olympics could warrant.
In terms of mobile it meant that for our team much of the year was spent developing a video-rich, Olympics-specific app that would ensure you would "never miss a moment" of the Games.
This year it's different - with no once-in-a-lifetime event on the horizon, it's more of a return to business as usual, which for us means capturing the best breaking sports news and covering all of the live action as it happens. That's why we redesigned our mobile browser site last month in a more user-friendly fashion, one that works across different hand-held devices.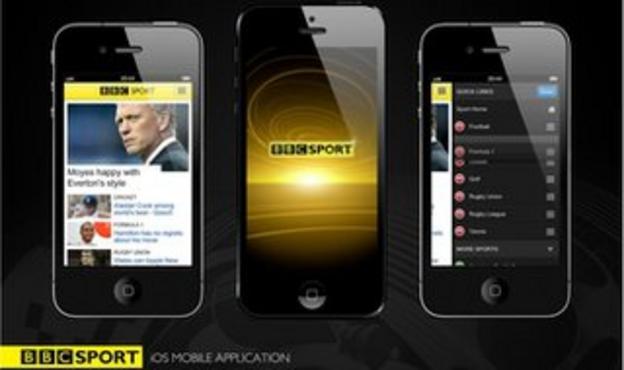 And it's why we have now launched the BBC Sport app.
The launch coincides with the January transfer window - one of the busiest times of the year in our national sport. For football fans, staying across the cut-and-thrust of the latest scoops and big-name blow-outs is now virtually a sport in itself. So we wanted our app to ensure supporters can always keep in touch with the transfer window: from the gossip column, which rounds up the latest speculation and links out to other media sources, to the breaking news, with every signing covered as it is confirmed in Sportsday Live.
Once the window closes at the end of January - with, we hope, all that last-minute drama of transfer deadline day - some of the focus will shift away from breaking news and onto live sport itself.
The Six Nations, a new Formula 1 campaign, not to mention the climax of another epic football season, and on to Wimbledon, golf's Open Championship, World Championship athletics and a busy summer of cricket, including an Ashes series - you can stay in touch with all of them through the BBC Sport app.
Then looking further ahead to 2014, we'll have the Winter Olympics in Sochi, the football World Cup in Brazil and the Commonwealth Games in Glasgow - the biggest events delivered to you, wherever you are.
You can download the app from iTunes here.