TV cash could fund cheaper tickets, says supporters chief
Last updated on .From the section Sport135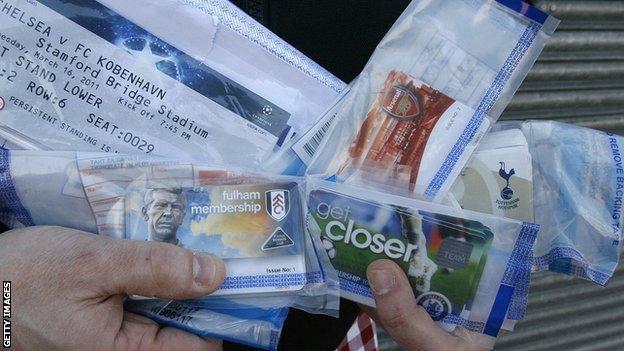 Premier League clubs could cut the cost of every ticket by £32 with the upcoming increase in TV money, says the Football Supporters Federation.
Domestic television revenue will increase by £1.266 billion for the next cycle, from 2013-14 to 2015-16.
"This figure shows what could potentially be done with this money," FSF chair Malcolm Clarke told the BBC.
"Yet we've just had new cost control measures, but no mention at all about how to tackle high ticket prices."
As Clarke says, clubs are highly unlikely to use the increased television money to fund decreases in ticket prices. In fact there are concerns that new Premier League cost controls - introduced to stop the television money being used to fund player wages - could lead to higher ticket prices.
clubs with wage bills of more than £52m can only increase player salaries by a set amount each season (£4m in the first season, then £8m, then £12m).
These curbs only apply to television income however, which has led to fears that clubs could raise ticket prices in order to fund increases in their wage bills.
Former Liverpool chief executive Rick Parry told BBC Sport: "With any form of cost constraint, one of the possible consequences is a rise in ticket prices."
And Professor Tom Cannon, from Liverpool University's Business School, said: "These measures will put a lot more pressure on ticket prices.
"The big London clubs, in particular, will have the scope to increase ticket revenue, because of the higher average incomes of their supporters."
Clarke said it would be "outrageous" if this were to happen and that there would be "a real risk of a backlash" from fans.
The FSF reached calculated the potential £32 decrease in ticket prices by taking the aggregate Premier League attendance for 2011-12, which was 13,148,465. They then multiplied it by three, which is the number of seasons of the new TV deal, giving 39,445,395.
The new contract for UK television rights is £3.018 billion, up £1.266 billion from the previous deal, which comes to and end this season.
And if £1.266 billion is divided by 13,148,465, you get £32.10.
In response, the Premier League argues that ticket prices should be the responsibility of each individual club, while emphasising that 92.6% of seats were sold last season.
found that individual ticket prices in the league range from £15 to £126, and that season tickets cost up to £1,955.
On Friday, at Wembley to £68.
European football's governing body was accused of exploiting supporters when the match was last staged in London, two years ago, by charging a total of £176 for the cheapest neutral ticket.
Fans will pay £60 for the lowest-priced individual tickets, although the cost comes to £68 once £8 of administration and postage charges are added.