Isle of Man Sports Awards 2012: Nominations announced
Last updated on .From the section Sport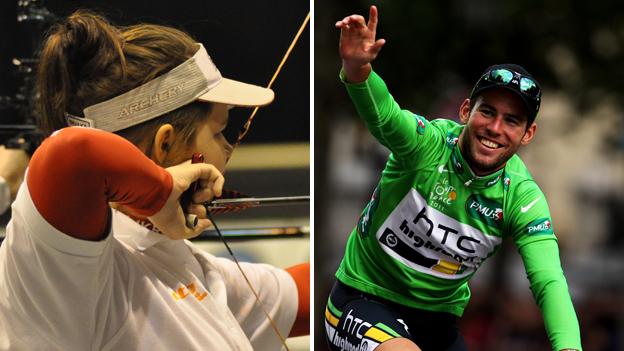 The nominations for the 2012 Isle of Man Sports Awards have been revealed.
Last year's winners Mark Cavendish and Aalin George are amongst those put forward for eight awards, including sportsman and sportswoman of the year.
The winners will named at the Villa Marina in Douglas on 21 March.
Isle of Man sport chairman Graham Cregeen said it is "an opportunity to celebrate a marvellous year for Manx sport".
The guest speaker will be former world snooker champion Dennis Taylor.
A special lifetime achievement award will also be handed out on the night, as will the Sports Aid sponsorships to young Manx athletes.
Isle of Man Sports Awards Nominations 2012
SPORTSMAN
Keith Gerrard; Peter Kennaugh; Mark Cavendish; David Knight; Dave Molyneux; Danny McCanney
SPORTSWOMAN
Aalin George; Debbie Barron; Emma Harris; Jess Draskau; Zoe Gillings; Harriet Pryke
DISABILITY
Darren Kennish; Chris Hattersley; Robin Smith ; Andy Waldron; Eve Kelly
AMBASSADOR
Steve Taylor; Peter Kennaugh; Mark Cavendish; Cal Crutchlow; Lonan Gentlemen's Fellowship
U-21 SPORTSMAN
Danny McCanney; Greg Kelly; Darryl Hill; Phil Cringle; Dan Hattersley; Callan Cooper; Jamie McCanney; Joe Kelly
U-21 SPORTSWOMAN
Tara Donnelly; Aalin George; Laura Kinley; Charlotte Atkinson; Kirsten George; Yasmin Ingham; Reagan Dee; Louise Corkill
TEAM
IOM Athletics Club; Ladies Compound Archery Team; St George's AFC; IOM Cricket Team; Southern Nomads
CLUB OFFICIAL
Brian Callow; Roberta Cannell; Joe Boyd; Tony Temple; Dave Christian; Louise Haddock
COACH
Gareth Dawson; Casey Davies; Tom Melvin; Jenni Quillan; Chris Bass; Kevin Manning