Question of Sport: Sue Barker's look back at best moments

By Sue Barker
BBC Question of Sport presenter
Last updated on .From the section Sport138
A Question of Sport celebrates a very special landmark on Monday as it reaches 1,000 programmes. To mark the occasion, we are welcoming back some very special former team captains and reliving some classic moments.
Having started in 1997, Monday's landmark show will be my 584th in the presenter's chair. Here I look back at my five favourite moments.
Emlyn not guessing Princess Anne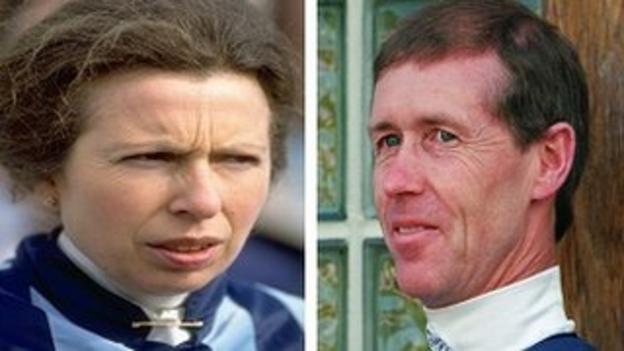 When the show managed to get Princess Anne as a guest in 1987 it was a massive coup and it was watched by an incredible 19 million viewers! What many people forget is that a few weeks earlier Princess Anne had been a photo on the picture board but Emlyn Hughes had guessed she was jockey John Reid.
When the Princess sat alongside Emlyn later she teased him about this, showing what a great sport she is. This is also cast-iron proof that we never give anyone any of the answers to the questions, which is a fact I am immensely proud of and something I think makes the show exactly what it is.
Matt and Ally's cycling challenge
Putting the captains through their paces both mentally and physically has always been central to the programme. One moment that really stands out was just after the Athens Olympics when we had Sir Chris Hoy in the studio.
We asked then-captains Ally McCoist and Matt Dawson to go head-to-head in a cycling challenge. The sight of Ally and Matt dressed in the full Lycra outfit is something I'm sure everyone will remember, and I'm certain Ally will never forget it. I'm not actually sure he has ever really recovered.
My mystery guest moment
I was fortunate enough to be invited on the panel a number of times during my tennis career and it was always such an honour and accolade to be asked to be involved. I also filmed a few mystery guest videos for the show which were a lot of fun. It is such an iconic part of the show.
There was one incident where I was dressed as a skunk or some kind of rodent in one of Tommy Cooper's cars at an Earls Court fair. That in itself sounds pretty bizarre, but when the teams thought I was boxer Alan Minter or goalkeeper Ray Clemence it certainly wasn't a compliment!
What a line-up!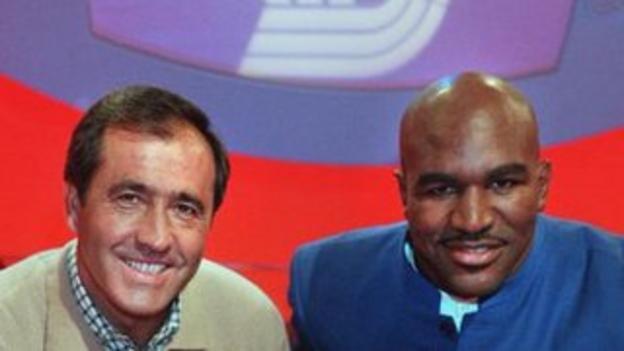 We've had so many great guests over the years and it has been a privilege for a huge sports fan like me to meet these stellar names from all over the world and from so many different sports.
One particular stand-out team sheet for me was when we had world heavyweight champion Evander Holyfield, rugby superstar Jonah Lomu, Olympic sprint champion Maurice Greene and probably the most well-loved golfer ever, Seve Ballesteros, all together on the same panel. That's a dream line-up for any sports fan.
Wing-walking
We have really upped the ante in the last couple of years but I never expected to see Matt and Phil Tufnell strapped to an aeroplane trying to shout out their answers. For me this is just a great example of how the show has continued to reinvent itself and move with the times.
To be honest I am very glad that I'm safe and sound behind my desk and the production team aren't asking me to do these daredevil stunts.