GB sportswomen tell BBC Sport survey they 'lack support'

By Tom Fordyce
Chief sports writer, BBC Sport
Last updated on .From the section Sport338
Four out of five British elite sportswomen believe they are underpaid and that their financial rewards are inadequate compared to their male counterparts, according to a new BBC survey.
While over half of elite sportswomen surveyed said they do receive enough coaching support, just under 45% said their governing body did not support them equally in comparison to male colleagues.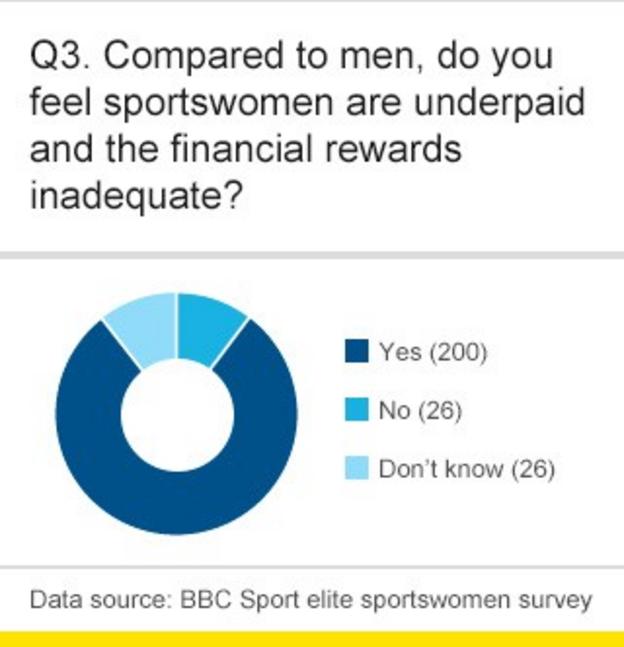 BBC Sport surveyed elite sportswomen across a range of national governing bodies including Summer and Winter Olympic and Paralympic sports, as well as non-Olympic sports.
A total of 503 athletes were asked to take part, of which 252 responded in the time frame. The survey was anonymous.
Only a third of those who responded said they made enough from their sport to be able to make a living.
Baroness Sue Campbell, UK Sport's outgoing chair, told BBC Sport: "The funding UK Sport makes available to male and female athletes is allocated on performance merit and is therefore completely equitable, and we expect our funded sports to allocate their resources accordingly.
"We've seen a massive rise in the number of women achieving success.
"But if you are asking me do those women then get the exposure and commercial support that their male colleagues get, the answer is probably very few of them."
And Culture Secretary Maria Miller, who is also Minister for Women and Equalities, said: "Britain's female athletes led the way at London 2012, but now we have to keep up that momentum, both in terms of pushing for greater media coverage of women's sport and the support that female athletes receive."
While some sports have equal pay between men and women - all four of tennis' Grand Slam events offer the same prize money to men and women, while athletics' governing body the IAAF does the same at its World Championships and Diamond League meetings - many others do not.
At last autumn's Twenty20 cricket World Cup, women's teams were given a daily living allowance a third less than their male counterparts; while the winning men's time took home £616,000, the champion women's team won just £40,000.
The central contracts of England's women's football team are worth just £20,000 a year, a figure their male equivalents can earn in a couple of days in the club game.
Campbell said: "I don't think it's about being paid the same, it's about valuing success in the same way.
"The problem we've got is that the media exposure for women is not as good as it is for men's. That means they are not as saleable. It's not about being paid, it's about being valued."
At the London Olympics last summer, British women won 11 gold medals - more than the entire teams of France, Australia and Spain managed. In all, 36% of GB medals won at the 2012 Olympics and 47% at the Paralympics came from women.
Yet the BBC Sport survey, run to coincide with International Women's Day, found that only 11% of the country's elite sportswomen believed media coverage of their sport to be sufficient.
Sprinter Jeanette Kwakye, former British 100m champion and Olympic 100m finalist in Beijing, told BBC Sport: "I genuinely believe that many of the most memorable moments in London came from British women - our rowers, Jessica Ennis, Nicola Adams and Victoria Pendleton. They were outstanding.
"When I saw the likes of Laura Trott and Nicola Adams in advertising campaigns on the side of London buses after the Games it made me really happy that little girls who are good at sport could look up, see them and think, I could make it in sport.
"I'm astounded by what happens in women's football. They are playing for their country, yet they are being paid around the average wage.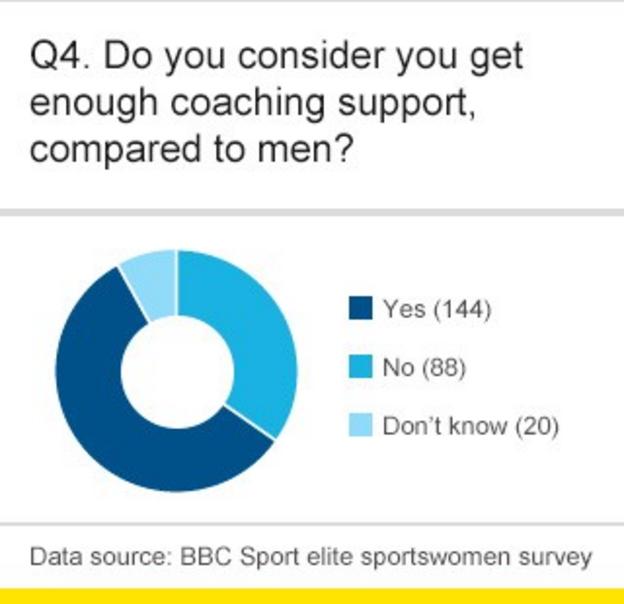 "Men's football might bring in more money. But the differential in pay is huge. Coming from the governing body, that sends out a very strong message."
Famously, Anna Kournikova - who never won a single Grand Slam title - has earned almost as much from her brief tennis career as seven-time Grand Slam champion Venus Williams (£33m to £39m).
Campbell said: "One of the great things about London was that we saw incredible role modals that inspired lots of young girls. But immediately the Olympics finished, we ended up with eight pages of soccer.
"If you look at the women who won gold medals in London, they had profile for essentially a very small window. How many of them have had profile since then? The odd one or two.
"Jess Ennis has got lots of profile and lots of commercial contracts. But how many of the others?
"It's often linked to how they look as opposed to what they achieved. But during the Olympics we saw that it didn't matter how you looked - what mattered was your success, and it was fantastic what role models those women were: confident, humble, ambitious, pursuing their dreams like any other athlete or male counterpart.
"They set a new standard for what is possible in women's sport and we just have to try and make sure we inspire a new generation of young women who aspire to be like those role models."
Kwakye recently compered a Fit 4 Women conference, organised by the Women's Sport and Fitness Foundation, which looked the challenges of getting more women participating in sport.
She said: "We have a commercial ceiling as women are based on how good you look - the element of 'are you easy on the eye'.
"The media control what we see. If you're constantly parading the pretty girls, the sponsors believe that everyone should look like that.
"It's an issue beyond sport, but the media needs to not just look at the gorgeous girls, but at anyone who has the talent and is doing the hard work."
Campbell admitted that she was troubled that less than half the elite women surveyed believed their sport's governing bodies support them as well as men.
"It is a big concern. We have a specific programme on women as leaders to try and ensure there is equal emphasis and equal policies, so to hear that is troubling.
"It comes back to that commercial idea that men's sport by its nature gets more commercial investment, and so to women involved in the system it feels like it's inequitable. It's very important that all of us work harder to make sure women get the commercial support they deserve."
FULL RESULTS
Q1. Are you a full time athlete?
Yes: 126 (50%)
No: 126 (50%)
Q2. Are you able to make a living as a sportswoman?
Yes: 87 (34.5%)
No: 165 (65.5%)
Q3. Compared to men, do you feel sportswomen are underpaid and the financial rewards inadequate?
Yes: 200 (79.4%)
No: 26 (10.3%)
Don't Know: 26 (10.3%)
Q4. Do you consider you get enough coaching support, compared to men?
Yes: 144 (57.1%)
No: 88 (34.9%)
Don't know: 20 (8%)
Q5. Do you believe your governing body supports you equally, compared to male colleagues?
Yes: 111 (44%)
No: 113 (44.9%)
Don't know: 28 (11.1%)
Q6. Is media coverage adequate?
Yes: 29 (11.5%)
No: 213 (84.5%)
Don't Know: 10 (4%)
Q7. Do you consider yourself to be a role model for other women?
Yes: 203 (80%)
No: 23 (9%)
Don't know 26 (11%)
Q8. If yes, are you conscious of your body image?
Yes: 173 (68.7%)
No: 34 (13.4%)
Don't know 9 (3.6%)
Not applicable 36 (14.3%)
Q9. If you have children, do you feel the level of childcare support from your sport is adequate?
Yes: 3 (1.1%)
No: 18 (7.2%)
Don't know 6 (2.4%)
Not applicable 225 (89.3%)
The electronic survey was sent to elite British sportswomen across a range of national governing bodies including summer and winter Olympic and Paralympic athletes and non-Olympic sports. Those sports were Archery, Athletics, Badminton, Boxing, Canoeing, Cycling, Diving, Equestrian, Fencing, Gymnastics, Handball, Hockey, Judo, Modern Pentathlon, Rowing, Sailing, Shooting, Swimming, Synchronised Swimming, Squash, Table Tennis, Taekwondo, Triathlon, Volleyball (including sitting), Water Polo, Weightlifting, Wheelchair Basketball, Ski and Snowboarding, Curling, Bobsleigh and Skeleton, Short-track Speed Skating, Cricket, Football, Golf, Netball, Rugby Union. It was forwarded by the National Governing Bodies to 503 elite sportswomen of which 252 responded in the time frame. The survey was anonymous. The England and Wales Cricket Board declined to participate in the survey. British Rowing, Basketball and Equestrian could not get their members to complete it by the deadline.